This post may contains affiliate links for your convenience. If you make a purchase after clicking a link we may earn a small commission but it won't cost you a penny more! Read our full disclosure policy here.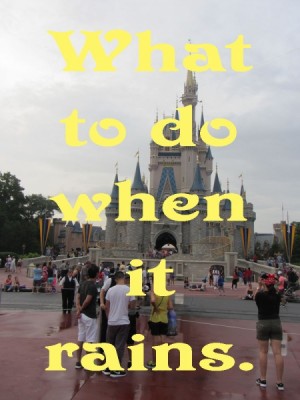 Those visiting Walt Disney World the last half of the year experienced unusual weather.  Summer was overly wet and this fall and winter have seen cooler temps than normal.  It brings to question what do you do when the weather is less than perfect during your Disney vacation?
When my husband and I visited in early June, we experienced downpours everyday for hours at a time.  Here are few tips that we learned along the way to keep the magic going when the rain was tried to dampen our fun.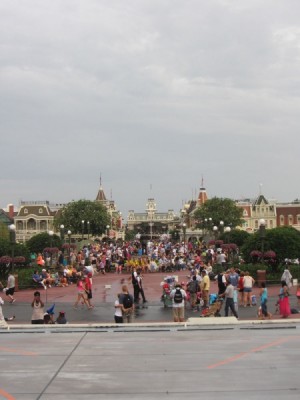 First of all get your must dos done early on in your vacation.  Some rides and parades shut down during thunderstorms and severe weather, so make sure to ride/see them as soon as possible to prevent missing out altogether.  Along that same line, make sure you know what attractions are impacted by weather. You can find this out online or by asking a cast member at the park.
Secondly, during those storms, visit attractions you might not normally.  As some high interest rides might shut down, heading to some of the less traversed attractions can add some surprises to your vacation.   From The Hall of Presidents to the Magic of Disney Animation, each park has unique and hidden gems that can allow you to continue to enjoy the park without leaving.  We enjoyed being kids as we rode the carousel.
Another option would be to hop to a different park. If you find yourself at Animal Kingdom during a rainy day, it is harder to keep going compared to somewhere like Magic Kingdom or Hollywood Studios.  If you have the park hopper option,  take advantage of this and head to another park that might give you more options.
Resorts are another option that you could take in during a rainy day that don't require a park hopper or theme park ticket.  Downtown Disney is an additional option that would provide not only shopping and great food but also entertainment such as bowling and movies. (Ed. note:  While rare, do keep in mind that on particularly rainy days, DisneyQuest can actually fill to capacity briefly.  So if it's expected to be a particularly nasty day and you want to visit the indoor interactive theme park, make sure to arrive early.)
Finally,  grab a poncho and keep going.   Although some rides may close in thunderstorms, many will stay operational during rain so grab that rain gear and enjoy as you are at the happiest place on earth.  As we were eating lunch one day at Casey's on Main Street a major rain storm hit.  Although we became a little wet, it was fun to be the only ones sitting under the umbrellas.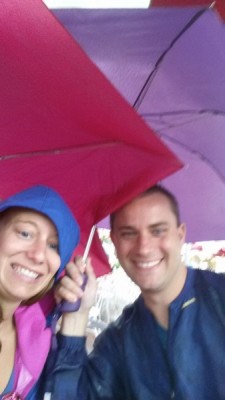 Even though we'd all love perfect weather for our vacation,  it just doesn't always work out that way.  Instead of letting it ruin your trip, use these tips to help you keep the magic alive.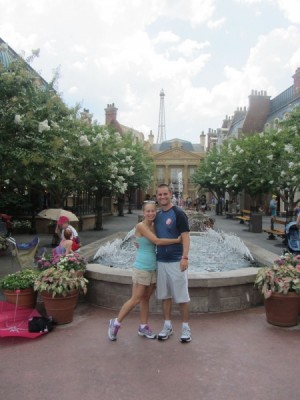 What are your best tips for traveling to Disney when it rains?