This post may contains affiliate links for your convenience. If you make a purchase after clicking a link we may earn a small commission but it won't cost you a penny more! Read our full disclosure policy here.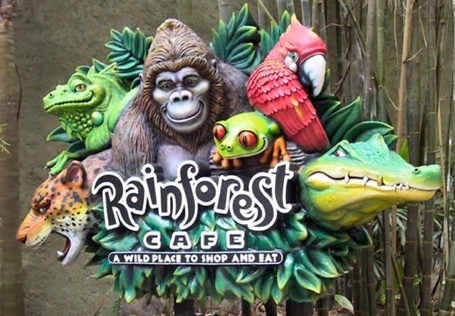 By: Lindsey Tullier
My family and I have always enjoyed dining at both the Animal Kingdom and Downtown Disney Rainforest Café locations when we visit Walt Disney World. What's not to love? There are animatronics, thunderstorms, enthusiastic servers and a large gift shop. However, I only recently discovered that the Animal Kingdom location serves breakfast. I have no idea how I managed to miss this, but I was determined to include a brunch at Rainforest Café on our next visit.
Our first morning was an extra magic hour for Animal Kingdom so we made plans to be in that park for 8 a.m. I normally don't do morning Extra Magic Hours but since it was Labor Day and hot (an understatement), I figured the earlier we could get through Animal Kingdom the better. I made reservations for 9:30 a.m., which gave us plenty of time to ride Kilimanjaro Safari and explore some of the animal habitats before venturing back to the front of the park for our reservation.
My husband and I had been doing a certain diet program that helps you to "watch" your "weight," so I was initially a little concerned about dining here knowing how enormous the portions can be. However, I knew that a quick visit to TheMouseForLess.com would allow me to peruse the menu ahead of time, helping me to make smart, but still delicious, food choices.
My husband is a big fan of oatmeal, so he ordered the Forest Combo. This is a healthy portion of oatmeal served with brown sugar on the side. It also includes fresh fruit, and we both expected him to have a few assorted pieces. Imagine our surprise when our server came out with practically an entire fruit bowl as a "side." Needless to say, my husband felt very satisfied with his brunch and felt full most of the day!
I absolutely love a good omelet, and Rainforest Café has a deliciously healthy egg-white option filled with spinach, Swiss cheese, and mushrooms. I also had a side of fruit but it was appropriately proportioned and included oranges, strawberries, and grapes along with a side of toast. I selected wheat bread and was expecting two normal slices of toast, but it was actually Texas toast, so I only ate half of a slice. I was very pleased with my meal. The stronger flavors of the omelet fillings balanced out the tendency for egg whites to be bland and the fruit was very sweet and juicy.
There is also an extensive children's menu here and I ordered a waffle and the French toast for my boys. They had eaten toaster pastries earlier in the day and weren't very hungry but they enjoyed what they did eat. My husband sampled both items and seemed to agree with them.
As usual, we found our server to be friendly and efficient. She even talked to my 3-year-old son about the elephant we were sitting next to that seemed to be concerning him for a bit. He seemed to feel a little more at ease after that although he still kept a close eye on that elephant.
Breakfast at Rainforest Café met our expectations based on previous experience there for lunch and dinner. I am certain that we will be scheduling another meal here on our future trips.  To view the breakfast menu for Rainforest Café at Disney's Animal Kingdom, visit https://www.themouseforless.com/tripplanning/menus/wdw/RFCAKBfast.shtml. Be sure to book a reservation for your family on your next trip to the World. You're going to have a wild time!