This post may contains affiliate links for your convenience. If you make a purchase after clicking a link we may earn a small commission but it won't cost you a penny more! Read our full disclosure policy here.
June 26, 2011
There are not too many places where I have not dined at Disney, and Raglan Road located in Downtown Disney has been one restaurant which did not appeal to me.  I'm not a huge fan of British pub food in the traditional sense—Bangers & Mash and Fish & Chips are not for me as I don't eat sausage or fried fish.  There was a culinary event at Raglan Road earlier in the year which piqued my interest as the food presented just looked gorgeous in the photos, and the reviews were quite favorable.   Since it was just Suzanne (age 13) and me I decided it was time to take the plunge and visit Raglan Road.
We arrived at Downtown Disney and parked my rental car by Cirque du Soleil and walked towards the old Pleasure Island area where Raglan Road is located.  (This is an off-the-beaten-path parking lot and I will certainly use it again as there is virtually no traffic—but the tradeoff is a longer walk.)  For years I have been walking by Raglan Road, and it is a beautiful restaurant from the outside.  Previously I had ventured as far as the merchandise shop but never bought anything.  Plus it is not air conditioned!   (A note of trivia for you:  the restaurant itself actually was built in Ireland and brought over here to be assembled.)    We checked in and it took a little bit to get seated but we ended up in a back room somewhere to the left of the stage, and unfortunately from there we  could not see the entertainment which was a guy doing Irish dancing (which is really awesome tap dancing.)  Service was not exactly prompt but we did see service staff scurrying about, and they were incredibly busy.  It was OK because we were not in a hurry.  Finally our server arrived and we had enough time to order.   We skipped the appetizers and Suzanne ordered the Shepherd's Pie and I decided on the Lamb Shank. They brought some Irish Soda Bread, which at first taste was somewhat grainy and reminded me of sweet feed for horses. (Seriously…  it was pretty grainy.)  Along with the bread they had a Guinness /honey mixture for dipping the bread. The combination of the grains in the bread and the dipping sauce was absolutely wonderful. So what started off looking like horse food with a weird dipping sauce ended up being quite tasty to the point that I would make both at home and serves it to my family.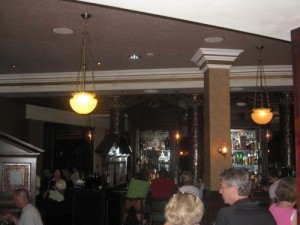 The entrees showed up after we were done with the bread. They were attractively presented, and the table next to use asked me what we were eating. My lamb was really good and tender, but a tiny bit salty.   (I do not eat a lot of salt on my food.)  Potatoes served with it were quite good and appropriately lumpy for homemade mashed potatoes.   Suzanne was not excited with her Shepherd's Pie as it was a bit on the spicy side, but I thought it was excellent and could be best described as "well seasoned."   She didn't eat much, but she was tired and her appetite was a bit off.  Although she didn't really care for the entrée and ate only about half  there was nothing wrong with it and it was just not to her liking.  I personally would order the Shepherd's Pie as well as the lamb and would recommend both.
We splurged for dessert and there are some really great things on the menu. Decided on the Strawberry Apple Crumble… and it was probably among the best things I have ever eaten at Disney. Seriously! It was not sweet, and there was a cream on the side which we skipped. I would go back to Raglan Road just for that crumble dessert.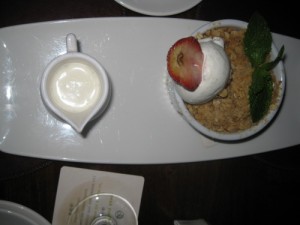 On this night Raglan Road did not seem to be a place where you go for a quiet, intimate dinner.  It is a loud and boisterous restaurant with hearty food.  Most guests seemed to be enjoying themselves, and the entertainment.  We did see the Irish dancer as we were leaving—and he really was great.  I will return to Raglan Road in the future, and have dinner there.  For lunch they offer sandwiches and more typical American fare.