This post may contains affiliate links for your convenience. If you make a purchase after clicking a link we may earn a small commission but it won't cost you a penny more! Read our full disclosure policy here.
From Our Magically Speaking Newsletter Archive – subscribe today!
By Ginamarie Palmieri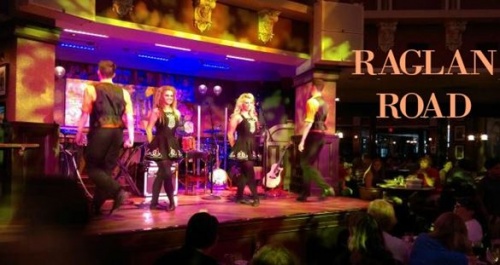 Disney Springs is fast becoming a destination for dining within Walt Disney World's property, especially with so many new restaurant destinations.  My family's favorite spot in Disney Springs is not a new one, however.  We love everything about Raglan Road Restaurant.
Raglan Road is an Irish pub, but don't let the theme fool you.  This is not an adult-only venue.  It is family-friendly, and it's not just a place to grab a beer (though you may want to enjoy a selection from their beautiful bar if you're of age).  Raglan Road will give you the true Irish pub experience, with food from Irish chefs and décor which was imported from the homeland.  The restaurant also has Irish entertainment throughout the evenings, including Irish step dancers from 4-9 pm and live bands that perform both on the restaurant's indoor stage and their outdoor patio.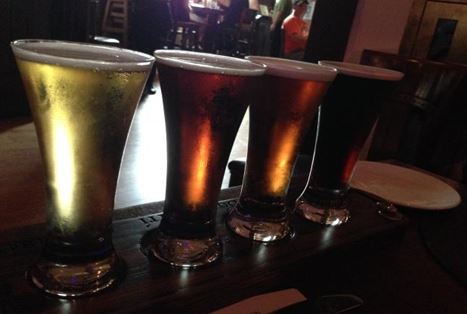 The décor is one of my favorite parts of this location.  It is covered with wood paneling, stained glass windows, and brass light fixtures.  The mirrored bar serves a vast variety of beers on tap or by the bottle, wines, hard liquors, and cocktails.  I am especially fond of their beer flights, but if whiskey is more your speed, they have whiskey flights as well.  While you can be seated at the bar, there are also tables and large booths located in several rooms.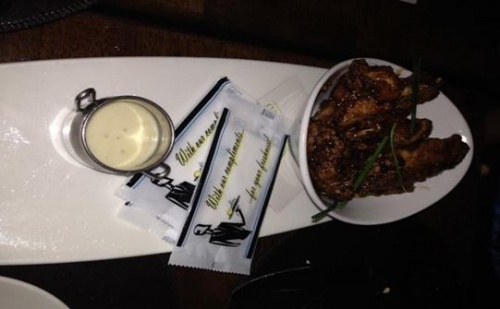 The food here should not be minimized though.  Raglan Road's kitchen puts out some really tasty dishes.  Each table is brought a serving of brown bread with Guinness dipping sauce.  This never seems to last on our table- it is slightly sweet and a great starter.  Speaking of starters- there is a large selection of appetizers on the menu, including a scotch egg, steamed mussels, baby back ribs, and a soup of the day.  My favorite choice though, are the "nom nom wings," which are some of the best wings I've found at Walt Disney World.  They're spicy and sweet- crunchy on the outside and meaty on the inside.  Many of the appetizers are also available at the bar as "late night snacks" even after the dining room stops serving.
The entree selections at Raglan Road are upscale versions of Irish home cooking.  The Raglan Risotto is a perfectly cooked risotto with fresh peas, pecorino and mozzarella cheese.  It's light but also creamy, and a large portion.
The fish and chips are large pieces of fresh fish, deep-fried in beer batter.  It's a great representation of what I've eaten in the U.K.  Those who aren't adventurous at all, should consider the "Serious Steak", which is a perfectly cooked strip steak with mashed potatoes and beer-battered onion rings.
Each night, Raglan Road offers a different pot pie selection, and this has gotten rave reviews from our family.  The chicken pot pie that we had on our last visit had large chunks of chicken, vegetables, a delicious sauce and flaky crust.  Best of all, the pot pie had mashed potatoes hiding at the base, which my husband loved.  The menu is full of options though, including roasted chicken, ham, lamb shank, seafood chowder, chicken curry, baked salmon and confit duck leg.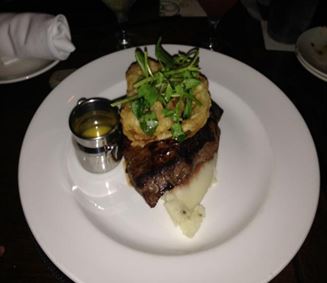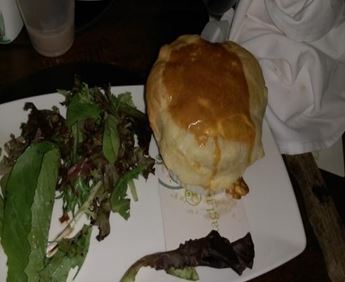 The Raglan Road children's menu is equally as diverse.  They can choose from classics like chicken fingers, cheeseburgers or mac and cheese, or try out more authentic options like risotto, shepherd's pie, or baked salmon.  The children's portions are huge, and we have easily split them between two young children, or taken leftovers back to our rooms for another day.
If you're not too full from dinner, Raglan Road also has a great dessert menu which includes a decadent bread pudding, flan, an apple/berry crumble, trifle, and whiskey-coated berries with ice cream.  My personal favorite is Dunbrody's Kiss, which is a chocolate lover's dream.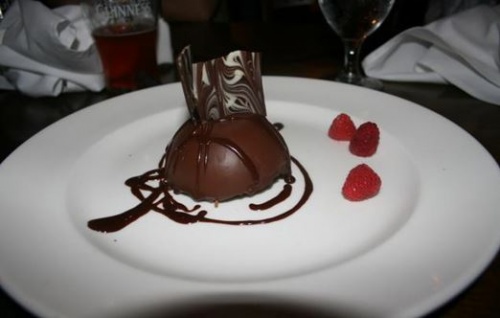 I highly recommend this restaurant for lunch or dinner.  It's a great spot to have some delicious food and to take in a show from the dancers or the bands.  Reservations are strongly recommended.  This restaurant takes one credit on the Disney Dining Plan and accepts discounts from Disney Vacation Club and Tables in Wonderland.  Try it out on your next Walt Disney World vacation.  I know we already have reservations for our next trip.
Magically Speaking Featured Article
Library of Congress ISSN:1556-3863
Save