This post may contains affiliate links for your convenience. If you make a purchase after clicking a link we may earn a small commission but it won't cost you a penny more! Read our full disclosure policy here.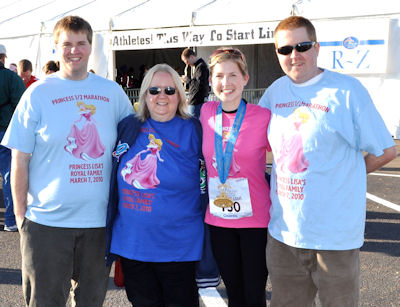 By Teresa Pitman
My daughter has run several half-marathons, but I think she's always been a little disappointed about the level of family support she's received. Sure, at least one or two family members usually show up to cheer, but we tend not to be overly enthusiastic about the whole race experience. It's a somewhat boring day, hanging around just for a few minutes of "Go, Lisa!" and hugs at the finish line.
But this March we found a way to make it fun for everybody. Lisa entered the Disney Princess Half-Marathon in March of this year, along with nearly 14,000 other enthusiastic runners, and we turned a race into a vacation.
As soon as Lisa had registered for the event, she was sent information about the "official" race hotels and offers for discounts. Transportation to the race's start would be provided only from the official hotels. There was also a group that the runner's family or friends could join that would provide them with email updates, a gift bag with a race T-shirt, and priority seating at the race's finish.
Being a little contrary, we opted to stay at a hotel not on the list (Animal Kingdom Lodge) and to skip joining the group. Instead, we had our own T-shirts made up at Downtown Disney's Design-a-Tee store. Our runner had a pink tee announcing that she was "Princess Lisa" and her brothers and I were identified on our tees as "Princess Lisa's Royal Family."
We arrived two days before the race (and stayed for another five days after it was done). The day after our arrival, we had breakfast on the balcony while getting to know the giraffes, elands, and other animals who grazed nearby. Then we headed over to the Wide World of Sports to pick up Lisa's race package. I was surprised by the long lines waiting to get into the building, but once we got inside it was fun to wander through the exhibits. At the entrance, a Fairy-Godmother-in-Training sprinkled each of us with pixie dust (okay, glitter), and there was a definite princessy feel to the whole place. Lisa commented that other races she's participated in had more running equipment and stuff for the serious runners, while this catered more to the Disney crowd.
Since we were in an un-official hotel, we needed a rental car to get Lisa to the starting line on time (very, very early in the morning). Her brother Dan dropped her off in the Epcot parking lot — where it was dark and very cold — then came back to rest (briefly) and pick up Jeremy and me. Our plan was to park in Epcot, watch the race's start, hop on the monorail to Magic Kingdom to see her run through there, then go back on the monorail to catch the finish at Epcot.
What we didn't realize was that almost all the roads to Epcot were closed for the race. So were most of the roads to Magic Kingdom. Fortunately, because Dan and Jeremy are currently working there, they were able to find a back-roads route that worked, and we managed to slip into the Magic Kingdom parking lot. The race had started while we were doing all this driving around, but we were there to cheer for Lisa as she ran towards the Magic Kingdom.

A huge amount of work goes into setting up the race. The runners' route was always clearly marked, live bands and characters provided entertainment at various spots, and there were plenty of Cast Members to help and to hand out water.
Along the roadway we saw an unexpected sight: a pirate ship. You can probably guess which pirates had somehow taken a wrong turn and found themselves parked on our race route. Lisa told us later that Captain Jack Sparrow leaped down and actually ran alongside her part of the way, trying to encourage her to give up the race and join his crew. She somehow managed to resist the temptation.
Many of the runners wore tiaras, princess (or other Disney character) costumes, or T-shirts with their names and Disney slogans. Almost all of those in the race were women but there were about 400 men (many of them also wearing tiaras).
Once Lisa had passed us, we jumped on the monorail and headed over to Epcot. We stationed ourselves at the place where the runners entered the park and screamed our encouragement as she passed us again. Then we raced across the parking lot to find a spot near the finish line.
Disney, as you'd expect, ends the race with a big finish. As the first runner — just 185 people and a few minutes ahead of Lisa — crossed the line, she was greeted by Minnie and Mickey, fireworks, and a burst of confetti. A large-screen TV showed the waiting crowd the runners coming up, and a slightly hyperactive host announced the names and home towns as each person approached the finish line. "Lisa Pitman from Toronto, Canada." We went nuts.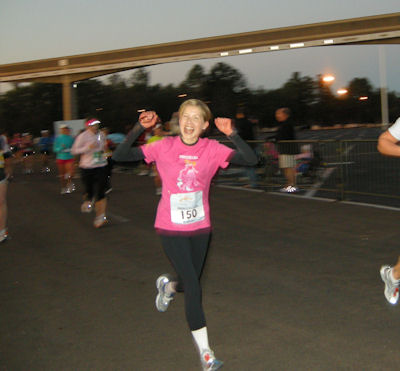 After Lisa picked up her medal and her gifts, we headed back to the Animal Kingdom Lodge hot tub. Aaaaah. Relaxed, we then had dinner at Sanaa, and rehashed the race. Lisa came 41st in her age category and 186th overall. She claims she would have made better time if she hadn't been distracted by Captain Jack. But those things happen when you run at Disney World.