This post may contains affiliate links for your convenience. If you make a purchase after clicking a link we may earn a small commission but it won't cost you a penny more! Read our full disclosure policy here.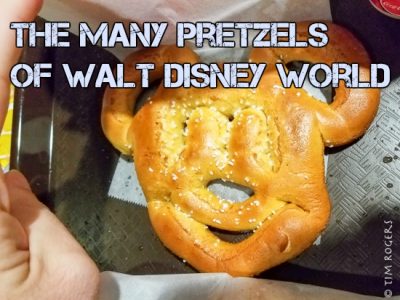 One of the favorite parts of a Walt Disney World vacation is the food. And even with the great lengths we go to for certain table service restaurant reservations or the menu scouring and planning we take to counter service locations, very few things inspire the kind of loyalty and dedication as some of our favorite Disney snacks. You can get t-shirts celebrating the wonder of giant turkey legs or churros. Disney fans will excitedly write to each other about the discovery of something kind of like a Dole Whip they found in their hometown.
But for me, when I want a snack you can't do much better than a soft pretzel. I am the kind of guy who will walk by 15 snack stands with spinning Super Pretzel's at a baseball game to get to the one place that has freshly hand-rolled ones (often in a whimsical shape), or in other words – I love me some pretzel. When I heard there was a new spot in Disney World serving pretzels, it really just made me want to have them all, and so I did. Now I present to you, the Wide World of Pretzels.
Mickey Pretzel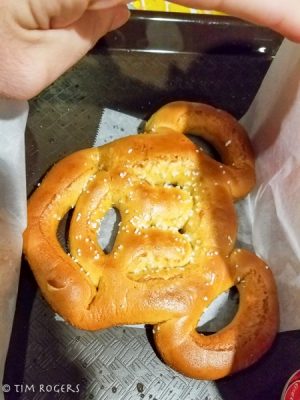 The old standby. The iconic Disney Parks pretzel is the one shaped like Mickey's head. I even have a magnet of it (I told you – I love me some pretzels). The Mickey Pretzel is currently served with a cheese cup to dip in, and is available at many snack locations throughout Walt Disney World (I got mine at the Lunching Pad in Tomorrowland).
Out of the options I am discussing here, this is the closest in taste to the generic Super Pretzel you might find at a movie theater or stadium. It tastes fine, the cheese is a nice addition, but it isn't anything particularly special.
Flavored Pretzels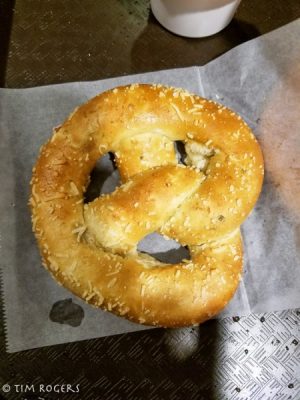 One of the reason's I got the Mickey Pretzel at the Lunching Pad on this trip is that my wife and I were splitting some snacks while waiting for the fireworks and we wanted to get more than one variety, and variety of pretzel flavor is one of the things the Lunching Pad specialized in.
Now, one of my favorite snacks of any kind at Walt Disney World is the Sweet Cream Cheese Stuffed Pretzel from here, but on this day they happened to be out of those, so I got the Pepper Jack Stuffed Pretzel instead.
This is just a little bit spicy, while having more textural variety than the Mickey Pretzel. If you think you want a pretzel for a snack but want to mix it up a little, this is a great option for you.
Also, as a special note, very recently the Lunching Pad has also added a Salted Caramel Stuffed Pretzel to their menu, giving another sweet snack option that I'm sure is incredibly tasty.
Baseline Tap House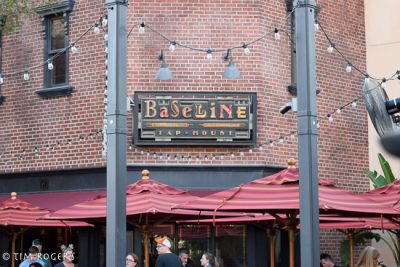 The opening of the Baseline Tap House in Disney's Hollywood Studios was the inspiration for this whole journey. Baseline is a new location in the freshly named "Grand Avenue" portion of Disney's Hollywood Studios. The setup is pretty much a bar or pub specializing in beers, wines , and cocktails from or inspired by California. However, any good pub has a few good snacks to keep you thirsty.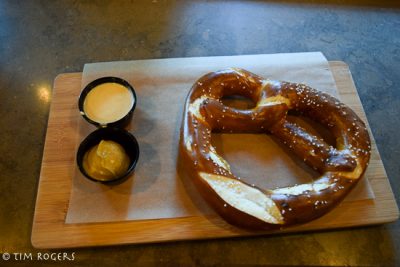 The Bavarian Pretzel here is served with spicy mustard and beer cheese fondue. The pretzel itself is tasty, with a good crust and soft interior. Probably the most special thing about it, though, is the cheese fondue. It has just enough flavor and complements to flavor and texture of the pretzel perfectly. As we saw earlier with the Mickey pretzel, having a cheese sauce to dip in is pretty standard, but this sauce is special enough to make this pretzel stand out.
Germany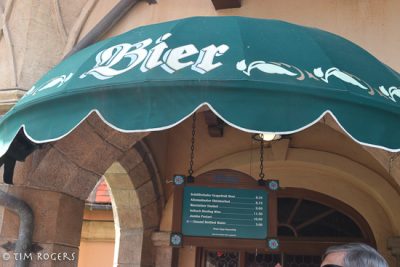 However tasty and interesting the new kid on the block is at Baseline, there is something to be said about being the king, and in Disney Pretzels, the king lives in Germany. The German pretzel is available at several quick service locations in the Germany Pavilion, but I generally get it at the Bier Refreshment Stand.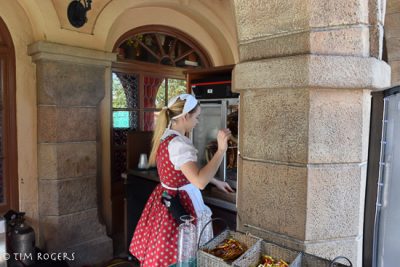 The first thing you will notice about this pretzel is the size – it might be twice the size of the Mickey Pretzel. And that is a good thing, because it tastes great as well. While it doesn't come with any dipping sauces, you can pick up some mustard packets and that is really all you need. I don't know if this is actually a different pretzel recipe than the one at Baseline, but I do think that the size helps with both taste and texture to give a really balanced and delicious snack.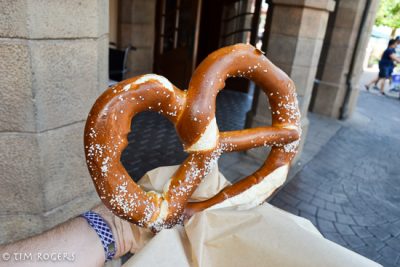 So what is my conclusion after going on this pretzel-filled adventure? For fun and ease or access, you can't go wrong with the Mickey Pretzel. For a pretzel with a little something extra, check out any of the options at the Lunching Pad. For great environment and accompaniments, go to the Baseline Tap House. And for fantastic taste and easy shareability (if you're into that), definitely check out Germany.
Each of these places and selections has something special to offer, so the next time you are in Walt Disney World, do yourself a favor and grab a soft pretzel.
Which kind of pretzel is your favorite? Share in the comments! 
Did you like this article? Make sure to share it with your friends! Check below for easy ways to share!
Incoming search terms:
https://www themouseforless com/blog_world/pretzels-walt-disney-world/
disney world pretzel
pretzel walt disney workd