This post may contains affiliate links for your convenience. If you make a purchase after clicking a link we may earn a small commission but it won't cost you a penny more! Read our full disclosure policy here.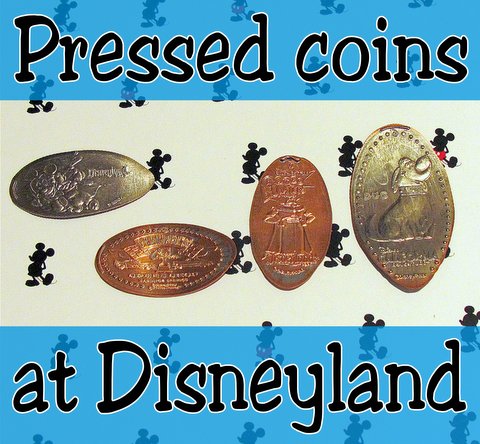 Are you looking for a souvenir that's easy to collect and inexpensive? What if you could add to it on future trips and even non-Disney vacations? Then collecting pressed coins at Disneyland may be a great choice for you!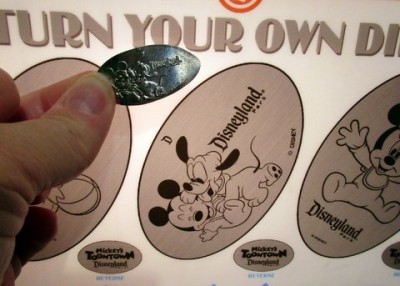 Pressed dime in Toontown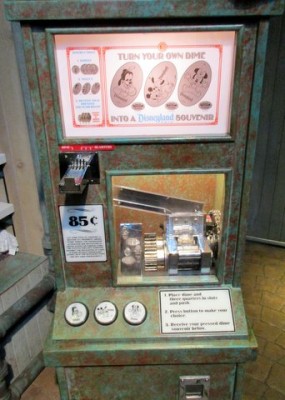 We used to call them "smashed pennies," but these machines have evolved to include nickels, dimes, and quarters. There's one in almost every major gift shop and more than 50 around the resort area!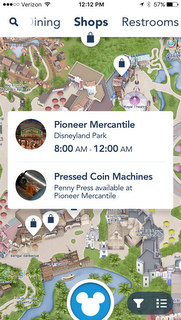 If you want to know where to find the coins, there are several methods. The Disneyland app has the machines listed under the "Shops" section. Click on a shopping bag icon on the map to see if the store has coin presses inside or nearby. City Hall in Disneyland and Chamber of Commerce in California Adventure have brochures with listings as well. There is also a website called Park Pennies devoted to tracking the locations and selections all around Disneyland Resort.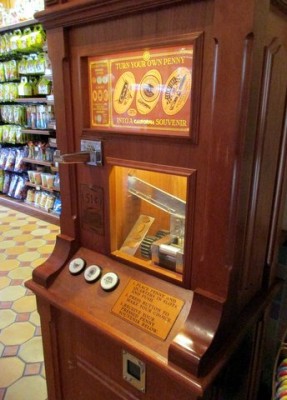 Machines are themed to their location, like this one in Trolley Treats
There are new machines and coins being added regularly. For example, there are special 60th anniversary coins, and new Star Wars: The Force Awakens coins in Star Trader in Tomorrowland. Holidays bring out special coins to celebrate as well.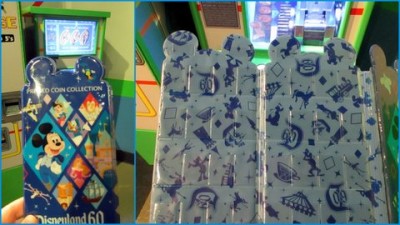 Disney also sells books to collect the coins. There are usually found near the coin machines or the cash registers. In some shops there are change machines, or the Cast Members will make change for you if they are not busy and you ask nicely.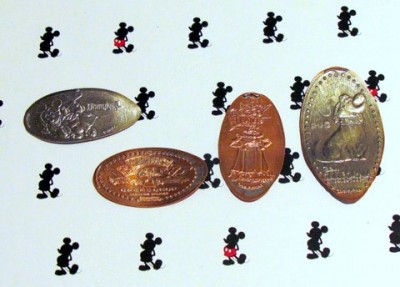 Collecting pressed coins can be an inexpensive way to get Junior through the numerous stores. Pennies cost 50 cents (plus the penny itself), nickels and dimes need 75 cents plus the coin, and quarters are $1.00 (and the quarter). All of the coins in the picture above cost me $3.12.
Even better, there are pressed coin machines around the world in tourist areas — aquariums, national parks, museums, other theme parks including Walt Disney World, etc. I even saw one in a Beijing street market! It's a collection that can grow with your travels.
Have you collected any pressed coins at Disneyland or other Disney parks?
Incoming search terms:
https://www themouseforless com/blog_world/pressed-coins-disneyland/
the mouse for less pressed pennies