This post may contains affiliate links for your convenience. If you make a purchase after clicking a link we may earn a small commission but it won't cost you a penny more! Read our full disclosure policy here.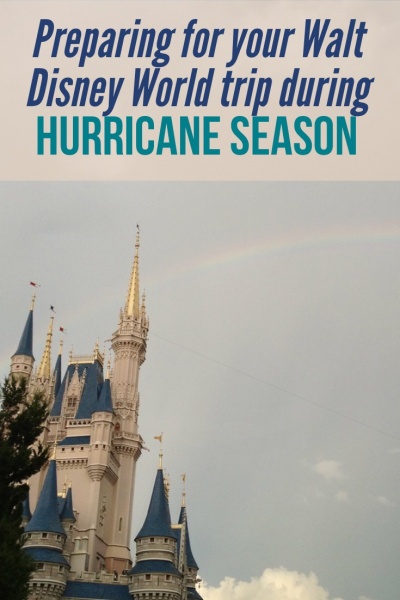 Hurricane season is upon us once again, running from June 1st to November 30th and peaking in September. 2017 was a very active season and affected Walt Disney World travel for many families…including mine. We were supposed to travel to Disney for my son's 4th birthday, but hurricane Harvey was slowly approaching the Texas coast. We had to make the difficult decision to postpone our trip.
How do you plan for the unexpected during hurricane season?
Know the policies of your air travel company
Most of the airline companies were very helpful when rearrange air travel last year during Harvey and Irma. They waived cancellation and rescheduling fees, but some flights were easier to reschedule than others. If traveling during hurricane season, find out if your airline company allows for changes and how they have handled hurricanes in the past.
If you have to make flight changes, the earlier you make your rescheduling decisions the easier it is to find new flights. Flights out of Florida can be harder to find the closer a hurricane comes to the Disney area. If you are on vacation and think you might want to leave early, make those arrangements quickly.
Rental Car Changes
Most rental car companies allow for changes and cancellations up to 24 hours before your reservation. Some will charge a fee if you cancel within 24 hours
Disney's Cancellation Policy
Disney's policy is to only allow changes or cancellations 30 days before your trip for packages and Disney Vacation Club (DVC) reservations and 5 days before your room only reservation. Hurricanes don't always give enough warning to meet those requirements. Luckily Disney (and Universal for that matter) has a Hurricane Policy. Disney allows cancellation or modification of your reservation if the National Hurricane Center issues a warning in the Orlando area or your home area.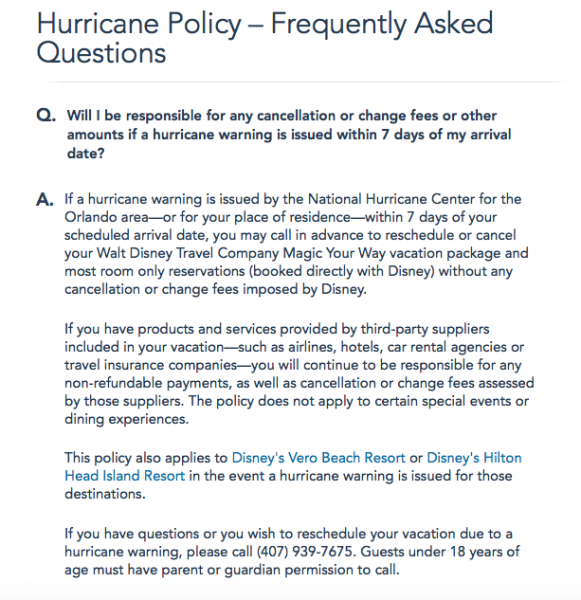 Other Hotels and DVC Rentals
Each hotel has its own cancellation policy, but all seem to be fairly understanding during the previous hurricanes. DVC rental agencies are a different story. They do not have hurricane policies. Some offer in house insurance, but most recommend getting outside insurance anytime you decide to use DVC rental agencies.
Travel Insurance or Not?
Once you know all of the cancellation policies involved in your trip you can then decide how best to plan. Many major credit cards also cover parts of trip paid for with their credit card if major issues arise. However, not all credit cards have this coverage. If you are booking through a travel agent they will be able to provide you options and costs of travel insurance. There are also many websites to compare providers, costs and coverage. Some want you to enroll for coverage at the time of booking your trip, so be aware of all your options.
Don't be scared to book your vacation
Hurricane season is long and you should not let it affect your booking dates. Although, my family trip was affected last year I wouldn't hesitate to book another trip during that time period. We were able to move our trip to December, find all the dining reservations and most of the FastPasses we wanted and still have a great trip. The odds of your trip being rescheduled or canceled or effected by a hurricane are very low. It is always great to be prepared just incase, but don't fret.
If you end up at Disney during a hurricane, Rikki wrote a post all about this found here. This can help guide you about what to expect if you find out a hurricane is heading towards Florida (or your state.)
What tips do you have for those who are traveling during hurricane season? Let us know in the comments, or on Facebook or Twitter.
Did you like this article? Make sure to share it with your friends! Check below for easy ways to share!
Incoming search terms:
disney vacation package cancellation policy
how to prepare for hurricane season in disney
cancelling disney tickets
disney package cancelation policy
disney park tickets cancellation policies