This post may contains affiliate links for your convenience. If you make a purchase after clicking a link we may earn a small commission but it won't cost you a penny more! Read our full disclosure policy here.
Taking a trip with your child to Disney World is stressful. Taking a trip to Disney World with a special needs child is stressful for many other reasons: new routines, new places, new foods, and noise! With some pre-planning, you can make the trip less stressful for yourself and your special needs child.
Going to new places with your special needs child can be stressful. Many children with special needs do not acclimate well to new places. To help with this stressor, you can preview the places they will be going. The Magic for Less website has room photos and room layouts to show your child. Also, check out the attraction height restrictions and ride descriptions before. Also, showing your child YouTube videos is also great for previewing rides. Your child can see the queue as well as the ride itself. This is a great way to see if your child will like the ride or maybe it will be a ride you need to skip. 
If your child has a noise sensitivity, than Disney World can be a very overwhelming place for him or her. Prior to your trip, buy some noise cancelling headphones. Let your child wear the headphones around the house first to get used to them in a familiar environment. Next, take your child somewhere noisy they are familiar with and let them try the headphones while in the noisy environment. Now your child is ready to use the headphones while at Disney World.
Eating new foods at Disney World is part of the fun! Many children with special needs are very picky eaters. Pre-planning can also help with picky eaters. Check out the menus at each restaurant to preview. You can pre-plan where you want to eat based on the menu for each restaurant. Also, many Disney World restaurants will cook something for your picky eater if you ask.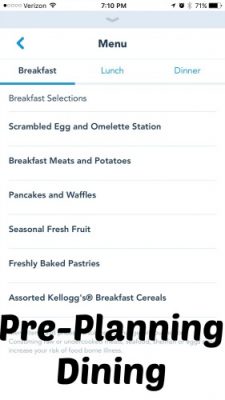 Don't forget to pack things your child likes. Does your child like a special toy or stuffed animal? Is there a specific iPad app or two they favor? These will be comforting in the new situations and may help avoid a meltdown. Also, don't forget to take any special assistive technology device they may use such as a Picture Exchange Communication Device, Picture Communicators, or any other communication devices your child uses. Our child's behavioral therapist printed "Wait" cards for my son and we use these when standing in the queue to stop meltdowns when waiting for a ride.
If you are flying, contact your airline to see what type of special accommodations they offer to those with special needs. Southwest has a box you can check when typing your passenger information that states you are traveling with a child with a cognitive disability. The last time we flew Southwest, the an agent met us at the ticket counter, walked us to TSA and security (avoiding waiting in the long line at security), and took us straight to the gate. We were also able to pre-board just in case my child had a meltdown when boarding the plane.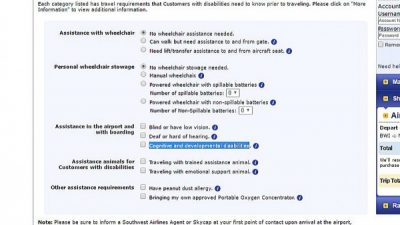 Southwest Box for Persons with Cognitive Disabilities
A final thing to remember when pre-planning your trip with your special needs child is that your trip will have some great moments and will also have some difficult moments. I take my child who has Autism Spectrum Disorder to Disney World 3 times a year. He has been traveling there since he was 18 months old. Every trip is different. Things that work one trip do not work the next trip. Remember that you are going to Disney World to make memories with your family. You may not have the perfect trip, but pre-planning will help your with special needs enjoy Disney World.
For more suggestions of touring with special needs, make sure to check out our additional tips!
What are your tips for traveling with a family member with special needs? Share your suggestions in the comments.
Did you like this article? Make sure to share it with your friends! Check below for easy ways to share!