This post may contains affiliate links for your convenience. If you make a purchase after clicking a link we may earn a small commission but it won't cost you a penny more! Read our full disclosure policy here.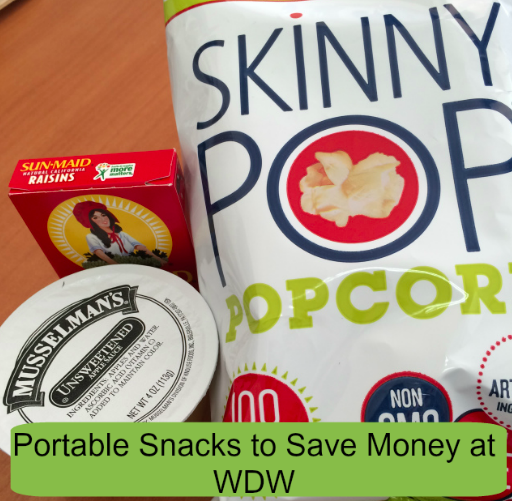 Being a Disney-regular, I've tried just about every snack at the parks. While there's nothing like a Mickey's Premium Ice Cream Bar or a fresh churro, sometimes packing snacks to bring into the parks is a good idea. Whether you're trying to save money (unless you're using snack credits on the Disney Dining Plan, snacks can be pretty pricy) or keep a picky eater happy, I've got some great, portable snack ideas for you!
SWEET
I have a definite sweet tooth, so this is my favorite place to start planning! If you're looking to save some money in the parks, but get a craving for something sweet every time you smell cotton candy or fresh waffle cones at the
Plaza Ice Cream Parlor
, I've got some good ideas. An important tip: steer clear of chocolates or other melty options. You don't want to open up a candy bar and find that it's turned to liquid! I've even had the filling of my Oreo cookies melt on warm Disney park days. I like to stick to snacks that will stand up fairly well in a backpack or purse.
Granola bars (KIND, Quaker Chewy, RX Bar, etc.)
Cocoa dusted almonds (Emerald Nuts 100 Calorie Packs)
Fruit leathers/fruit snack pouches
Cookies (Lorna Doone, Fig Newtons)
Hard candies (Jolly Rancher, peppermints, etc.)
Boxed Cracker Jacks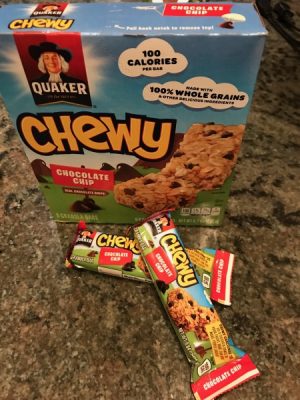 SAVORY/SALTY
About 10 steps through the gates at the Magic Kingdom, I start to smell fresh, hot popcorn. It's pretty easy to decide that you're hungry for something savory to snack on, but I don't always want to shell out the cash on a treat right through the gate! In packing my own snacks, I like to try to find savory/salty treats that won't get crushed or damaged. If bringing something mashable, I like to pack in Tupperware containers, so consider packing a small sandwich container in your luggage. Here are some of my go-to salty and savory snacks!
Beef jerky, turkey jerky
Wasabi dusted almonds (Emerald Nuts 100 Calorie Packs)
Pringles (the can minimizes crushing!)
Pretzels (100 calorie packs)
Popcorn (Skinny Pop or other single-serve bags)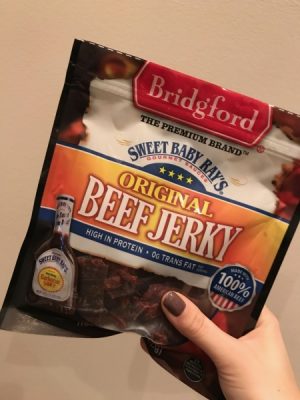 HEALTHY
Sometimes, you just need something fresh or light to snack on between all of those ice cream sandwiches and cupcakes! While many nutritious snacks don't travel well (think: Greek yogurt in 90 degree heat), here are a few options that might travel a bit better in the warm weather!
Whole fresh fruits (clementines, apples, grapes, etc.)
Fresh veggies (baby carrots, cherry tomatoes, mini cucumbers)
Nuts/dried fruits (Emerald Nuts 100 Calorie Packs, raisins, apricots)
Jif Peanut Butter To-Go packs
Justin's almond butter 1 oz pouches
GoGo squeeZ applesauce pouches
Quakers Quakes Popped Rice Snacks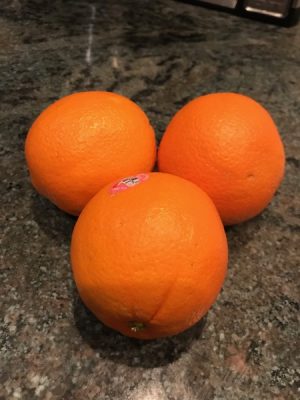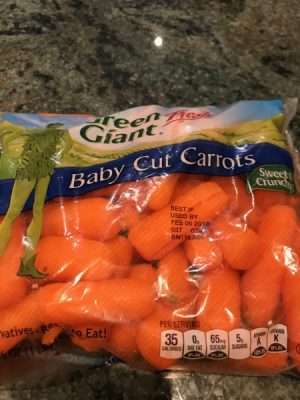 BEVERAGES
Though not a snack, I find that bottled beverages purchased in the parks really drive my spending up quickly. I'm a big fan of requesting free cups of ice water from counter service locations, but I always start each park day with a bottle of water from outside of the parks. If staying on property at a Disney Resort, you can order Prime Now or other grocery services; I'd recommend ordering a 24 pack of water bottles, sodas, or juice boxes, depending on what your family likes to drink. You could also bring a reusable water bottle to the parks to fill with free cups of ice water (I typically avoid water fountains, as they don't always taste that great!), and feel free to bring Crystal Light pouches if you're looking to add some flavor!
What are your tips for the best portable snacks to bring to Walt Disney World or Disneyland? Share them in the comments.
Did you like this article? Make sure to share it with your friends! Check below for easy ways to share!
Incoming search terms:
https://www themouseforless com/blog_world/portable-snacks-save-money-dinsey/
top 10 best snacks to bring with you to a theme park
lunch ideas for amusement park
kid food ideas for theme parks
good theme park snacks
filling food to bring into a theme park
filling breakfast for theme oark day
disney snacks that wont melt
best snacks for theme parks
best snacks for amusement parks