This post may contains affiliate links for your convenience. If you make a purchase after clicking a link we may earn a small commission but it won't cost you a penny more! Read our full disclosure policy here.
By Michelle Leifur

If you learned everything you know (and love) about the South from movies, then book your next Disney World stay at Port Orleans Riverside. Port Orleans Riverside makes up half of the Port Orleans Resort. Along with Port Orleans French Quarter, Port Orleans Riverside (or POR as it is commonly abbreviated) conveys a charm of the post-Civil War Antebellum South. POR has a beautiful turn-of-the-century decor that instantly puts you at ease. Pulling up to the main building you are greeted by "porters" who are ready to unload your luggage and mark it to be delivered to your room. The check-in lobby is fashioned after an old railroad depot with the destinations of various locations hanging over the check-in areas. This building also houses Fulton's General Store, the resort gift shop; Boatwright's, the sit-down restaurant; the food court Millside; and, according to Disney, the largest game arcade on property.
Port Orleans Riverside is divided into two unique and beautiful sections. To the east of the main building is Magnolia Bend, a series of buildings fashioned after the antebellum mansions of the post-Civil War South. They have stately columns and rolling lawns with gardens. These rooms sleep four and are elegantly decorated. To the west is Alligator Bayou. While these have a more "rustic" appearance they are still beautifully designed and set amongst tall pine trees and seasonally blooming azalea bushes. The rooms at Alligator Bayou have a trundle bed that pulls out from one of the beds and allows five to sleep there comfortably, provided that the one sleeping in the trundle is shorter than about 4-1/2' tall. (Disney recommends the trundle occupant be under 11 years of age.)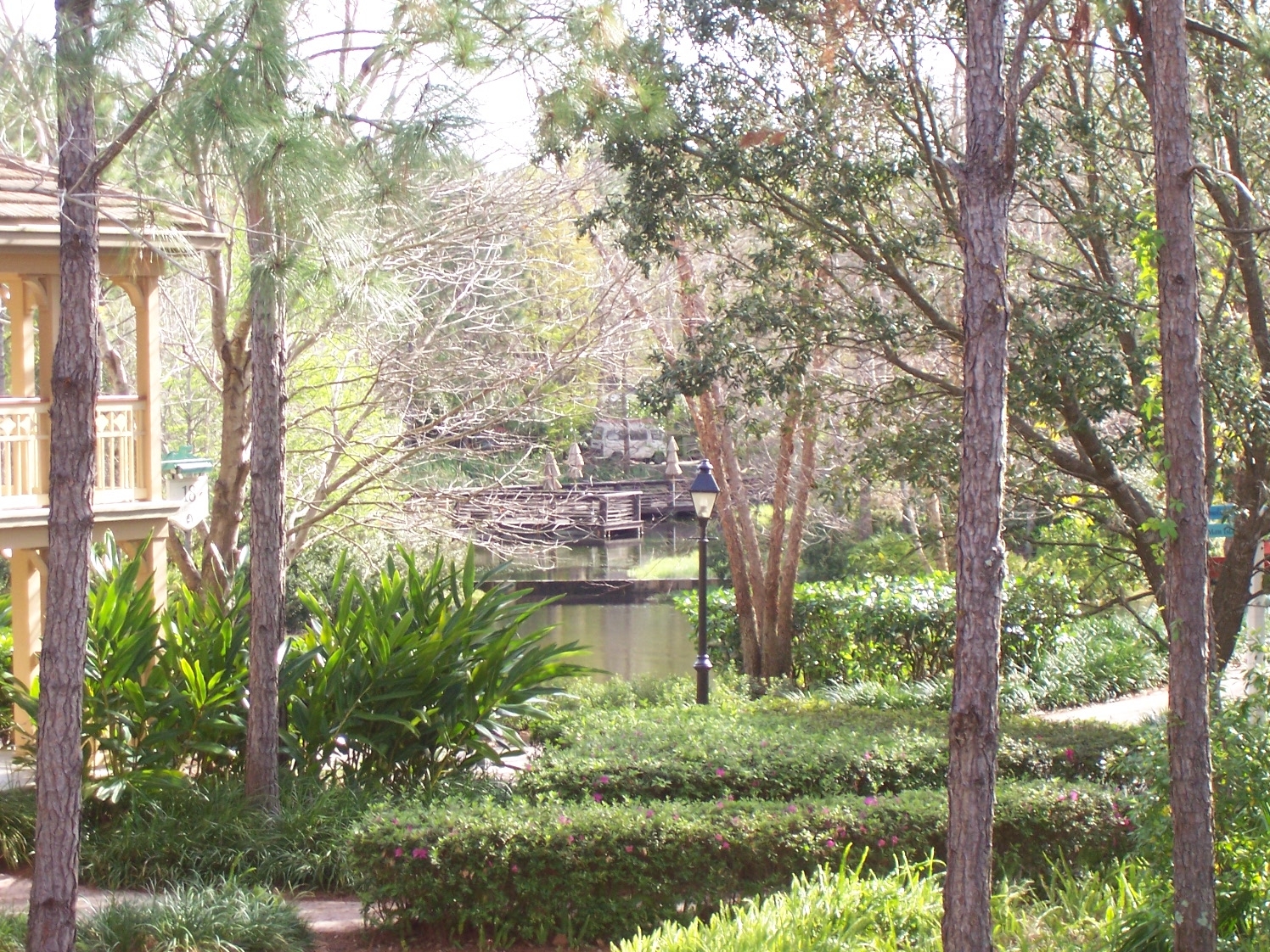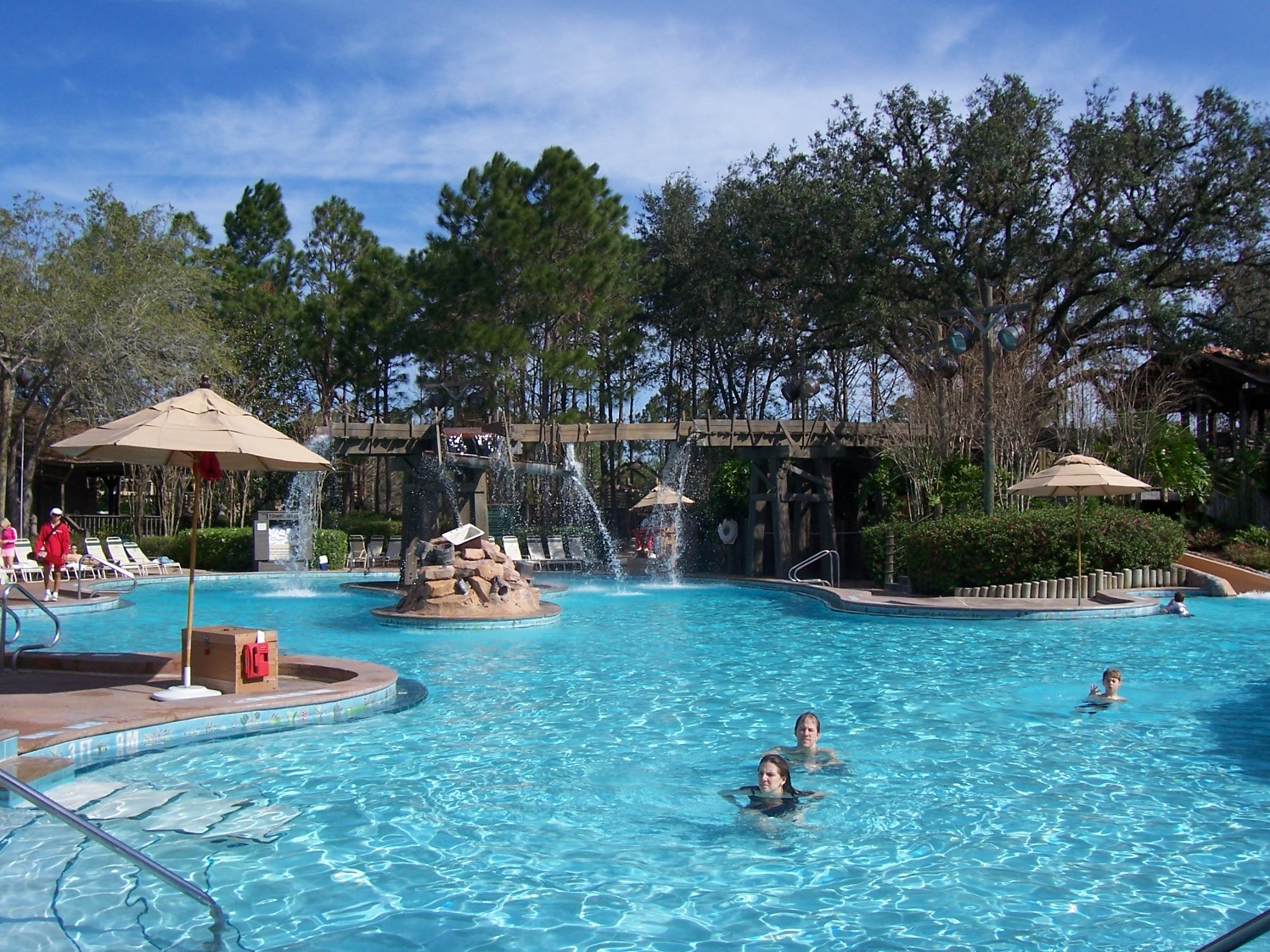 This beautiful resort houses 5 pools. There is Old Man Island, the main pool, which is heated and has a water slide down which the children (of all ages) delight in hurling their bodies. The other 4 pools are nestled in amongst the other buildings, but they are not heated. There is also a kiddy pool at Old Man Island as well as a hot tub. Life vests can be checked out from the Marina free of charge with your room key. You may keep the life vests for the duration of your stay; just make sure that you return them before you check out. Lifeguards are only stationed at the main pool, but towels are provided at all the pools.
There are many things to do at the resort other than swim. From the marina, you can rent boats of various sizes and you can also catch a ferry boat to the French Quarter and to Downtown Disney. This 20-minute tour of the Sassagoula River takes you past beautiful landscapes, manicured golf courses, and treehouse relics. There is also a horse-drawn carriage that can take you on a half-hour tour of your resort for $30 for the trip. Although Port Orleans Riverside houses the largest resort arcade, the arcade rarely has more than a dozen people. The games are all new varieties and most of the games seem to be in working order.
Port Orleans also houses a cane pole fishing dock where poles and bait are available. This is a catch and release program geared toward families. The price is $4 per person per half hour. Although catching a fish isn't guaranteed, the fishing hole is stocked with bass and catfish as well as other native fish. If you are lucky you will even get a chance to meet the local Port Orleans celebrity, a grown river otter! If you are a real fishing enthusiast, Riverside also offers early morning fishing expeditions.
The resort is filled with birds and animals of all varieties. This is a bird watcher's delight with many migratory birds from the Northeast who have made Central Florida their home. Bluebirds, mocking birds, swallows, North Carolina chickadees, fisher kings, woodpeckers, and many water birds are found throughout the resort. There is also a flock of ducks. There are duck food vending machines located at various places along the Sasscagoula River at the resort. For 25¢ you can feed some very eager mallards and even some fish that have learned that guests equal food. Aside from birds, the resort is the home to many squirrels and rabbits. An occasional deer have also been known to wander at the outskirts of the resort in the evenings.
Because Riverside is such a large resort, it houses 4 bus stops. The first bus stop is the South Depot which is located outside the main building. The buses then proceed to the West, then North, and finally East stop. You can catch the bus and be dropped off at any of the other depots as long as you tell the bus driver that is your intent. This can save some walking time if you are in one of the back buildings, but you may find that you are doing more waiting time than it would have taken to walk. The bus depots are convenient when returning to the parks as you can be let out at the depot closest to your resort or to the main building if you are in the need of shopping or dining.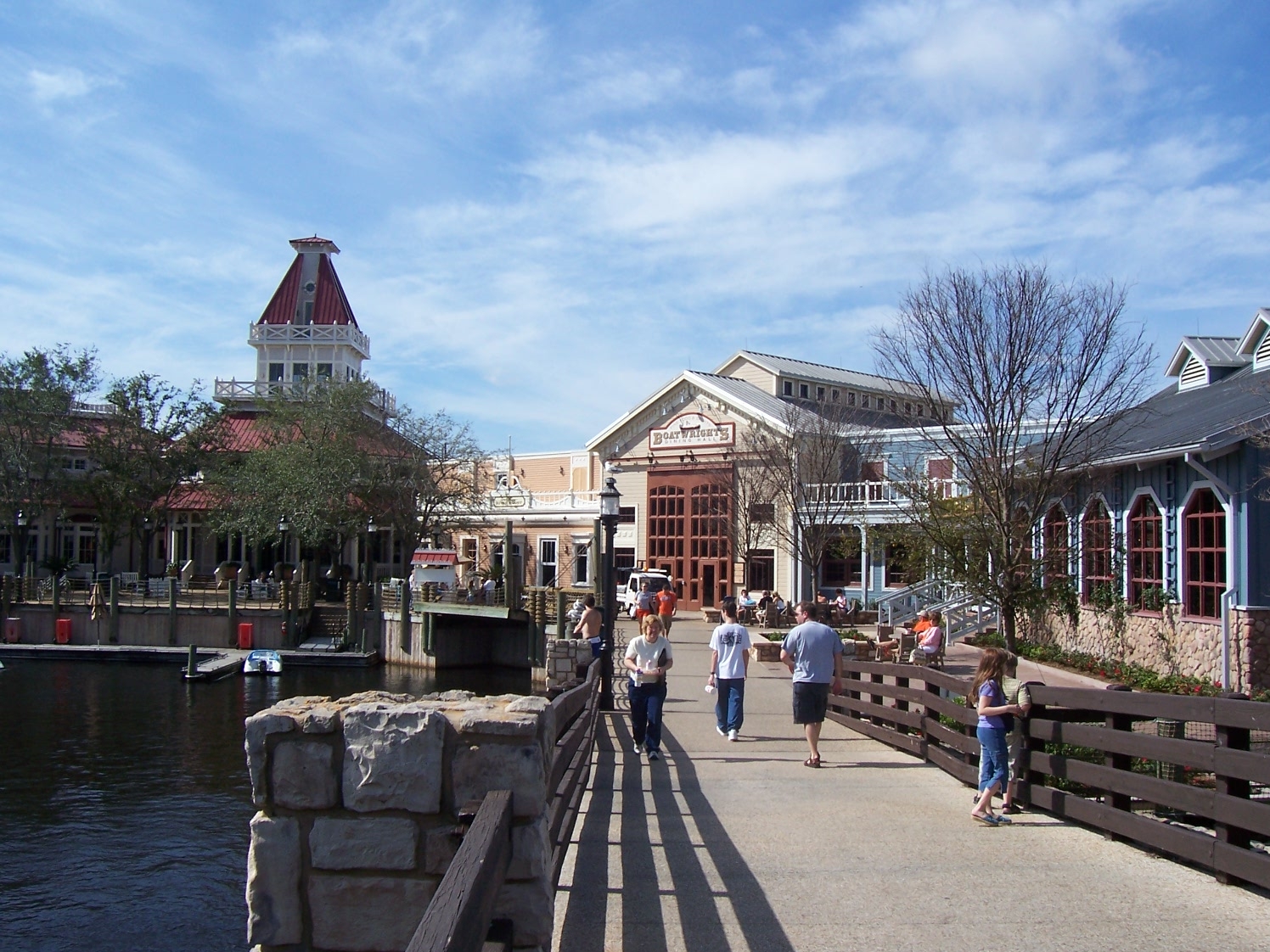 Port Orleans Riverside is in the class of moderate resorts. Little touches throughout the resort tell you that you are not at a value resort. Glasses at the sink instead of plastic cups, towels at the pools instead of having to tote your own from the room, a full-service restaurant instead of only a food court, and a refrigerator included in your room are just a few of the niceties that let you know that you are staying at more than just a hotel room. One of the nicest benefits of staying at Riverside is the ambiance. While you won't forget that you are at Disney, the colors and theme are much more relaxed. When coming home from a busy park, you will be greeted by the elegance of the resort with its calming colors, soothing pools and relaxed atmosphere. And if you aren't quite ready to turn in for the night, head over to River Roost Lounge and catch the piano man's set. He will have you jumping and hopping and skipping through the lounge to his whimsical and delightful songs!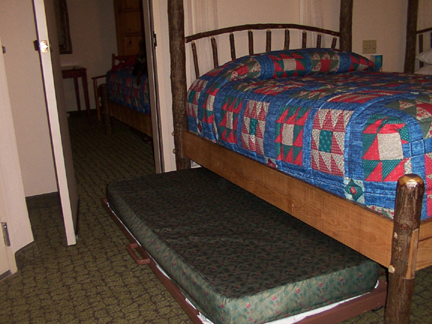 For families with three children, Port Orleans Riverside Alligator Bayou offers the added convenience of a pull-out trundle bed. This is a great alternative for larger families, which otherwise need to either get two rooms or to move up to one of the Home Away from Home resorts. Both of these options can be more costly. When factoring in the addition of a refrigerator, staying in an Alligator Bayou room can offer families of five savings in the long run. Many families choose to keep snack and breakfast foods in their room, thus saving the cost of breakfast (which for a family of 5 each having a hot breakfast can cost at least $30, not including drinks).
While not as inexpensive as the value resorts, POR can have very affordable rates at different times of the year. Various discount codes can also make this moderate resort and its amenities more available to the budget traveler. Because the moderate level resorts tend to offer more activities to do at the resorts, guests sometimes find that they spend more time at Port Orleans enjoying these activities and relaxing in the calming atmosphere than they would at a value resort.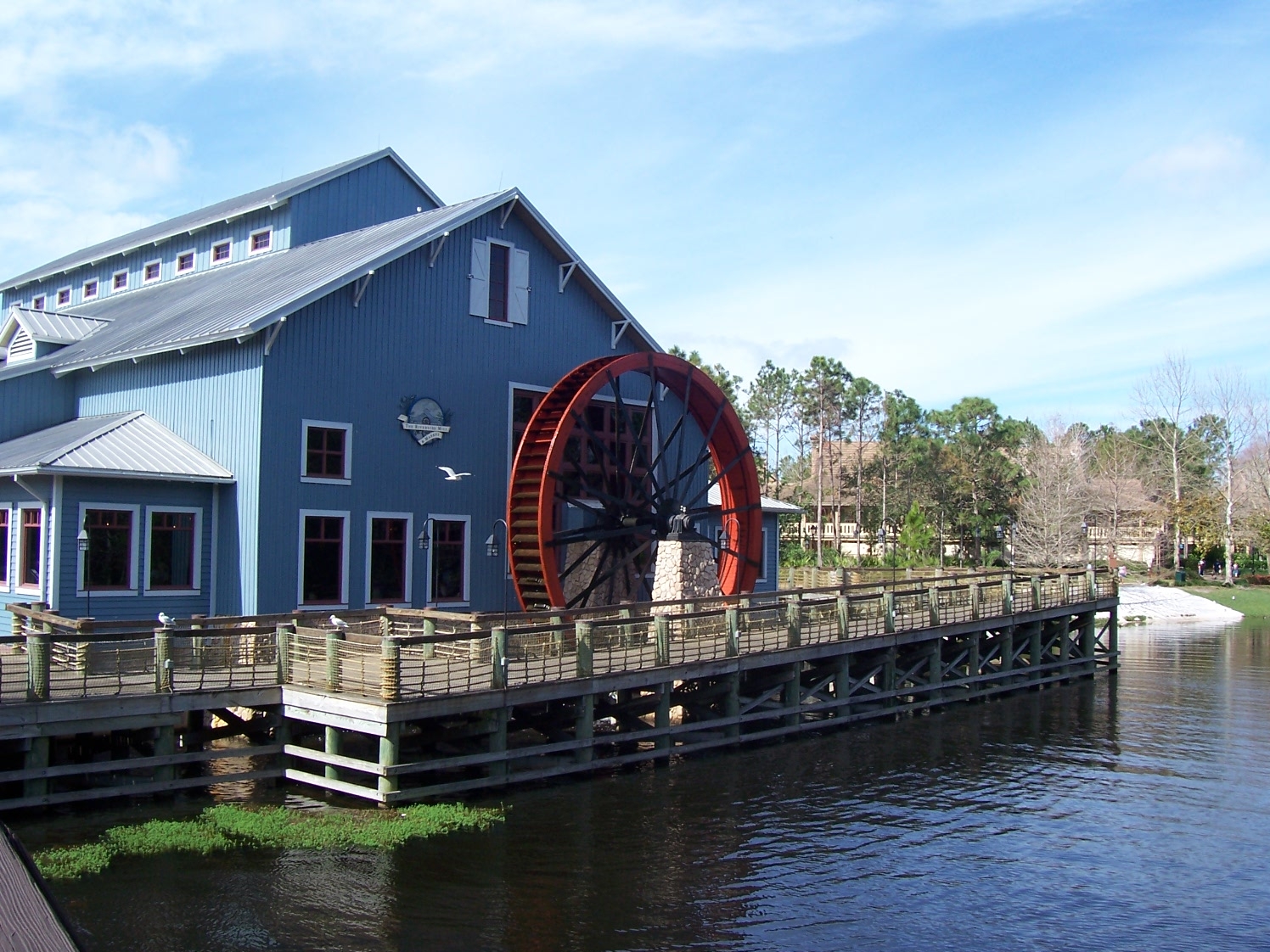 Port Orleans Riverside has 2,048 rooms divided between Magnolia Bend and Alligator Bayou. Port Orleans Riverside used to be called Dixie Landings, but after their last refurbishment, they changed their name to Port Orleans Riverside. Disney made the decision of the name change fearing that Dixie Landings reflected a negative image of South. But there is nothing negative about the beauty of this award-winning resort. Port Orleans Riverside has won several awards for its luscious landscaping and design! After one stay at Port Orleans, it may win a place in your heart!
Magically Speaking Featured Article
Library of Congress ISSN:1556-3863