This post may contains affiliate links for your convenience. If you make a purchase after clicking a link we may earn a small commission but it won't cost you a penny more! Read our full disclosure policy here.
By Michelle Leifur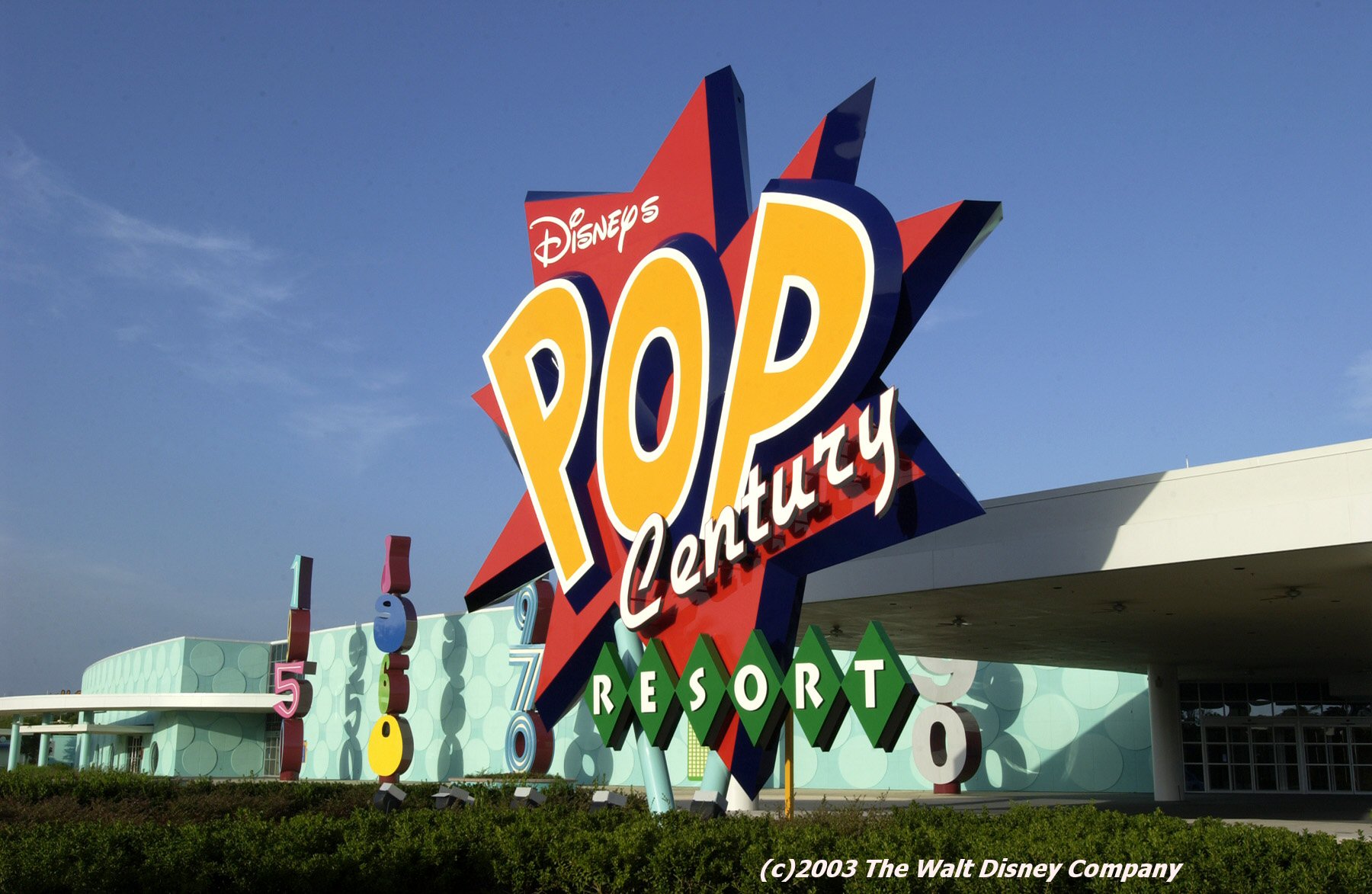 "Oh! It's like a walk down Memory Lane!"
"I remember this from when I was a kid!"
"Look at this! Can you believe we used to dress like that?"
"Mom, please don't do the Hustle again!"
These are just a few comments you might hear spoken by guests at Disney World's Pop Century Resort. It truly is a stroll down Memory Lane for anyone who grew up in the last half of the last century. Giant Rubik's cubes, bigger-than-life bowling pins, gargantuan Mickey Mouse telephones, and a colossal foosball table are just some of the icons that you will find on a tour of this fun and memorable value resort.
While this resort can hold many guests (it has nearly 6,000 rooms) Disney finally figured out an arrangement that made walking to Classic Hall (the main building where the front desk, shopping, and dining are located), less of an issue. Even guests staying in the farthest-flung '80s and 90's building will have a short 5-minute walk to Classic Hall, provided they don't stop and take pictures with Mr. and Mrs. Potatohead. And that can be a problem. There is so much to see and reminisce at this resort that you may find yourself in an odd time warp. An 8-track tape at the end of a stairwell might remind you of that time you were riding in your uncle's truck and he was bragging about how 3 Dog Night was the greatest band to ever exist. Seeing Mowgli and Baloo will spark a distant memory that The Jungle Book was the first real movie that your parents took you to see as a child. And yes; hearing the strains of The Hustle may actually make you want to get up and dance.
Classic Hall is where you will start to get your first taste of vast memory surge while staying at this resort. Along the wall opposite the front desk are shadow boxes filled with toys, games, clothing, posters, lunch boxes, music, and electronics from the different decades represented at this resort. These aren't replicas, either. These are the real things! On entering Classic Hall you will be greeted by other guests' cries of, "I had one of those!" and "I can't believe they were able to find one of these!" or even, "Hey kids! When I was a kid, this was all the rage! It was our version of Gameboy!" For most guests there will be at least one thing that will make you smile and say fondly to yourself, "I remember this" (or enviously if your mom never let you have one!)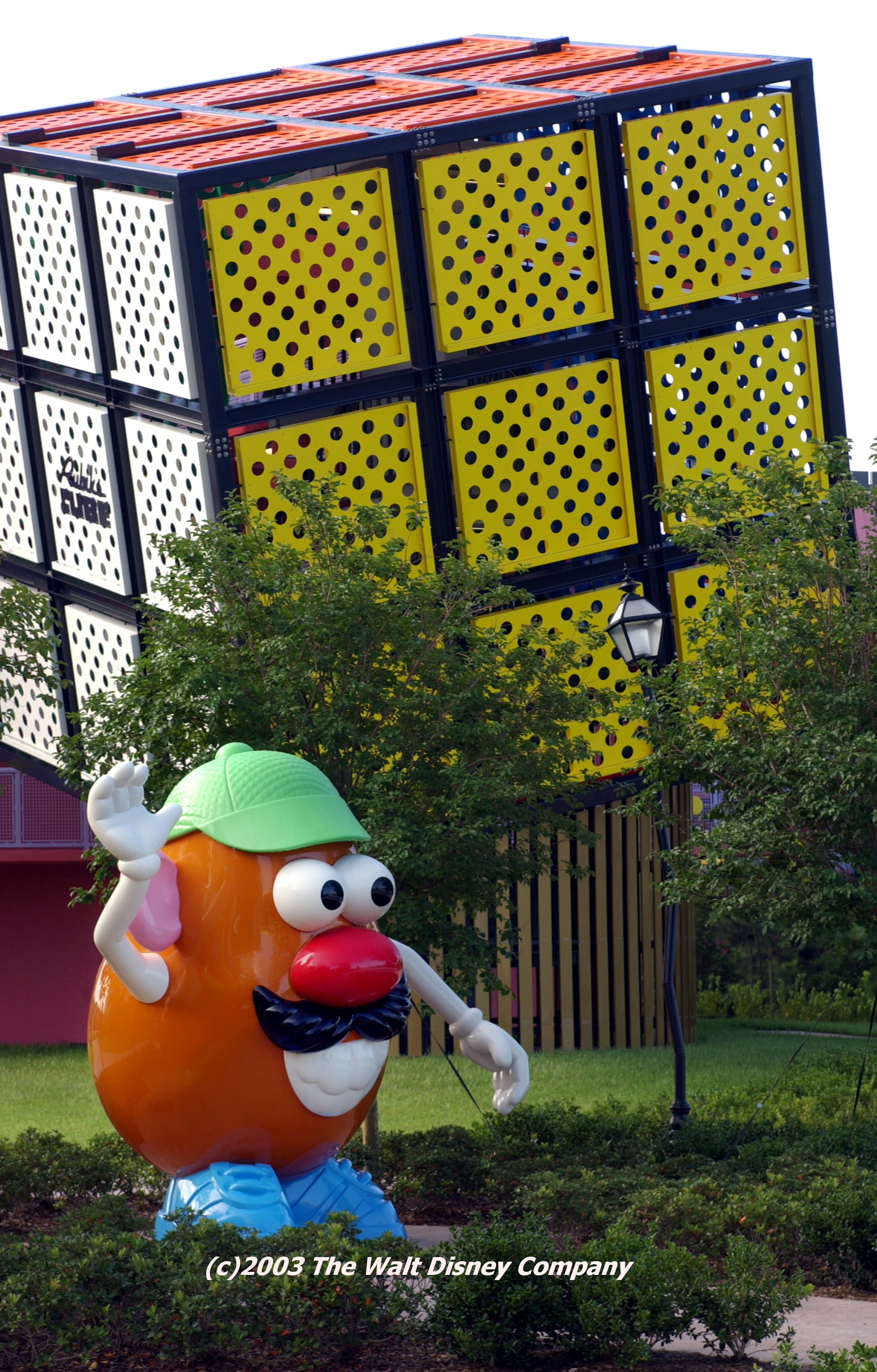 If Classic Hall isn't enough of a "remember when" for you, take a stroll along the perimeter of the resort where milestone markers are planted all along the sidewalks. Dates and events from the past 50 years are staked out along a curved path that runs between the resort buildings and Hourglass Lake. From the beginning of the Baby Boom to the Berlin Wall coming down, there is surely something that will spark a memory. The icons at each of the buildings are also quite memorable. With Lady and the Tramp eyeing each other from across the Bowling Pin pool at the 50's building, you can begin another stroll down that cobweb-filled brain. You can see everything from giant Rubik's cubes and a humongous Roger Rabbit to a full-scale gargantuan Big Wheel large enough to accommodate a child up to 877 pounds (says so on the sticker, just like the one on your Big Wheel!) And pay close attention to everything. Disney left no details out, including the thumb-print on the elephantine Play-Doh sculpture that looks like a child had just finished creating it (maybe the Big Wheel child's older sister?)
But enough about memories. Let's find out if this value resort is right for you and your family. As a whole, the rooms at Disney's value resorts are, well, basic. The standard room has 2 double beds, a television, nightstand, small table with 2 chairs, vanity, closet, chest of drawers and bathroom. There isn't a lot of room to do the Hustle in your room, but your family won't feel like they're caught in the middle of a game of Twister either. These rooms sleep four and Disney is very strict about this number. A fifth person can be added provided it is a child less than 2 years of age. A crib can be requested. When asked as to the room restrictions, Disney's answer is simply that it is a fire code that required enforcement. For large families, two adjoining rooms can be reserved to double your space. This can sometimes be cheaper than staying at Port Orleans Riverside or a deluxe resort. It also will double your bathrooms, which can be an issue when trying to get 2 adults and 4 children out of the room by 7:15 for your 8:00 reservations at Chef Mickey's!
Opened in December 2003, this resort is one of Disney's newest places to stay, but it is only half of the whole picture, which you will see when you walk along Memory Lane. Across the lake from the Classic Years sits the yet-completed Legendary Years. This resort has an undetermined opening date and also will have over 6,000 rooms when completed. Generation Gap Bridge will connect the two resorts across Hourglass Lake. So don't be surprised by the gray buildings on the other side- they do not represent "The Depression Years!" Once opened, these two sister resorts will accommodate thousands of guests in their 4-story buildings.
For guests with walking difficulties or who are in a wheelchair, the great news about this resort is that the buildings do have elevators, making every floor accessible. The elevators are located centrally in each group of buildings, and winding connecting walkways make every room easy to reach. Rooms for those with special needs are still available, including king-sized beds and bathrooms to accommodate wheelchairs. Walkways are smooth and there are no stairs leading into any of the buildings.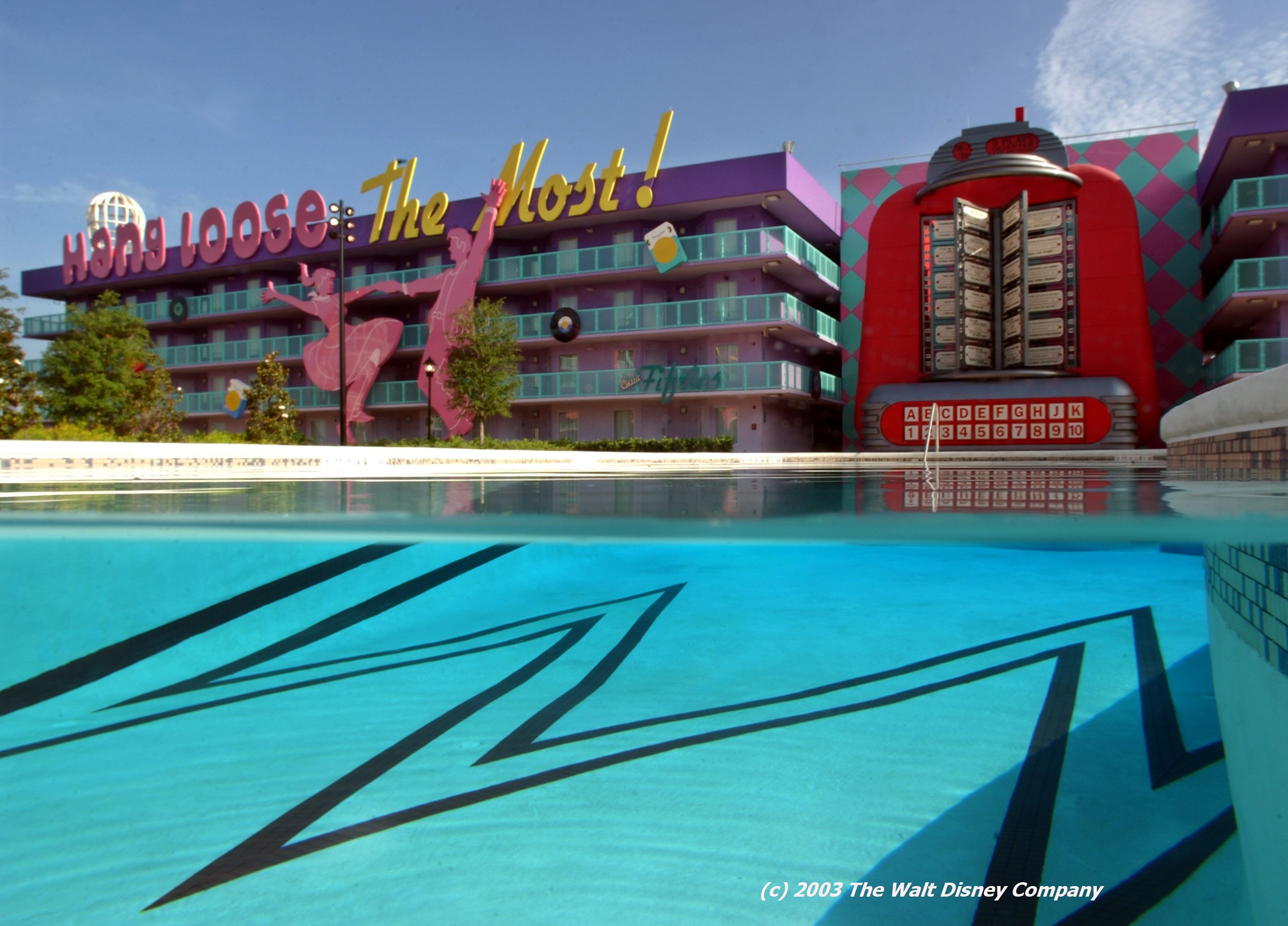 Being a value resort, there are fewer options than you will find at moderate and deluxe resorts. There are 3 pools, each themed beautifully around the buildings that surround them. The main pool, the Hippy Dippy Pool, is shaped like a giant flower with water that shoots from various areas. There is also a computer pool, complete with a keyboard, and a bowling pin pool. Near each pool is a laundry center where you can do laundry between dips in the pool (or you can take a dip in the pool between loads of laundry. Your choice.) The Hippy Dippy pool also has Petal's Pool Bar that serves fun adult beverages. Aside from swimming, there is also a large arcade room at Classic Hall called Fast Forward, and shopping can be done at Everything Pop, which is also the resort's food court. There is no full-service dining option at any of the value resorts, but the food selections are accommodating of even the pickiest eaters and special dietary needs can easily be met with advance notice. And if you are really in for an adventure, there are games of Twister available between the 70's buildings for your amusement. (Note: No chiropractors are on duty at Disney, so take this into consideration before thinking you can play this game like you did when you were 12!)
For some Disney guests, Pop Century meets the "three S's." Sleep, Shower, and Swim. For others, it is an affordable way to stay on Disney property and take full advantage of using the bus systems. Still, others enjoy the memories, the bright colors and the constant reminder that they are at a Disney Resort.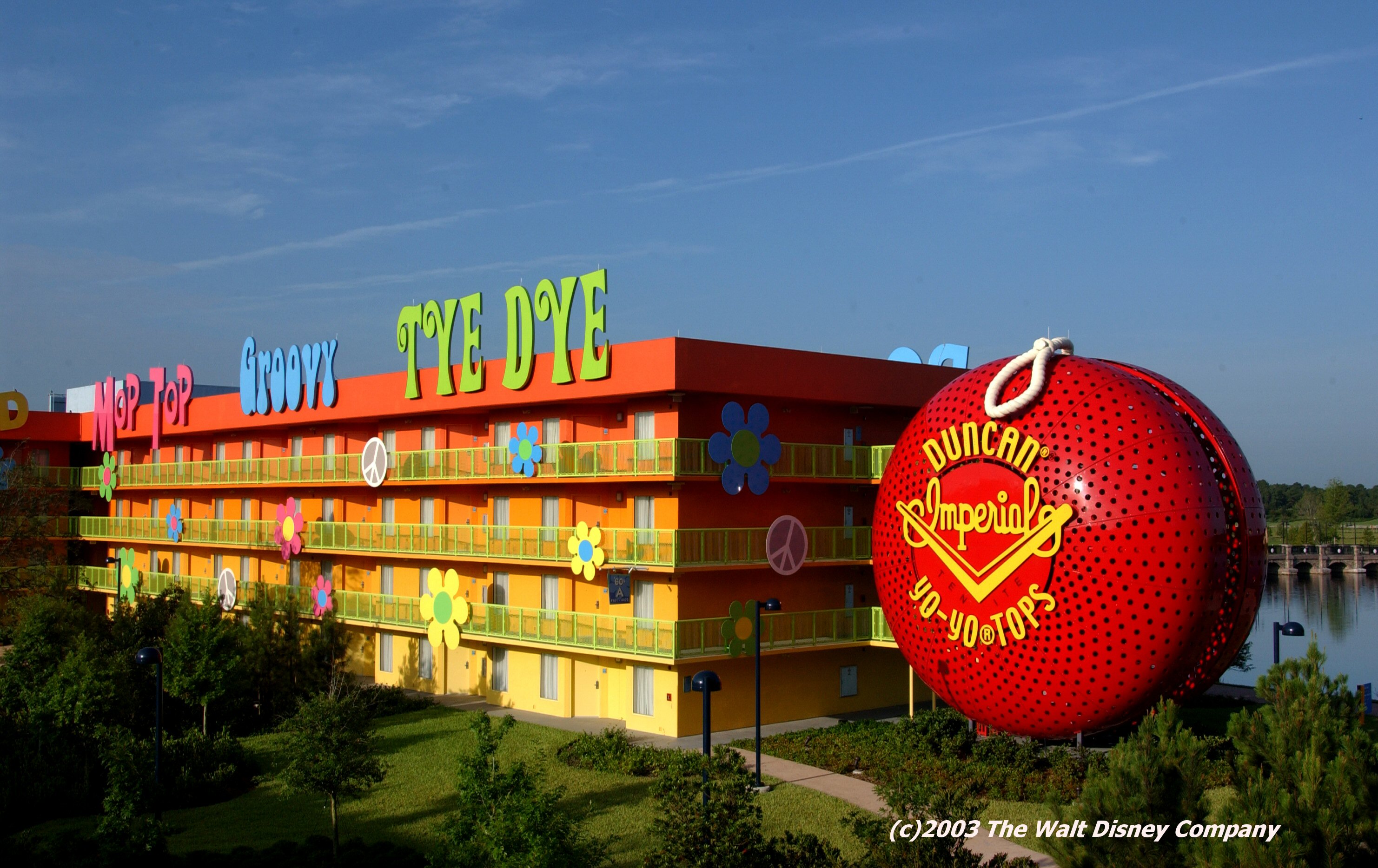 Magically Speaking Featured Article
Library of Congress ISSN:1556-3863