This post may contains affiliate links for your convenience. If you make a purchase after clicking a link we may earn a small commission but it won't cost you a penny more! Read our full disclosure policy here.
On our first trip to Disney World, my boys were 2 and 4-years-old.  I had read The Unofficial Guide to WDW and felt fairly prepared for our trip.  Touring plans in hand, we were ready for the World.  However, I was surprised to learn that my children were just as happy, if not more so, playing in the pool or watching a parade as they were riding the rides.
The guide books said to schedule in pool time for the children, and I had done that.  Despite the good information I had read, I did not realize how much my kids would love playing in the pools.  My adult perspective said, "A pool is a pool.  We can go to a pool back home."  But the children saw a magical water world and would have been happy to play in the guitar and piano-shaped pools at All-Star Music all day!  "Swimming" (actually paddling with water wings) out to the Three Caballeros in the center of the guitar-shaped pool was an adventure they tackled with gusto.  Avoiding being shot by the water spray, and then trying to be shot by the water spray, was a game that could have gone on for hours. 
We had pool time the evening we arrived at our hotel, and because of the advice in the guide books, I had schedule a day for playing in the pool and visiting Down Town Disney.  I was so glad that we had that leisure time in the pools.  Although it was difficult for me to "stop and smell the roses" (or should I say "stop and smell the chlorine"?) because the frugal part of me wanted to maximize our time in the parks and see as many attractions as possible, I had to recognize that the pool was an attraction in and of itself. 
Other Disney events that I might be tempted to skip as an adult, but that my children truly enjoy, are the parades.  Our first parade was the Stars and Motor Cars Parade in MGM Studios (now called Hollywood Studios).  My young boys were huge Power Ranger fans, and when the Power Rangers came by with their big black car roaring, my boys were in awe.  The pictures of their faces while watching the parade are some of my favorite pictures from our trip.  They waved at everyone, and all the characters waved back or gave a high-five.  Although we were only four people in a crowd of hundreds, we felt like the entire production was just for us.  Over the years, we have enjoyed many other parades.  The Halloween parade is one of our favorites.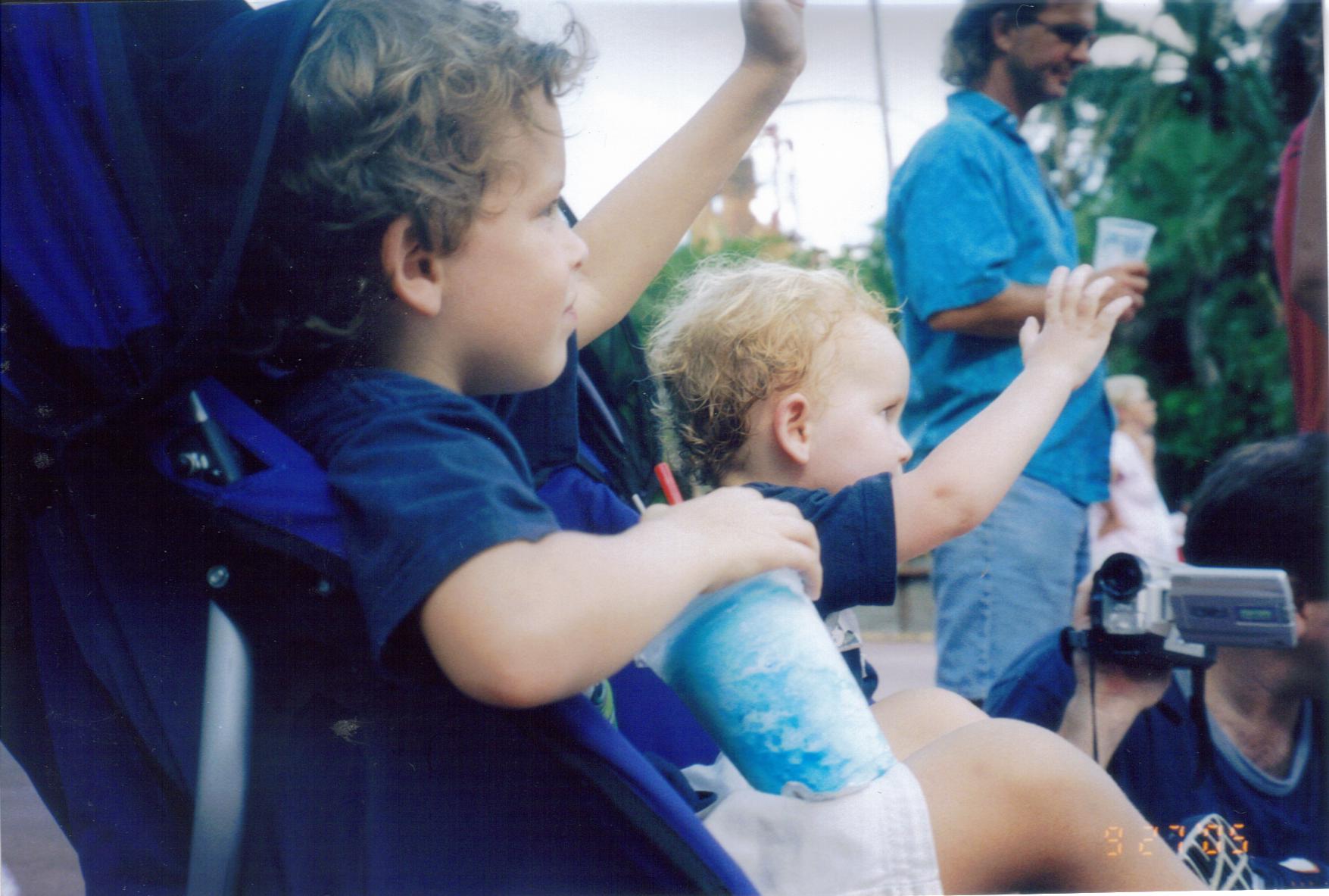 During that first trip, I was able to internalize the advice I hadonly read about before. Spend time at the pool.  Enjoy the parades.  I learned to ignore the voice in my head that wanted to cram in as many attractions as possible in one day, the voice that wonders how short the wait lines are since everyone is watching the parade.  Instead, I paid attention to the voice that said "Look at the expressions on your children's faces!  This is magical!  This is Disney!"