This post may contains affiliate links for your convenience. If you make a purchase after clicking a link we may earn a small commission but it won't cost you a penny more! Read our full disclosure policy here.
By Teresa Pitman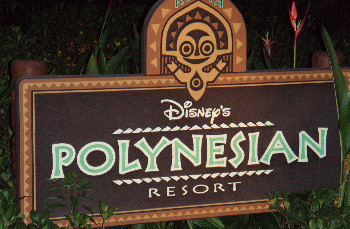 Last February I was able to persuade my friend Lenore and her son Liam to visit WDW with me. It would be her very first trip – I know, I was shocked too – and I wanted to make sure she had a great time. My planning worked perfectly – by day five she'd fallen in love with WDW. But it wasn't just the rides and shows that won her over. A big part of our vacation enjoyment was our resort: the Polynesian.
From the moment we walked up to the front entryway, Lenore was entranced. We'd just left behind several feet of snow and ice in Canada and as we walked past the lush gardens, ponds and fountains it really felt like we'd entered a different world. Even when we got inside, it felt like we were still outdoors – the atrium is filled with tropical plants and falling water. While we stood there oohing and aahing, cast members offered us leis to wear. Yes, we had arrived at the Poly.
The main building in the Polynesian Resort is called the Great Ceremonial House, and it's home to some important things. Here you'll find the two table–service restaurants ('Ohana and the Kona Café), both on the second floor, and a counter-service restaurant called Captain Cook's on the main floor that has both indoor and outdoor seating. There are also a couple of stores in this building as well as the entrance to the monorail. Out behind the building you'll find the Luau Cove, where the Spirit of Aloha Dinner Show takes place and the Volcano pool.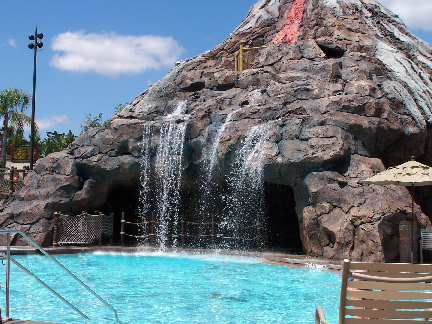 Volcano pool.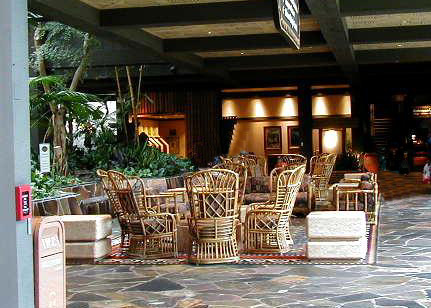 A quiet lounge area.
Our building, Tahiti, was a longish walk from the main building, but we loved it. LOVED it! For one thing, we were right on the beach. For another, we were a very short walk from the Ticket and Transportation Center (TTC). Those turned out to be two of our very favorite things about staying in the Poly.
What's so great about the location? Well, if we wanted to go to a park – or even another resort – we had OPTIONS. Lots of options. To get to the Magic Kingdom we could: walk to the main building and take the monorail; walk to the TTC and take the monorail; or walk to the TTC and take the ferry. All of them quick and actually kind of fun. To get to Epcot, it was another short, pleasant stroll to the TTC for another easy monorail ride. Want to go to Hollywood Studios or Animal Kingdom? Once again, you have some options. Take the ferry or monorail to Magic Kingdom, then walk over to the bus stops to find a park bus. Or wander down to the front of the resort where there's a handy bus stop and wait for the bus to the park of your choice. Getting to another resort was equally easy: if the resort wasn't one of the other monorail options, a quick ride over to Magic Kingdom gave us access to buses to all the other resorts. You can also take a boat from the Poly dock to the Grand Floridian, Magic Kingdom or Contemporary.
That kind of convenience is hard to beat. I think I spent less time actually traveling to the parks on this trip than on any other.
Our other favorite thing? The beach. There's nothing quite like relaxing in a hammock or beach chair or lying on a blanket on the beach and watching the fireworks burst into the sky over the castle, or humming along to the music as the Electric Light Parade sails by. On two different evenings, tired after busy days in the parks, we picked up some snacks and wine from Captain Cook's, set up a little picnic on the beach, and had what felt like our own private evening of entertainment.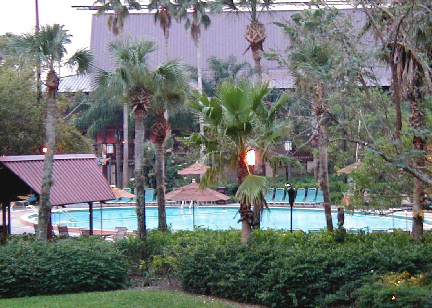 The pool and grounds.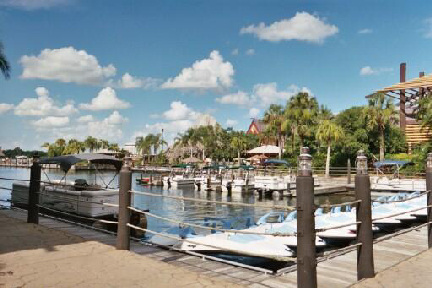 The marina offers a variety of boat rentals.
We had a standard room on the ground floor decorated, as all the rooms are, in South Seas style. That included two queen-sized beds plus a daybed, a small fridge (which we mostly used to store bottles of wine, it seems), and a sunny patio area. If we'd been on a higher floor, we would have had a balcony instead.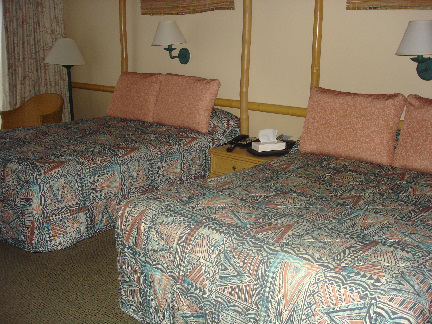 The room is decorated with an island theme.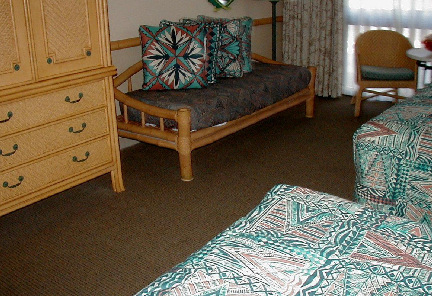 The day bed is handy for a fifth guest or just for a nice afternoon nap.
While the Poly makes it easy to get to the parks, they also provide plenty to do if you want to hang out at the resort. Like water? You can rent boats of various types and sizes to scoot around the lake or swim in either the Volcano pool (which features a slide, a kind of built-in hot tub section, and zero-entry feature) or the quieter swimming pool. Want good food? Kona Cafe serves an impressive selection of food with Asian flare and Ohana's is famous for its breakfast with Stitch and Lilo and dinner with meats served on skewers brought to your table. Captain Cook's is a fairly typical food court with one exception – they sell Dole Whips. Want an "adults-only" evening? The Never Land Club provides child care for kids ages 4 to 12 within the resort.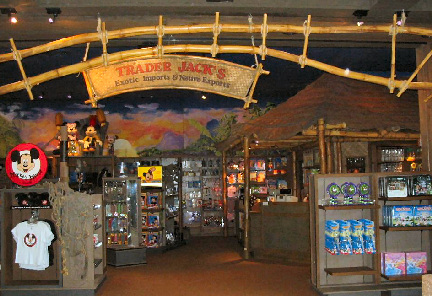 The Trader Jack's gift shop offers Disney and resort themed merchandise. You can even mail yourself a decorated coconut!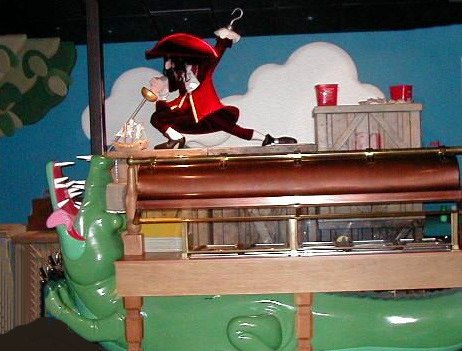 The Neverland Club is well-themed as Peter Pan hideaway.
Of the three monorail resorts, the Polynesian is definitely the most relaxed and informal. At night, with the torches burning alongside the pathways to light our way as we walked back to our longhouse, it felt both peaceful and exotic.
If there's one bad thing about the Poly, it's this: once you stay there, you'll fall in love with it. The mix of South Seas hospitality and convenience to the parks is almost unbeatable – maybe even magical.