This post may contains affiliate links for your convenience. If you make a purchase after clicking a link we may earn a small commission but it won't cost you a penny more! Read our full disclosure policy here.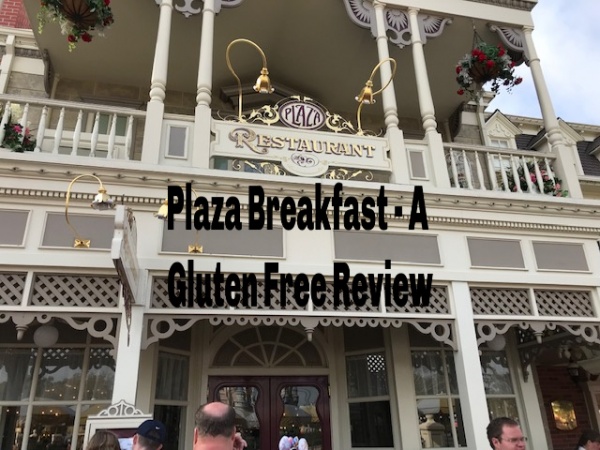 I recently had the enjoyable experience of having breakfast at the lovely Plaza Restaurant located on Main Street, USA in the Magic Kingdom park. I have had lunch here in the past, but never breakfast!My favorite park is Magic Kingdom. Add to that eating right on Main Street and I was a very happy girl. The Plaza did not disappoint.
The location itself is so quintessentially Disney. It is beautiful inside and out. It is just how you would imagine a place at the turn of the 20th century in small town USA would look. Then, once you are inside, you can gaze out at Cinderella Castle while you are eating. The restaurant itself is pretty small without a ton of seating. It's mirrored walls give the illusion of more space than it actually has.
The one downside is that you will need to leave the actual restaurant and venture across the way towards the Tomorrowland Terrace Restaurant building to hit the restrooms since they do not actually have them inside of the restaurant. It's not far, but you do need to totally exit the restaurant which could be an issue. Looking at the picture below – The Plaza is number 10 and to the right you see the restroom icons. Again, not far, but external to the restaurant.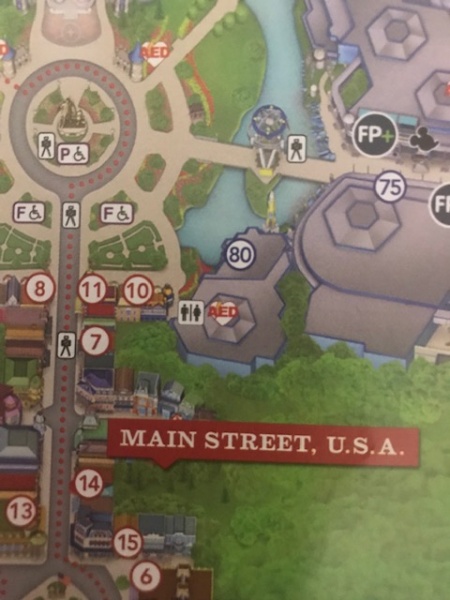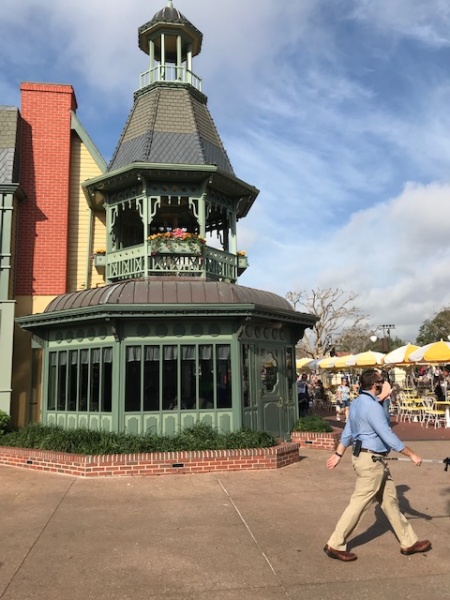 We had a 9:00 a.m. Advance Dining Reservation, but we arrived a few minutes late because the Princess Half Marathon traffic was in full force and we drove in from our hotel that morning. It was our final day of our very short Princess race weekend and we needed to go to the airport later that morning. The restaurant had no issues getting us in a few minutes late.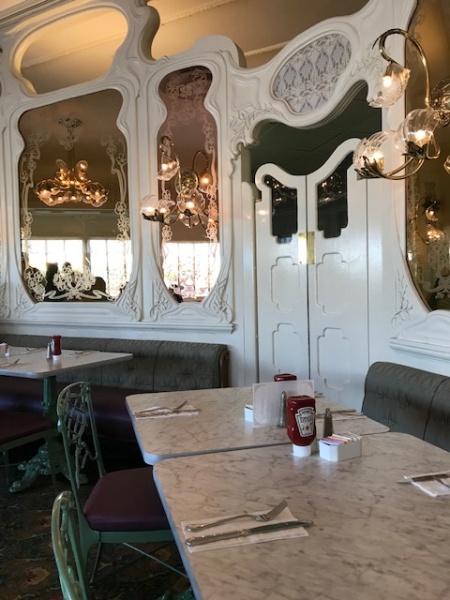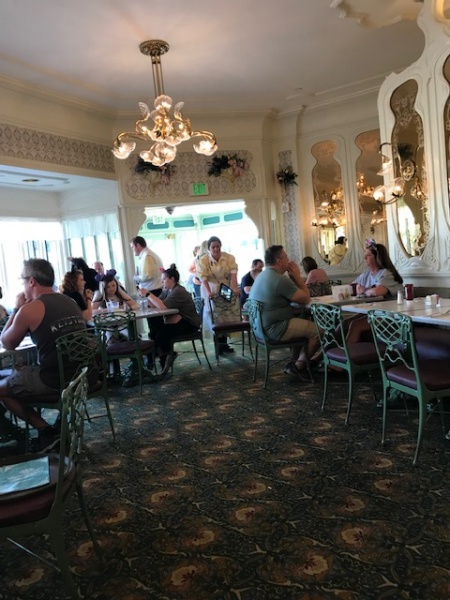 I ran the Enchanted 10K Princess Race the day before, and with it being our last day before going home, we felt perfectly entitled to order a Mimosa and a Bellini! Neither disappointed. I had noted my allergy on the reservation and had a short discussion about it with our waiter. He offered to have a chef come out and speak with me, but I declined because I am pretty confident about ordering breakfast foods that are gluten free. They did not have a separate allergy menu here either as most of the other locations on Disney property now do.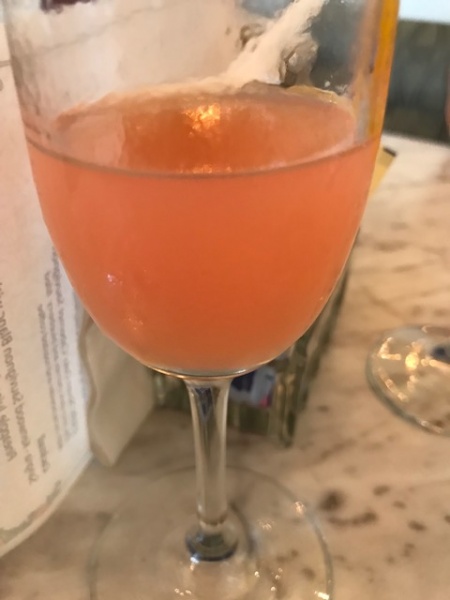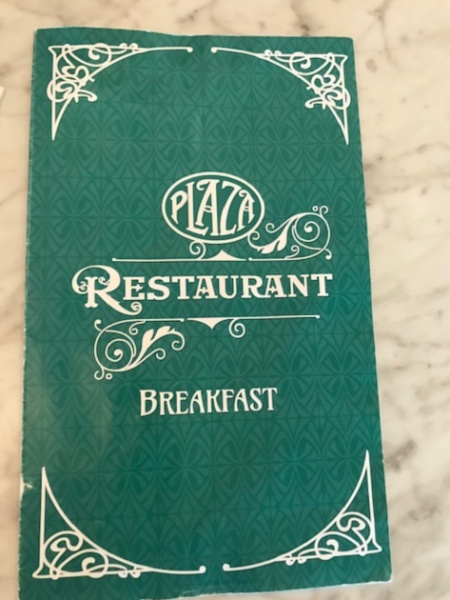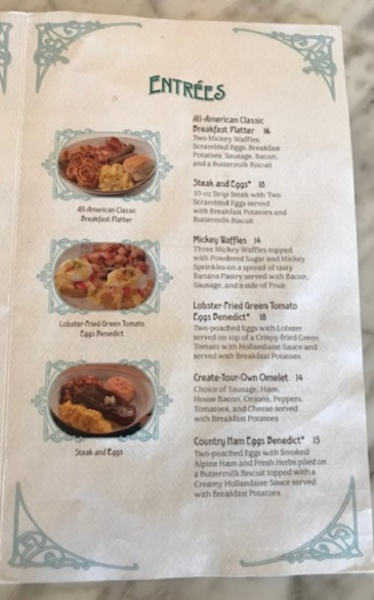 With very little debate I decided on the steak and eggs.
Steak and Eggs
10-oz Strip Steak with Two Scrambled Eggs served with Breakfast Potatoes
$18.00
Peach Bellini Cocktail
Canella Prosecco with White Peach Juice
$10.00
Plaza's Mimosa
Domaine Ste. Michelle Brut with Guava-Passion, Orange, Pineapple Juices
My husband ended up getting the same thing. He does not  have Celiac so he enjoyed his with the buttermilk biscuit. I did ask about the potatoes and the waiter mentioned that they were done in a dedicated fryer, so they would be safe for me. I ate the meal and had no issues at all and I can be very sensitive to cross contamination.
When the food was delivered we were both surprised at the size and quality of the steak. Each were cooked perfectly. I had mine done medium rare and my husband had his done medium. The size of the steak was huge! I know the menu clearly stated a 10-oz steak, but I think I was expecting a thin flank-type of steak so I was very pleased. It was good quality meat and a large portion of eggs, which I had scrambled. The breakfast potatoes were seasoned nicely and were tasty. Obviously, I had mine without the buttermilk biscuit but my husband said his was warm, fluffy and fresh.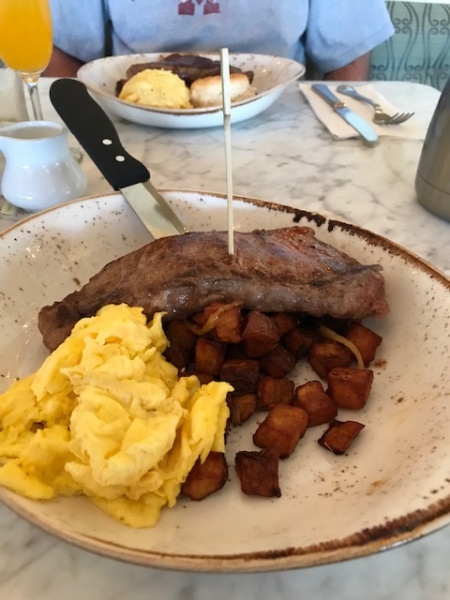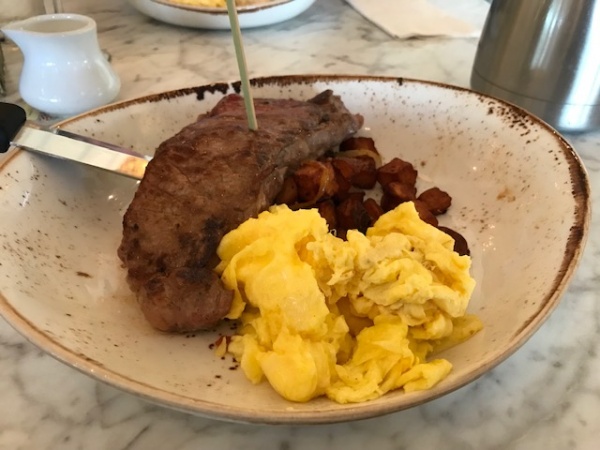 We had a very lovely experience at the Plaza for breakfast and would for sure visit there again. It was a very hearty and filling breakfast and reasonably priced. The ability to have the cocktail with it even though you are in Magic Kingdom was like icing on the cake!
Have you had breakfast at The Plaza Restaurant? What were your thoughts? Share what you enjoy about it in the comments below or on Facebook or Twitter!
Did you like this article? Make sure to share it with your friends! Check below for easy ways to share!
Want to visit the Walt Disney World Resort? Contact The Magic for Less Travel for more information and a free, no-obligation quote.