This post may contains affiliate links for your convenience. If you make a purchase after clicking a link we may earn a small commission but it won't cost you a penny more! Read our full disclosure policy here.
By Carol Garcia
How long are you staying? That is a common question when talking about your Disney vacation. But how long is long enough? Is it possible to stay too long? How do I sort it all out? Read on to find some answers to these common planning questions.

The best way to look at how long to stay at Disney is to break it down into a few factors. There is no right or wrong answer. Everyone's opinions are different, so only you and those with whom you are traveling can answer these questions.
The best way to look at how long to stay at Disney is to break it down into a few factors. There is no right or wrong answer. Everyone's opinions are different, so only you and those with whom you are traveling can answer these questions.
Next, how are you getting to central Florida? Driving is an option for many, but remember to include not only the time to get there but also the time to get home. You probably don't want to spend more time in the car than enjoying your destination. If you are flying, don't forget about travel time to and from the airport. Even an early arrival doesn't mean a day at the parks is the best fit for the first day. Once your plane lands, you will have to retrieve your luggage and travel to the hotel. Most on-site hotels are about 45 minutes from the airport. Then there is check-in, unpacking, and resting from your journey. Time zone changes may also tire travelers. Realize that the day of arrival won't be a full day at the parks. Many people don't even bother with the parks on the first day. They may have a restful dinner, take a swim and get to bed early so they are ready to go in the morning.
Many of the factors so far may seem intuitive to some. One that is not so intuitive, especially to a first-time traveler, is understanding what Disney has to offer. Disney has four theme parks and two

water parks. It is 47 square miles and bigger than Manhattan. There are hotels to explore, restaurants to sample, and tours to take. Downtown Disney offers DisneyQuest, Cirque du Soleil, Pleasure Island (with its variety of nightclubs for an adult night out), and many restaurants and shops. If you are thinking of including other Central Florida attractions, there is, SeaWorld, Wet 'n' Wild, dinner shows, many smaller attractions in the area, and two parks at Universal Studios. For purposes of this article, we will just concentrate on the Disney properties. Just remember that there are many more places to visit in the area, although many of us feel a Disney-only vacation is very satisfying.
So there are four theme parks to tour. How much time is needed at each one? Well, that is a bit of a personal preference. If your group is the "commando" type, going nonstop for the entire day, you may be able to see more in a day than a group traveling with young children. A good rule of thumb is one park per day, but of course, some like to make exceptions to the rules. Some feel Disney's MGM Studios and Animal Kingdom are half-day parks. MGM offers a lot of shows, so a half-day will not do most of the park justice. Animal Kingdom offers so many unique animal paths to explore; guests could easily spend at least a day exploring. The Magic Kingdom can be an entire vacation for those of us with small children (and was when some of us were children). Epcot is almost two parks in one, with the World Showcase and Future World offering differing experiences. How much time you spend in each park may be determined by if you want to "soak it all in" or if you are there strictly to "do the rides."
The next thing to consider is a day off. This is a vacation after all. A day at the resort pool is a relaxing way to break up a few days of touring. All of the resort hotels offer themed pools and many of the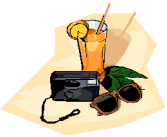 resorts offer other activities as well. You can do everything from horseback riding to boating, from golf to shopping, from tours to fishing! And if you are considering a day at one of the water parks, you may want that to be your only activity that day. A day spent splashing, surfing, and hurling your body down water slides can really exhaust an already weary park hopper!
Remember again that the Walt Disney World Resort is a very large place. There will be a lot of walking. It can be tiring if the guest is not used to that much exercise. A day off of touring is often needed for tired feet and long days in the Florida sun. Another factor in thinking about a day off is the time of year. A lower crowd time will allow for more to be seen in a day than a more crowded time. Also, the hot summer months call for more breaks to cool off and rest or at least getting out of the sun during the hottest part of the day.
Finally, there is your touring group to consider. Are you traveling with young children or with someone

with special needs? Do you enjoy eating counter service food or do you prefer lingering over a nice meal in a full-service restaurant? All of these things will factor into the length of time it takes to see the attractions in the parks.
Many "Disney Veterans" will tell you that no matter how long your stay, you will never see everything! There are many hidden gems throughout the Walt Disney World Resort that you could stay for a month and still miss something. Many guests who visit Disney World for the first time originally think of their vacation as a "once in a lifetime event" but find that they just have to come back again as there is so much to see and do. So whether you are planning a "long weekend" or a 2-week vacation, realize that you just aren't going to see it all. Oh, and did I mention cruises?
Magically Speaking Featured Article
Library of Congress ISSN:1556-3863