This post may contains affiliate links for your convenience. If you make a purchase after clicking a link we may earn a small commission but it won't cost you a penny more! Read our full disclosure policy here.
Just a few weeks ago, I found myself with a random day off from work and thought, "Why not spend it at Disney?" So, less than 2 days ahead of time, my friend and I quickly threw together some plans for a day trip.  Planning a last minute trip to a Disney park CAN be done!  Here are some tips to help make the most of it.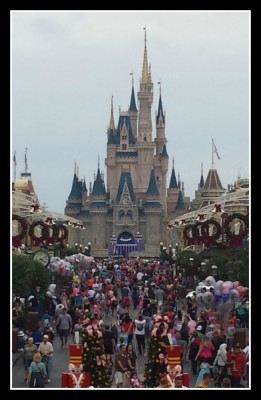 Make a last minute trip this holiday season!
Be flexible
In an effort to control crowds and reduce wait times, Disney has created systems that allow guests to reserve attraction and dining times well in advance.  Usually this is a good thing, but if you are planning your trip at the last minute, you may find that the FastPass you hoped for or the dining reservation you wanted is not available. Don't despair!
When you try to reserve FastPasses late in the game, you may be surprised to find that many are still available.  Really popular attractions like the Seven Dwarfs Mine Train, Toy Story Mania, or events with limited FastPasses like the parade viewing areas may be extremely difficult to get, but you should still be able to snag FastPasses for some of the other attractions that typically have longer waits.
I have managed to get FastPasses for rides like Soarin' and Space Mountain within the same week of my trip on several occasions. For the trip I took a few weeks ago, I even managed to grab some FastPasses less than 24 hours beforehand.
This takes some effort, but it can be done! I had to book each person's FastPasses individually and move them around until I found times that overlapped. This was frustrating and tedious, but it actually worked!  I do not recommend trying to do this for a large group. You may have better luck if your party is willing to split up.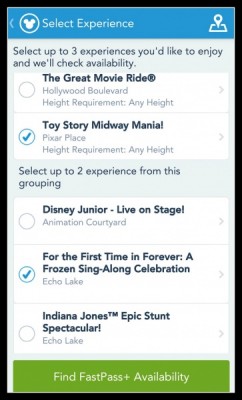 Book FastPasses through the My Disney Experience app
Some of the more popular restaurants like Cinderella's Royal Table or Be Our Guest may be mostly booked, but keep in mind that guests do change plans, often within days of their travel. Keep checking!  Look for reservations at "off" times.  If you are willing to eat a later lunch or dinner, you may get lucky.
There are also many quick service restaurants that do not require reservations, so there are plenty of options. Eating at quick service locations also gives you more flexibility to do other things since don't have to worry about making it to a restaurant at a certain time.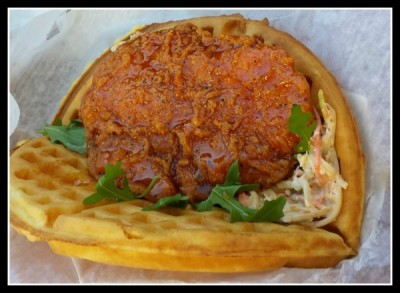 Quick service dining locations, like Sleepy Hollow, offer fast and delicious meals
Plan what you can and be organized
Unless you live in the Orlando area, you will probably not decide at the VERY last minute to make a trip. Even if you don't have a lot time to plan, chances are you can still plan some things.
Use the My Disney Experience app to help keep track of your FastPasses and dining reservations.
Be sure to make a list of essentials for your trip to ease the burden of packing.  It's easy to forget things if you are in a rush and you don't want to find yourself missing something important.
Keep your travel information in a place that is easily accessible. It is frustrating when you can't find your hotel confirmations, flight information, or car rental when you need it. Make sure you have all of that handy prior to travel.
Start early!  I am bad at this because I have never been and will never be a morning person, but getting to the park when it opens pays off. You can generally beat some of the crowds and accomplish a lot in the mornings. You may be able to ride some of the attractions you weren't able to get FastPasses for if you hit them first.
Make a list of "must do" things and have a tentative plan. You may not have time to plan your trip down to the minute, but you should try to have a rough idea of what you plan to see and do each day. On my most recent trip, we only had a day and wanted to visit Hollywood Studios and Epcot.  We knew that we had to park hop by midday to be able to make it in time for our FastPasses. We set a departure time for ourselves and stuck to it to make sure that we were able to hit all of our must do items.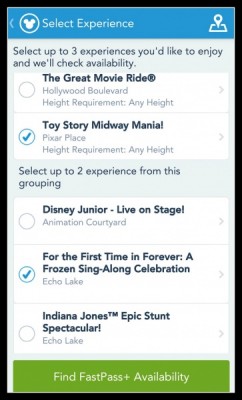 Use the My Disney Experience app to reserve FastPasses
Ask for help
It is easy to get overwhelmed if you are in a time crunch. Although I usually prefer booking my trips online, sometimes it is easier to speak with someone over the phone.  At the last minute, your options may be more limited.  If you get stuck, pick up the phone and allow a Disney team member to assist you in making your reservations.
Take everything I just said about planning and throw it out the window!
Yes, some amount of planning is necessary to make your Disney trip a success.  Sometimes though, we get so bogged down with planning it all that we forget to relax and enjoy the fact that this is a vacation.
So, if you walk past a bakery and the treats smell too sweet to resist, stop in.  Pass a ride with a short wait time? Check it out!  Catch a performance going on in the middle of Main Street or at the American Gardens Theatre?  Stop and watch for a bit.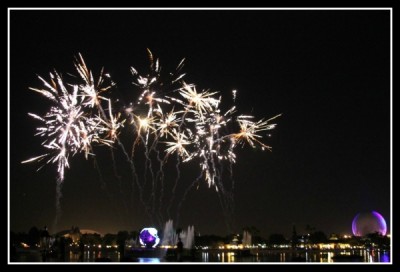 Take the time to relax and enjoy one of the many shows
There are always so many things going on in a Disney park on any given day and we miss a lot of them while trying to keep track of everything that we have planned.  Sometimes it is nice to just slow down and take a look around.
If you are planning your first trip to Disney parks or if your trip will be a once in a lifetime adventure, I definitely recommend giving yourself more time to plan. But if you happen to have some unexpected time off or will be in the area, why not plan a quick trip? I can't think of a better place to visit at the last minute than the most magical place on Earth!
Will you be making a last minute trip to Disney parks this holiday season? Let us know in the comments!