This post may contains affiliate links for your convenience. If you make a purchase after clicking a link we may earn a small commission but it won't cost you a penny more! Read our full disclosure policy here.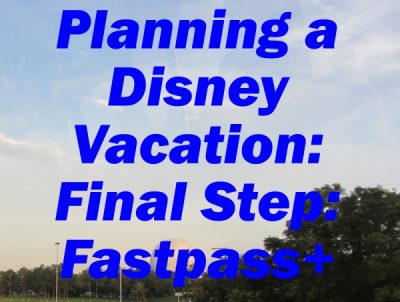 Planning a Walt Disney World vacation has many different steps that goes into making sure you get the best experience possible.  We have worked through a variety of different steps to planning such as looking at your goal, determining what package you would want, decided where to stay, where to go each day and where to eat.  All of these are key in planning your Walt Disney World vacation.  The final step that you need to take before packing and heading out is to book those FastPass+ reservations.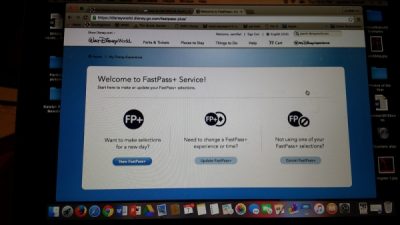 What are they?
What are FastPass+ reservations anyway?  FastPass+ is a ride reservation system.  In this system you are able to book a reservation on a ride or show prior to your vacation.  Those staying on property are able to do this 60 days ahead of time while those not staying on property are able to do so 30 days ahead of time.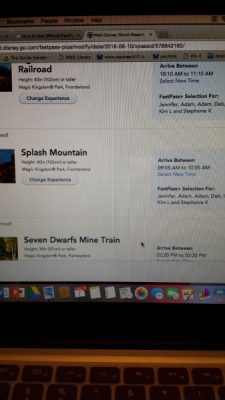 Book Three Each Day
How does it work?
For each day you have a ticket, you are able to make up to three FastPass+ reservations.  These reservations are typically an hour window time frame giving you the flexibility in your plans.  Once you have made these, you are able to use the My Disney Experience and adjust times as well as rides/shows.
When to book?
One of the decisions you have to make is how to use FastPass+ in your planning?  There are two thoughts on this.  Some people like to book their FastPass+ reservations in the morning (think 10,11, and 12) which then allows them to then book an additional rolling one the rest of the day.  Others save the three for the evening (think 5:00, 6:00 ,7:00) when the parks are busier and lines are longer.  This however limits your ability to use the rolling additional FastPass+ once you have used your original three.  You really have to determine what works the best for your planning.  When will you be getting to the park?  Will you be park hopping?  Will you take an afternoon break?  All of these will play into when you should book your FastPass+ reservations.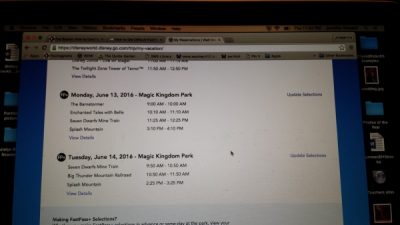 A look at daily plan
What to book?
The next decision is to determine what you want to use the FastPass+ on.  Each park has a variety of different rides and shows that you can use these reservations on.  You need to determine what is a priority to for you and your family.  Below are some suggestions for each park; however, these are just that suggestions.  Each family and traveling party have different likes.  Different goals.  Different ideas.  Make sure to do what works for you not just want everyone else does.  Also know that in all parks, except for Magic Kingdom, FastPasses are on a tiered system.  You are only allowed to book one of the tier one experiences.
Here are my suggestions for which FastPass+ reservations to book. Keep in mind that these are just recommendations.
Magic Kingdom:
Seven Dwarf Mine Train
Big Thunder Mountain Railroad
Splash Mountain
Space Mountain
Peter Pan
Hollywood Studios:
Tier One:
Rock n' Roller Coaster
Toy Story Mania
Tier Two:
Tower of Terror
Star Tours
Epcot:
Tier One:
Frozen Ever After
Soarin
Test Track
Tier Two:
Mission Space
Spaceship Earth
Animal Kingdom:
Tier One:
Avatar Flight of Passage
Na'vi River Journey
Tier Two:
Kilimanjaro Safari
Expedition Everest
These are just the main rides that you might want to look at when booking your FastPass+ reservations.  This is NOT the whole list.  If you want to see the complete list of rides and shows that offer FastPass+ reservations, visit the Mouse For Less.
FastPass+, like dining reservations, can seem like an additional stress when it comes to planning.  How are you suppose to know what you want to ride each day?  With the increase in travelers to Disney, FastPass+ is a great way to avoid some longer wait times and also help ensure you get to experience those top rides.
What are your must FastPass rides? Share them and why in the comments. Also share what strategies you use when making your FastPass+ reservations.
Did you like this article? Make sure to share it with your friends! Check below for easy ways to share!