This post may contains affiliate links for your convenience. If you make a purchase after clicking a link we may earn a small commission but it won't cost you a penny more! Read our full disclosure policy here.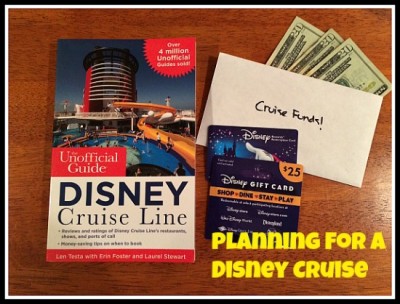 I'm not a super spontaneous person. When it's time to plan a vacation, I like to get all the details ironed out as much as I can beforehand. Not only does this keep me on track, but planning a Disney trip helps keep the excitement going, even if you still have six months to go until your vacation. In just two short months, my boyfriend and I will be taking our very first Disney cruise together to celebrate our 5-year anniversary, and the planning process has helped make the time go by faster in a fun way. Here are some of my tips for planning for a Disney Cruise.
When to Book Your Cruise
When planning a cruise with the Disney Cruise Line, discounts are few and far between. To get the best prices, book your cruise as far in advance as possible to save money. When cruise offerings open up, they are at their cheapest possible price and the prices rise as the ship fills us. The time of year that you plan your cruise will also affect the price. Planning a cruise around the Christmas holidays, Spring Break, and the summer will be the most costly, but planning for a cruise during the fall and in January and February will save you a ton of money. While our anniversary is towards the Christmas holidays, we knew that wouldn't be in our price range, so we booked our anniversary cruise for the end of January and are paying nearly half of what it would have cost us to go in December.
Earning Money for Your Cruise
Like I mentioned in the last section, Disney Cruise Line doesn't typically offer any discounts on their cruises, but there are still other ways to earn money for your trip. My favorite way is to book your cruise with an authorized Disney travel agency, like The Magic For Less. While it isn't guaranteed, most travel agencies will offer you incentives for booking with them. For example, I'm getting a $50 onboard ship credit for booking my cruise with a travel agency (which will be going straight towards a Palo reservation). Agencies that specialize in Disney are amazingly knowledgeable and can help you with any aspect of booking your vacation. I highly recommend going this route.
Another way to earn shipboard credit is by paying for your cruise using the Disney Chase Visa credit card. Not only will you get a $50 shipboard credit, but you also earn 1% cash back on all purchases in the form of Disney gift cards. Since Disney cruises are not cheap, this can earn you quite a bit of cash for gift cards. Another great thing about the Disney Chase Visa Card is that you get 6 months of interest free financing when you book a Disney vacation with their card.
I've also been collecting and stashing away Disney gift cards for my cruise. Not only can you pay off the balance of your cruise with Disney gift cards, but you can also bring them to Guest Services once you arrive on the ship and apply them to your account to use and spend on your cruise. I've been asking for gift cards for my birthday and Christmas and this is what I plan to do once I get on the ship.
Disney Boards, Trip Reports, and Guide Books
This is my favorite part of the trip planning process. Once the cruise has been booked and the money saved, the best way to really get excited for your upcoming trip is through hearing other people's Disney Cruise Line experiences. I love cruising through message boards and reading about people's experiences on the Disney Cruise Line. This is also a fantastic source if you ever have any questions or concerns about booking a Disney cruise and for getting up-to-date information or changes to the cruise. From cruise veterans to first-time cruisers, you'll encounter all types of people who are happy to help you make your cruise the best trip ever. Fair warning though, DO NOT read the Disney Cruise Food boards on an empty stomach.
I also love hearing and reading trip reports. You can find trip reports on most podcasts, as well as on several Disney blogs and message boards. Trip reports are great because they are detailed, include lots of pictures, and you get to see/hear the excitement about a family's Disney vacation. I can't wait to start my own trip report and relive my Disney Cruise Line vacation all over again.
Lastly, I like to pick up physical guide books to use as a planning tool. The first thing I did after I booked my Disney Cruise was ordered The Unofficial Guide to the Disney Cruise Line book and it has been a great resource in the planning process. I love that the book gives detailed descriptions of the restaurants, what there is to do on board the ship and Castaway Cay, and suggestions for excursions. The only downside to this book was that reading about all the other available ports only wanted to make me book another cruise!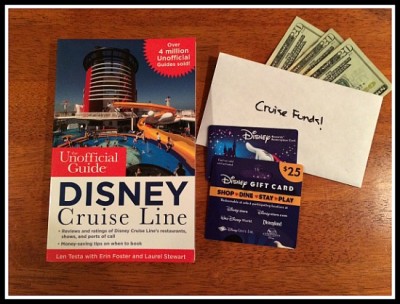 Personal Navigator App
For those who have not been on a Disney Cruise before, the Personal Navigator is a daily newsletter that you receive every day in your stateroom, which outlines all of the activities going on that day on the ship. It is more-or-less a Disney times guide for the cruise. Disney now offers a digital form of the Personal Navigator in the form of an app that can be downloaded to your smartphone and used on the ship's Wi-Fi. While the app doesn't allow you to view the Personal Navigator until you board the ship, there is a fun countdown clock that you can set up to count down until the start of your Disney Cruise. I like to open mine up every few days to see how much longer I have until my first Disney cruise. 51 days to go for me…I can't wait!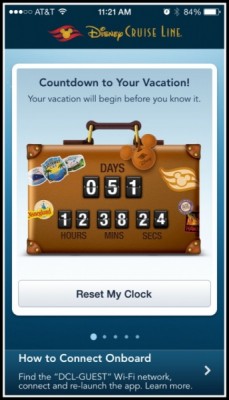 Have you been on a Disney Cruise? What was your favorite part of the planning process?