This post may contains affiliate links for your convenience. If you make a purchase after clicking a link we may earn a small commission but it won't cost you a penny more! Read our full disclosure policy here.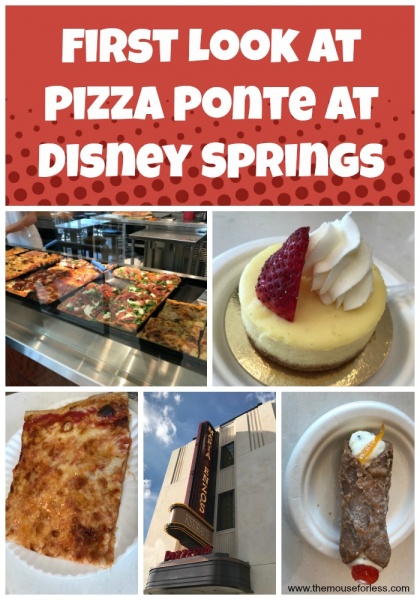 I was just in Orlando celebrating Christmas with my family, which of course meant that I had to make a stop over at Disney Springs, right? Besides wanting to see the beautiful holiday decor, maybe do some shopping, and soak up the atmosphere, I had another reason for wanting to visit. The brand new pizza restaurant, Pizza Ponte opened to Guests.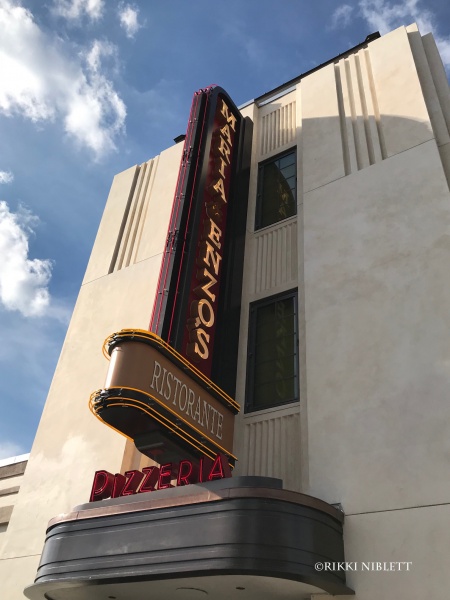 Pizza Ponte is part of the Maria and Enzo's complex located in The Landing section across from STK Orlando. It's actually connected to Maria and Enzo's and Guests will enter under the sign that says Pizzeria. Pizza Ponte is a quick service dining location that specializes in pizza by the slice, salads, sandwiches, and desserts. I will say that the restaurant had only been open for a couple of days when I went and I'm sure they have a few bugs to work out.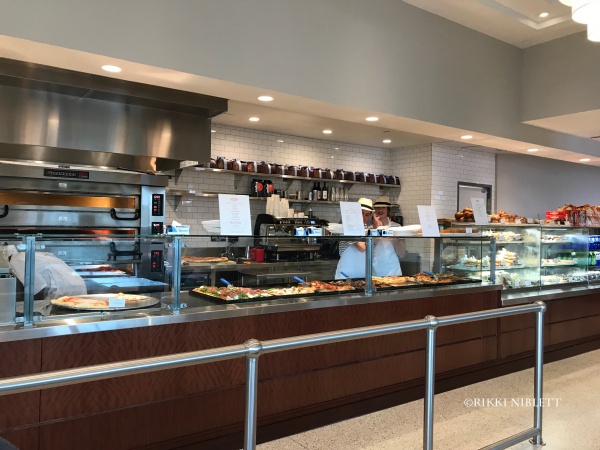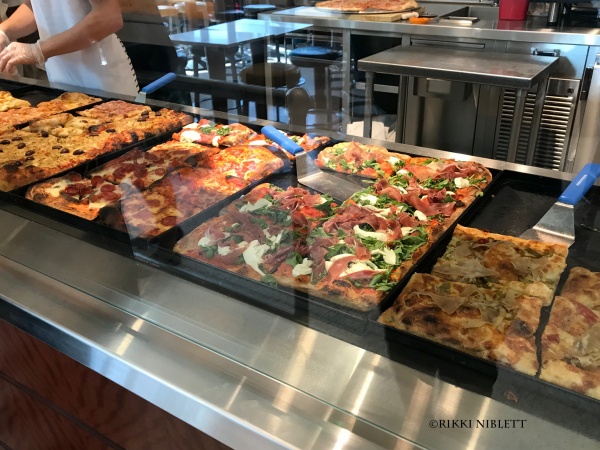 The first thing I noticed was that Cast Members were excited to be there! They were extremely helpful in explaining the menu and what the restaurant offered. Guests should walk all the way to the end, which is where the journey starts. You will see the large pizza baking ovens in the back and a large display of pizza options in front of you.
I grabbed a couple of slices and made my way down the line. That's where you'll see the multiple salad and Italian sandwich options. Sandwiches include a Prosciutto di Parma, Mufffuletta, and the Pomodoro. You'll see a multitude of dessert choices too including tiramisu, zeppole con panna, biscotti, and a cruffin. For drinks, beer and wine are available, as well as espresso beverages and sodas. You then get to the register and pay.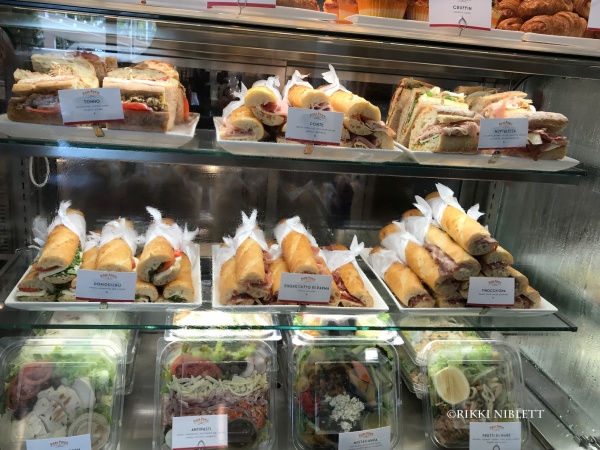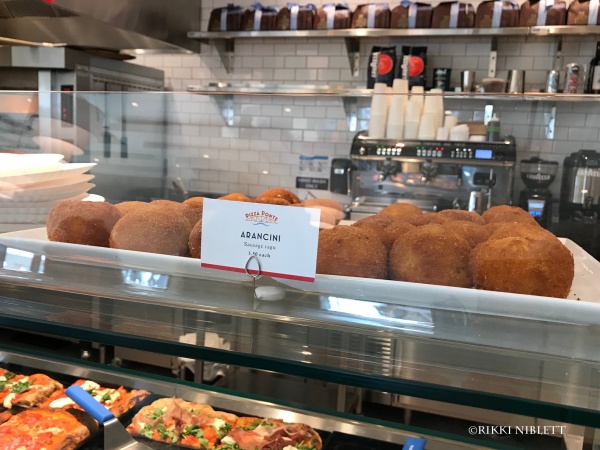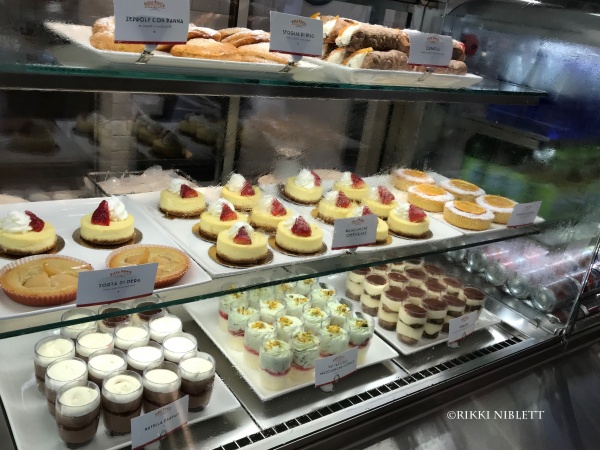 There is a little bit of seating on the inside. There are also a few stand up tables for Guests that include electrical outlets. Guests can also choose to sit outside.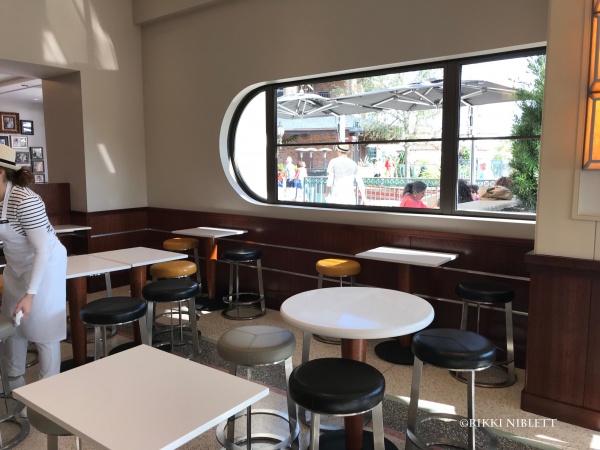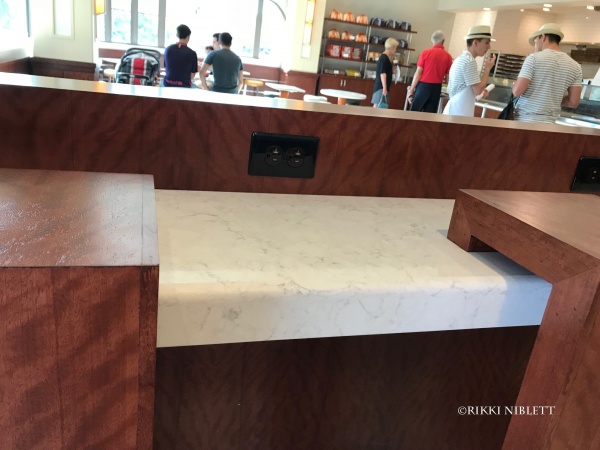 On my trip, I picked out the 4 Cheese and an Artichoke and Olive slice to try.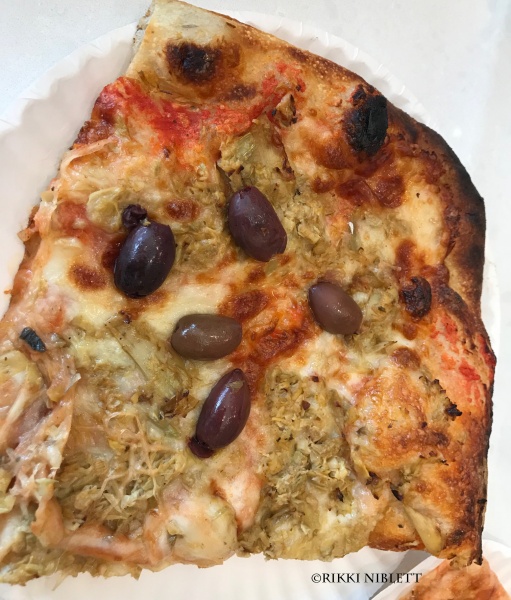 First, let's look at the artichoke option. The pizza was good and had good flavor. The one negative is that the pizza slice had too much crust and we probably should have asked for a middle slice, instead of an end one. (I also think that the end slice was smaller than a middle one.)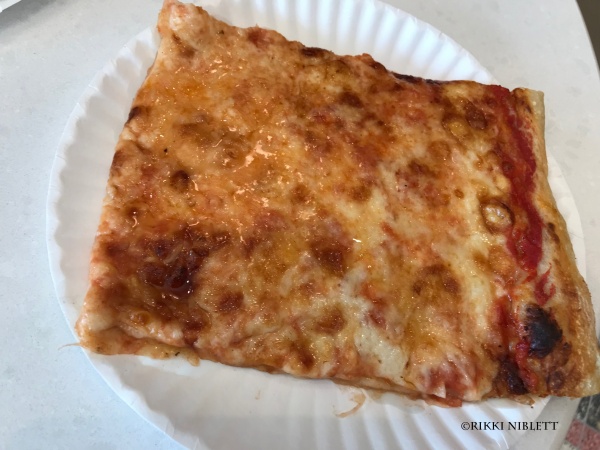 The 4 Cheese was quite yummy. The slice was quite large, all things considered. (They look small in photos.) It had a good cheese to sauce ratio and a little zest. There also wasn't too much crust on this one. This was the favorite among the group.
Both slices weren't as hot as we would have liked them to be, but I suspect as this place gets hopping moving forward, that won't be much of a problem.
Pizza slices here, aren't inexpensive. They are $7 a slice. That's something to keep in mind when deciding if you want to dine here. Personally, I think that the sandwiches and salads are going to be a better value overall.
Let's move on to the desserts.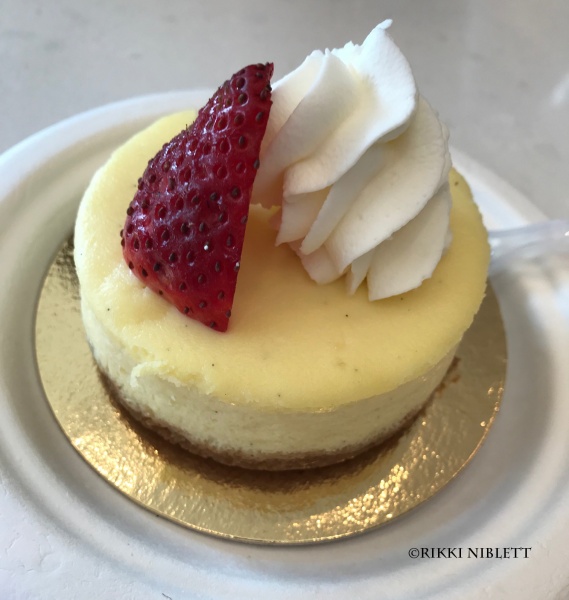 First, I tried the Mascarpone Cheesecake. This is an authentic cheesecake! It was quite rich and did have a bit of a lemon flavoring to it. The crust was absolutely homemade and delicious, as it was made of graham crackers!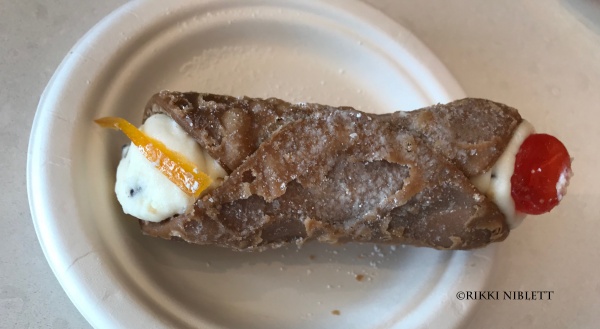 My favorite dessert was the Cannoli, which is made with sweet ricotta and chocolate chips. This was creamy on the inside with a nice crunchy, yet flaky shell. I've had cannolis at local restaurants that are traditional Italian and this was just as good as those.
Overall, I think Pizza Ponte is going to be another good choice for Disney Springs Guests. And I'm absolutely gonna have to grab a cannoli when I'm walking by!
Are you looking forward to trying Pizza Ponte on your next trip? Let us know in the comments.
Did you like this article? Make sure to share it with your friends! Check below for easy ways to share!
Incoming search terms:
think pizza at Disney Springs