This post may contains affiliate links for your convenience. If you make a purchase after clicking a link we may earn a small commission but it won't cost you a penny more! Read our full disclosure policy here.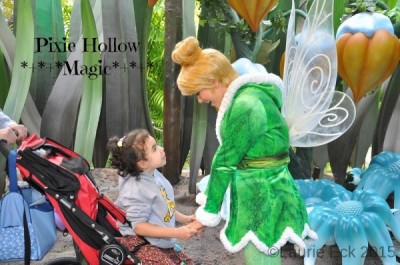 We would like to welcome new blogger Laurie to the Mouse For Less Family!
Trips to Disneyland are very special vacations for our family but for one of my daughters, Disneyland is overwhelming and loud.  Michayla is non-verbal, global developmentally delayed and autistic.  These trips usually come and go with few reactions or memorable moments for her.   Yet oftentimes trips to Disneyland are usually stressful, where she will hide inside of her stroller to escape the stimuli around her.
So what exactly is Autism Spectrum Disorder?
Autism Spectrum Disorder or ASD is a neurodevelopmental disability where the person may experience impaired social interaction, repetitive behaviors, sensory issues and communication problems.  With some, ASD can be associated with intellectual disabilities, difficulties in motor skills and attention and/or physical health issues.
Disneyland is a sensory overload with lots of visual stimuli, smells and sounds.  Planning ahead and being prepared with items like sunglasses, headphones, music and items that help calm the person can help.
However, everything changed for our daughter, Michayla on 12-12-12.  A very special and magical moment happened as we did the character meet-n-greet with Tinkerbell.  Tinkerbell can be found in Pixie Hollow which is located between Sleeping Beauty's Castle and the Matterhorn.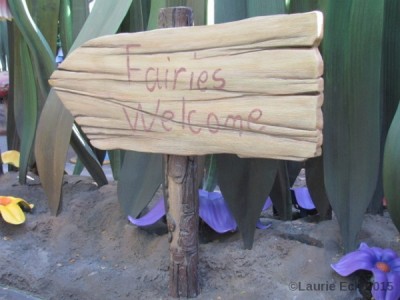 Pixie Hollow is a colorful and animated area, where you get to step into the fairies world.  Large flowers and blades of grass tower over you, making you feel like you are as small as the fairies.  Disney did not hold back when designing this area.
When the Cast Member lets you enter, you get to meet one of Tinkerbell's friends:  Vidia, Fawn, Rosetta, Iridessa, Silvermist, Periwinkle or Terrance.  You never know who will be waiting to greet you until you go in.  You will get to spend a few minutes talking, getting an autograph and taking pictures with the fairy.  After spending some time with Tink's friend, you will round the corner to meet Tinkerbell herself!
This is when we noticed that Michayla came to life.  She sat straight up in her stroller and leaned forward to allow Tinkerbell to hold her hands.  The interaction was surprising to us, as this is not normal for her.  It brought me to tears, to see her smiling and looking deep into Tinkerbell's eyes as Tink chatted with her.  This is hands down, the best picture from any of our trips and means so much to us.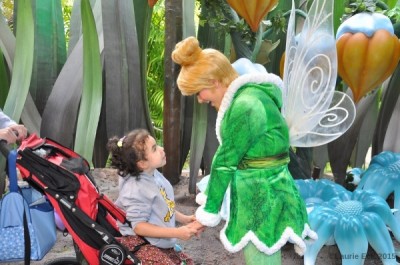 From that magical moment on, Michayla has become more engaged while at Disneyland.  She watches people around her, she sits up and bounces to the music that can be heard throughout the parks and she watches the parades & fireworks.  Michayla also has a love for two of the rides:  The Many Adventures of Winnie the Pooh and the Mad Tea Party (teacups).  We continue to do character meals and character meet-n-greets, with a few special moments, but nothing like that magical moment back in Pixie Hollow.
Here are a couple of tips to keep in mind when visiting:
If your child has sensory issues, have your child watch videos of Disneyland like the entertainment (parades, fireworks), and the attractions (lots of "on-ride" videos out there).  This will help prepare everyone on what to expect.  Keep in mind that all of these things will be loud.
Get to Pixie Hollow early to avoid the long lines that will continue to build throughout the day.
What has been something that has surprised you on a trip where your child reacted in a way that was unexpected? Let me know in the comments.
Incoming search terms:
https://www themouseforless com/blog_world/pixie-hollow-magic/