This post may contains affiliate links for your convenience. If you make a purchase after clicking a link we may earn a small commission but it won't cost you a penny more! Read our full disclosure policy here.
Review of the inaugural Pixie Dust Challenge at Disneyland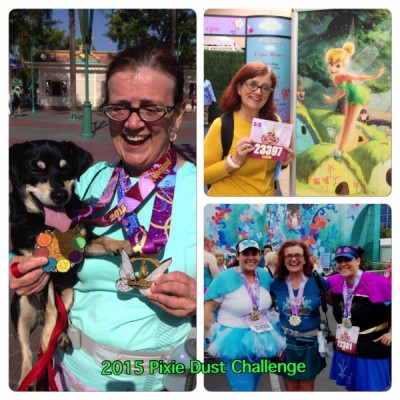 2015 Pixie Dust Challenge: 2 races and 3 medals later
First a bit of history: Walt Disney World staged its first long-distance road race – a full marathon in January of 1994. The event drew over 7,00 runners and their families to the Kingdom of the Mouse. In 1998 Disney added a Saturday half-marathon race to the event.
Today the Walt Disney World Marathon is a 4-day affair, with a 5K on Thursday and a 10K on Friday.
And as the offerings increased so did the amount of participants – and much to my chagrin the participation fee. Currently major race weekends draw about 20,000 runners to the parks and bibs sell out within an hour!
Disney's race schedule expanded throughout the calendar year and the country, with no less than 8 major races held at Disney World and Disneyland; not counting the relatively new 5K race at Disney's private Island in the Bahamas, Castaway Cay. Recently Disney announced that it was going to take it one step further with an inaugural half marathon race across the Atlantic at Disneyland Paris. The race weekend is scheduled for September 23-25, 2016.
And oui, oui, I am planning on being there! But first things first, so without further due, my report about my latest endeavor: The Disneyland Pixie Dust Challenge. I have done both the Tinker Bell 10K and the Tinker Bell Half Marathon on different occasions before and yes; I proudly collected a Coast-to-Coast medal for running the Tinker Bell Half Marathon and the Food and Wine Half, both in 2014. So why was I doing this again?
Pixie Dust Challenge
Day 1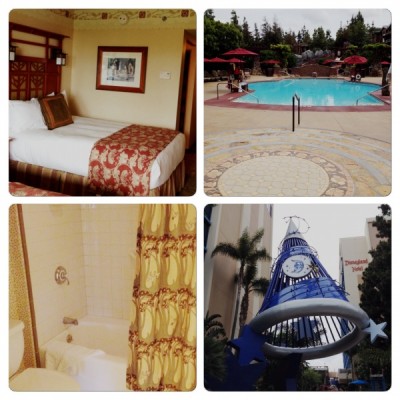 Grand California Hotel
My main reason for flying cross-country was to visit my son who lives in North Hollywood but when I realized that my visit coincided with the Tinker Bell Half Marathon weekend I simply could not resist.
Pushing my limits just a tad more I decided that it was now or never to try the Pixie Dust Challenge. And so I signed up to run a 10K on Saturday and the Half Marathon on Sunday.
The night before the first race I stayed at the Grand California Hotel. What a treat! Being on property allowed me to visit Expo and pick up my race bib in no time.
To save energy I avoided the parks and rested the day before the race.  It was hardly a difficult task when staying at the Grand California Hotel. Between the hotel room which had a balcony facing the park, the beautiful Spa and the hotel pool there was plenty of relaxation to be had. Best of all Trader Sam's Enchanted Tiki Bar was in walking distance and the hotel has an exit that brings guests right into Downtown Disney.
Another bonus was the fact that I did not need to board any bus to get to the start of the race as the corals where in walking distance from all the hotel.
Having run the Mercedes Half Marathon in Birmingham end of February and the Iron Man half in New Orleans in April I started out in pretty good shape.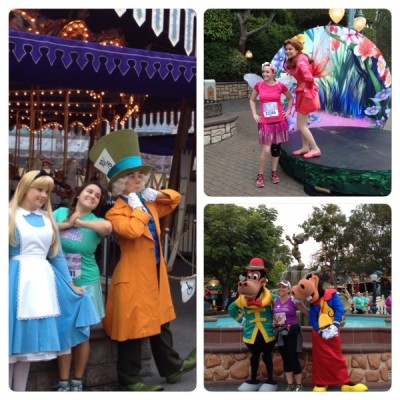 Character meetings during 10K race
The 10K race was more of a warm-up for the next day and I tried to keep a steady but rather slow pace in view to save energy for the big race.
It was a great experience as it allowed me to fully take in the entertainment that was offered to runners along the route.
The weather was cool and the sky cloudy – perfect race weather albeit not so good for photography. Running through Disneyland and Disney California Adventure with hardly anybody but the runners around offers perfect photo opportunities of the castle and the rides.
After the race I went back into resting mode and enjoyed a good meal followed by lazy hours at the pool. It was early bed time for me as the alarm would go off at 3:30 a.m. to get ready for the Tinker Bell Half Marathon.
Pixie Dust Challenge Day 2
Bright eyed and bushy tale I reported back the next morning for the Tinker Bell Half Marathon. I truly enjoyed running through Disneyland and Disney California Adventure and loved the enthusiastic cheering along the road. The weather was perfect and there were plenty of water, food and medical stations. I made it in just a bit over 3 hours, not a personal best but pretty good considering that I had been dealing with a severe case of plantar fasciitis ever since my last race in New Orleans a few weeks before.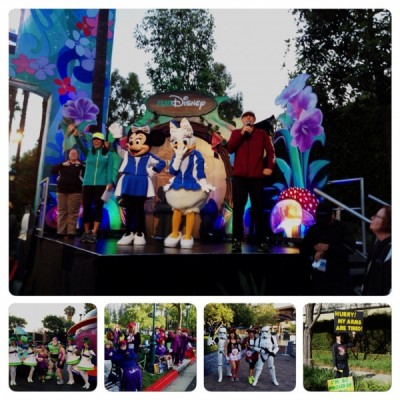 Half Marathon race day
So what next? Well I was at Disneyland after all and so I collected my bling, slapped on some bio freeze on my aching calves, and after a short break I went right back into the parks. By the time I returned to the hotel for a good night of sleep I had walked an additional 13 miles – call me crazy!
What I liked: The spirit of runDisney is something one does not find anywhere else and this was also the case during the Pixie Dust Challenge.  The entertainment prior to the race and along the course is lots of fun. I also love seeing all the amazing costumes runners wear. There were plenty of princesses, pirates and fairies with wings and tutus but my favorite costume was a Lego version of Tinker Bell. There are amazing volunteers, including many cast members, that encourage the runners everywhere throughout the race. They distribute water, snacks, high-fives and even hugs. And yes, the bling for the Pixie Dust Challenge is absolutely beautiful.
What I did not like: The price tag for the Pixie Dust Challenge package was steep and I do not know what got into me to shell out $345 for two races. All I know is that this will be my first and last challenge, if not my last Disney race, for a long time as I simply cannot justify the price.
I would love to do the Star Wars Challenge comes January 2016 but the chances for this to happen are in a galaxy far far away. It is of course not only the price of the challenge. Guest will have to fly or drive to Anaheim, get lodging on property or at least at a hotel that has bus transportation to the races each morning as many roads are closed and make access from anywhere further outside very difficult. Last but not least who wants to be at Disneyland and not go  for a day or two into the parks? Add to this the costs for meals and it quickly becomes a very expensive endeavor.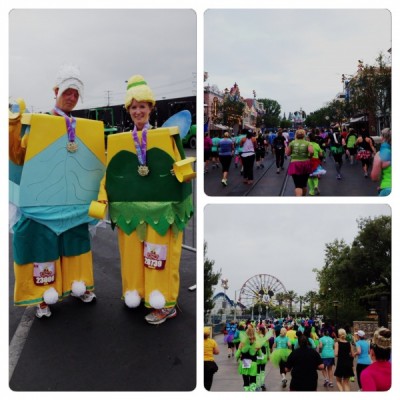 The Lego Fairies costumes were fabulous!
While the entertainment before the race and along the route is great, the food runners receive at the end of the race is nothing to write back home about. The food consists mainly of sponsored food samples and is in no way satisfying, and after the 10K we did not even get that. Rumors had it that the boxes foreseen for the runners contained one item with an expired consumption date. So after the 10K all we got was a banana and a bottle of water or Gatorade.
Another problem I have with any of the 'Challenges' is that all the races start at the crack of dawn and while I am able to run all those miles on consecutive days it is the lack of sleep that really gets to me. Starting out at 5:30 a.m. for several days in a row is simply not my thing. Even in the best-case scenario one has to be up at 3:30 a.m. every day to be ready and in time for the race.
Exception to the rule: Unless totally out of my reach I will participate in the inaugural Disneyland Paris race. Having family in Belgium it would be a 1 hour and 20 minute ride from Brussels to Paris and I have never been to Disneyland Paris.
So there you have it – love running, will travel.
Are you planning on attending a runDisney race? Will you take the 2016 Pixie Dust Challenge? The dates for next year are already announced: May 5-8, 2016 and registration opens August 11, 2015.
Will you go across the Atlantic to run through Disneyland Paris?  We would love to hear from you.
Incoming search terms:
https://www themouseforless com/blog_world/pixie-dust-challenge-review-inaugural-race/