This post may contains affiliate links for your convenience. If you make a purchase after clicking a link we may earn a small commission but it won't cost you a penny more! Read our full disclosure policy here.
By Jane Jones
The Disney Pirate and Princess Party (similar to Mickey's Not-So-Scary Halloween Party) was originally held for the first time in the beginning months of 2007. Being seasoned partygoers, we opted not to attend this event as we thought, "What else could Disney possibly do?" Sure, we love the Halloween event and even attend it more than once each year. Mickey's Very Merry Christmas Party is an annual family event. Again, what else could Disney pull out of their proverbial magical hat that would make this event different enough to have our family of annual passholders plunk down additional dollars?
The answer came from our desire to share Disney magic with a little girl who has only been to the Magic Kingdom once. We just happened to have a family friend visit us in Orlando the first night that the Pirate and Princess Party began its summer run. Looking for a way to make this little girl's visit special, we decided to give the event a try. I was skeptical, and made the entire family go with us.
Boy, were my preconceived notions blown out of the water!
Walt Disney World's Pirate and Princess Party held at the Magic Kingdom was worth every penny we paid. Let me fill you in on the details and share with you some of the highlights…

Planning Ahead and Getting In:
The party takes place only on special nights. Check the Disney Special Events calendar. Currently, these are the planned party dates:

August 28, 2007, 7:00 p.m. – 12:00 a.m.
August 31, 2007, 7:00 p.m. – 12:00 a.m.
September 3, 2007, 7:00 p.m. – 12:00 a.m.
Events often sell out. Plan ahead and purchase your ticket early.

Ticket prices:

Advance Price
Ages 10 and over: $38.95 + tax
Ages 3-9: $32.95 + tax

Day of Event Price:
Ages 10 and over: $45.95 + tax
Ages 3-9: $39.95 + tax

Purchase online at www.disneyworld.com or call (407) W-DISNEY.

Pirate Donald makes an appearance.
If you want to eat in the park, decide if you want full service or not. Make Advance Dining Reservations ASAP or plan to eat on the run.
There were more people dressed up in costumes for this event than I have ever seen at one of the Halloween parties! This includes adults of all ages as well as children. Costumes ranged from a simple tiara or bandana around the head to prom dresses with crowns to full pirate regalia. Bring it from home or purchase items from the resorts – pirate and princess trinkets are everywhere.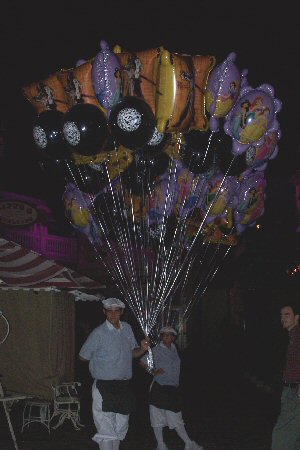 Even the balloons are themed.
You do need a special ticket (sometimes called a "hard ticket"). You can purchase one at your Disney resort, at Guest Services, over the phone or on the Internet. The Internet now allows you to print your ticket at home and go right up to the turnstiles. VERY convenient!
On these special event evenings the park closes early (check for specific times), usually 7 p.m. Only people with event tickets may enter at this time. All people with event tickets will be issues a colored wristband. If you are already in the park, there are places to get your wristband, usually in the Tomorrowland area. It is very organized.
If you DO NOT have an event ticket/wristband, you will be asked to leave the park. This is the only time I have ever seen Disney cast members get really forceful with guests. You cannot beat the system. Guests are checked and rechecked for the wristband.
Study your event map before you plunge in! Make a plan and decide what events you want to participate in, attractions you want to ride, and what time your group wants to see the parade (stepping off twice nightly), etc. You can't do it all, so plan out your "must do's." Pick up your map as you enter under the railway tunnel.
As with all Disney special events, there is special event-only merchandise. Pirate and princess items are plentiful and the event shirts and pins are especially cute. Be sure to buy them during the party, as they cannot be purchased outside of the event!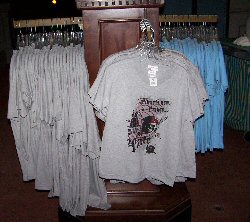 Special event merchandise
What to Do:
Upon entering you are given a wristband and a small, black velvet "booty bag" to collect your treasure and plunder. If you miss the bag, you can always get one at a Treasure Spot.
There are 15 Treasure Spots around the park. They are clearly marked with an X on what looks like a large, glowing balloon overhead. There you will be given beads and candy (GOOD chocolate!).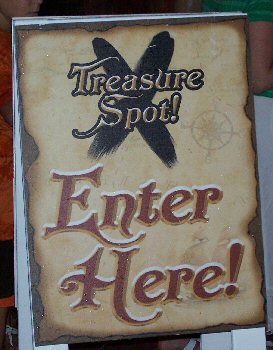 "X" marks the spot to find your pirate treasure!
All of the "lands" are given pirate coves or princess courts for the evening. This gives you a guideline to what characters you will see and in what programs you can participate. For example, Adventureland is New Tortuga where Captain Jack holds a pirate tutorial for new recruits, but there you will also find Jasmine's Court, where the princess holds private audiences for a meet-and-greet and Aladdin's Royal Guard Recruitment will teach the finer points of proper princess protection! Again, study your map and plan your evening.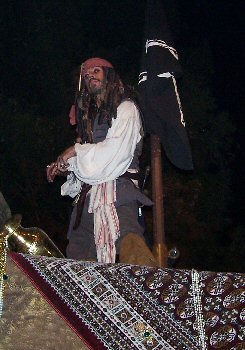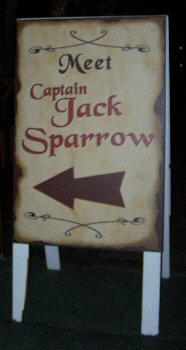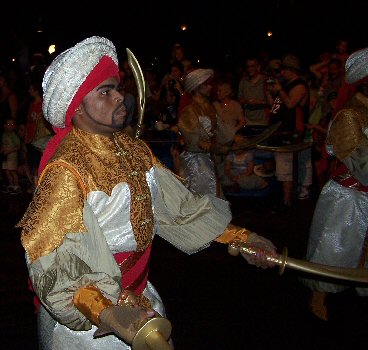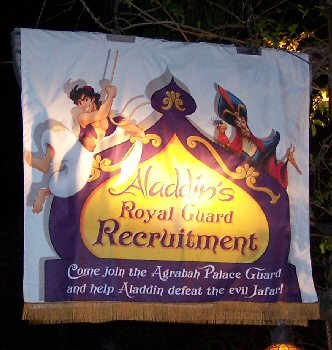 Events during the evening.
There are MANY photo opportunities provided! Disney has set up numerous areas where you can take pictures next to a themed area, including Cinderella's coach and a pirate's treasure trove. Some have a PhotoPass photographer; at others you're on your own. Note: you can save $10 on one of the PhotoPass packages from the same event night. Go to Town Square Exposition Hall for details.
The Magic Kingdom has 10 meet-and-greet spots throughout the park, all labeled on the map. There you'll find your favorite pirates and princesses, along with some of the other Disney characters dressed for the event!
Ariel makes an appearance.
A great place to take a rest or to let the kids run out some energy is to go to one the three dance parties. These are lots of fun with people of all ages taking part. We like to take a few minutes to sit and watch the fun – a great way to slow down and get something to drink – but we've also danced with the characters! Either way, take time to visit one of the dance parties.
Near the Adventureland Breezeway there is an amazing exhibit of authentic shipwreck treasures and artifacts. Take time to visit this hidden treasure!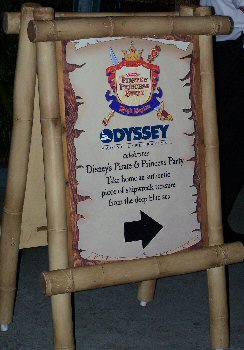 Lead the way to the treasure.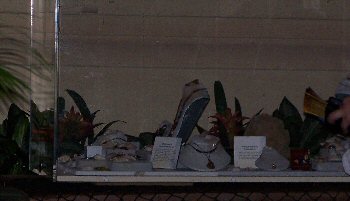 Actual artifacts from a shipwreck.
The "Dream Along With Mickey" show is shown on the castle forecourt three times during the evening. You can see it at 7:45, 10:05 or 11:15 p.m.
Do not miss the parade. It's amazing and will please each princess and pirate in your group! Here you'll see all of your favorite Disney princesses, Captain Jack and even the ghost pirates. We like to watch from Frontierland (where the parade steps off) so that we can head back to the rides right away…you know, first in, first out! There are two opportunities to see the parade: 8:15 and 10:30. The later show is often preferred by savvy park-goers as most people watch the early running. You can then take advantage of the rides and attractions early on in the evening while others are parade watching.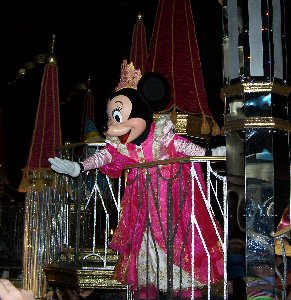 Princess Minnie and knights grace the parade.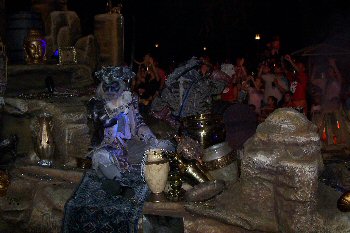 Ghost pirates!
Do NOT miss the fireworks! Again, this was a case of "what else could they possibly do?"…but we were utterly in awe and thoroughly entertained. Get your spot on Main Street early and prepare to be amazed. The storyline works and the bombing and attack of the castle (as my DH loves to say) was like nothing we've seen at WDW before. This is a great time to slow down, review your map and plan the rest of your evening.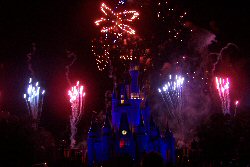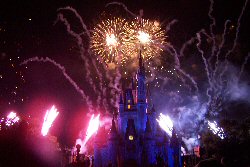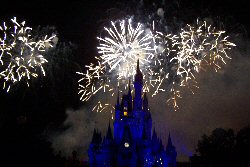 Other Things Not to Miss:
It's all in the details…take time to look around, investigate and explore. Slow down and have the camera ready. This most likely will not be your only visit to the Magic Kingdom during your resort visit, so use your time at the Pirate and Princess Party to take in the flavor of the evening and the special extras instead of being ride commandos!
Notice the entrance to the park. The walkways under the train station are lined with a special red carpet (again, notice the details!) and a foggy entrance. Perfect to magically transform you into the pirate or princess way of thinking!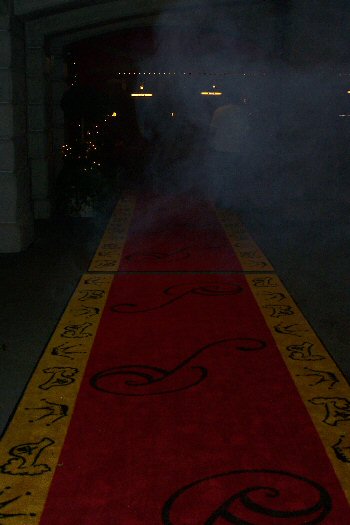 A red carpet welcome.
Notice the cast members! MANY of them are dressed as pirate crew or maidens. They are happy to have their picture taken with your crew, too!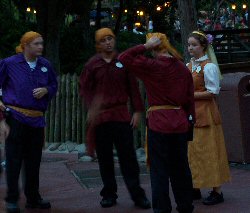 Cast members in Pirate and Princess garb.
We had a fantastic time at the Pirate and Princess Party and my daughter would LOVE to go back again. I hope that WDW decides to hold the event again in the winter, as I will be one of the first to purchase tickets. It was well done, worth the extra cost and different from the other two hard-ticket party events. It is fun for everyone, at every age.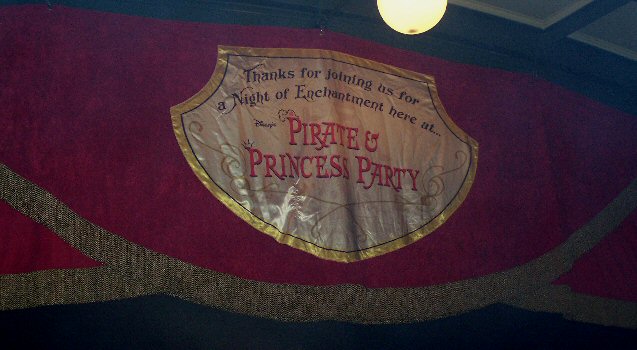 Incoming search terms:
https://www themouseforless com/blog_world/pirate-and-princess-party-at-the-magic-kingdom/