This post may contains affiliate links for your convenience. If you make a purchase after clicking a link we may earn a small commission but it won't cost you a penny more! Read our full disclosure policy here.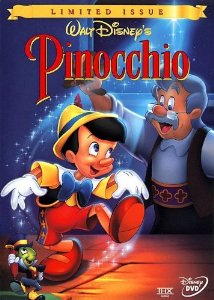 The second full-length animated feature in Disney history, Pinocchio was released on February 7, 1940. It is based on Carlo Collodi's 1883 novel The Adventures of Pinocchio, and it is 88 minutes in length.
Plot
The film takes place as a flashback through the eyes of Jiminy Cricket, who, while traveling across Italy one evening, elects to spend the night in the home of Geppetto, a woodworker.
After seeing a bright star in the sky, Geppetto wishes that his new wooden puppet, Pinocchio, was a real boy. As Geppetto is a good man, a Blue Fairy decides to give Pinocchio life on a trial basis. Though Pinocchio is now a living creature, he's still made out of wood. To become a "real boy," he must demonstrate good morals.
Partly because he's in love with the Blue Fairy, Jiminy agrees to become Pinocchio's conscience, responsible for helping him make the proper choices. Unfortunately for both Jiminy and Pinocchio, the quest to turn the latter into a "real boy" proves difficult. The two get involved with numerous villains throughout the film, and they must find ways to escape trouble.
Elements
The characters in Pinocchio are diverse. Though a majority are humans (or humanlike puppets in the case of the title character), a large number are animals. Some of these creatures are humanlike in their abilities—Honest John (a fox) and Jiminy, for example, can speak and perform everyday tasks—while others like Figaro the cat and Cleo the goldfish are more natural critters. Of course, the Blue Fairy is in her own category.
Some interesting production elements are employed in Pinocchio. For example, when Jiminy hops towards Geppetto's window at the beginning, the camera bounces up and down. Also, when Pinocchio becomes dizzy after taking a major cigar puff in the Pleasure Island billiards hall, the picture becomes correspondingly blurry.
Awkward conversations where one character figures something out before other characters make the same realization are prevalent in the movie. Pinocchio comprehends the significance of Geppetto being eaten by Monstro the whale before Jiminy, and a sleeping Geppetto initially thinks nothing of his puppet speaking to him. On a related note, Jiminy foreshadows the transformation of the boys into "jackasses" on Pleasure Island.
Jiminy Cricket
Jiminy is a mediocre conscience. He doesn't do the best job at looking after Pinocchio—heck, he oversleeps on his first day on the job—and he doesn't always know what's right and what's wrong himself. When Pinocchio's first show as an actor appears to go well, Jiminy believes that he may have erred in trying to convince the puppet to go to school.
Though he's not the best conscience, Jiminy is a good friend to Pinocchio. He makes a point to congratulate Pinocchio on his success as an actor—a good thing, it turns out, for Pinocchio's sake—and even when Jiminy is fed up, he stands by the puppet's side.
Jiminy's small size provides for some entertaining moments. For example, he hears his echo while stuck in a lock, and he gets run over by a billiards ball.
The Villains
Several morally-corrupt characters, which provide "temptation" for Pinocchio, are inserted throughout the movie. The demeanors of these villains vary.
The Coachman is a totally dark character with no redeeming qualities. He lures young boys to his Pleasure Island amusement district by hyping free amenities and activities only to turn the children into donkeys. The donkey scenes are perhaps the most depressing and terrifying in the film.
Honest John (and his sidekick Gideon the cat) and Stromboli are, conversely, more fun villains. The scenes involving these characters are actually my favorites in the movie because they include catchy music, bizarre situations, and funny dialogue. One of Pinocchio's lines concerning the fox's morals, "that's not temptation, that's Honest John!" is probably my favorite in the flick.
Potential likeability notwithstanding, Honest John and Stromboli are immoral beneath their respective skins. Honest John is sly, and Stromboli is artery clogging…ok, well, maybe not artery clogging, but he's definitely cruel.
Music
Music is inserted throughout Pinocchio, though mainly in the film's first half. The songs range from beautiful numbers ("When You Wish upon a Star") to catchy tunes worthy of singing along to.
Sung during the Honest John scenes, "Hi-Diddle-Dee-Dee (An Actor's Life for Me)" is my favorite song in the film.
In the Parks
Located in Fantasyland at Walt Disney World's Magic Kingdom, the Pinocchio Village Haus counter service restaurant currently serves pizza, sandwiches, and salads.
"When You Wish upon a Star" is included at the end of the film shown at the "Walt Disney: One Man's Dream" attraction at Disney's Hollywood Studios.
Disneyland Park in California is home to a Pinocchio dark ride, "Pinocchio's Daring Journey." In this attraction, guests travel through rooms that are dressed up like scenes from the movie.
Additionally at Disneyland Park, the "Storybook Land Canal Boats" take guests on a leisurely boat ride through miniature sets, which depict settings from various movies including Pinocchio. Geppetto's village and Monstro the whale are both featured in this attraction.
Overall
Though I feel the Monstro sequence at the end drags a bit, I nonetheless really enjoy Pinocchio. I find the music great and the characters, for the most part, fun.
What do you think of Pinocchio? Let me know in a comment!