This post may contains affiliate links for your convenience. If you make a purchase after clicking a link we may earn a small commission but it won't cost you a penny more! Read our full disclosure policy here.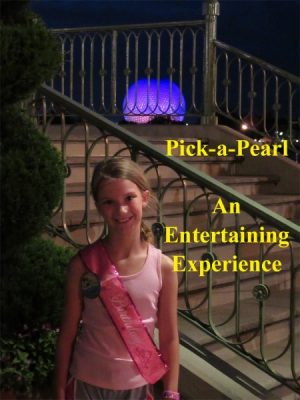 Last summer we visited Walt Disney World for our daughter's 9th birthday.  As part of her birthday experience, we participated in the pick-a-pearl experience in the Japanese pavilion in Disney's World Showcase in Epcot.  This is located in the Mitsukoshi department store.  Here is our experience for those that have always wondered what is included and how the pick-a-pearl works.
My first suggestion would be to go early on in the day closer to when World Showcase opens.  We went at 8:00 p.m. and there was a huge line of about ten people in front of us which we didn't know until after we purchased the pearl.  Next time, I would make sure I ask the ladies working the actual pearl area how long the wait would be before paying at the cash registers.
What you do first when arriving in the store is to pay for the pearl or pearls depending on what you want at the cash register located separate from the actual pick a pearl experience.   For right around $17.00 you can pick your own pearl.  I thought this was reasonable for such a unique and special experience and souvenir.  If you think of how much t-shirts, frames, cups and keychains are, this seems extremely inexpensive.   From there you take your receipt over to the pearl station area.  At the actual pearl station, you receive a number (think like deli station) which is what they will use to call you for your turn to pick.
Our daughter decided to wait and watch others pick their pearls instead of walking around the store itself.  For a 9 year old, this was good as it helped her better understand what the process would be when it was her turn.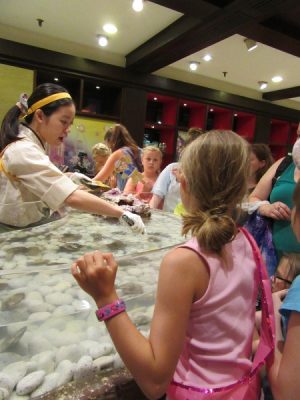 Choosing her oyster
When it was finally her turn, our daughter was super excited and nervous all in one.  They have two tanks that you are able to choose from.  Each tank had anywhere from 10 to 20 oysters in each.  As we were there at the end of the evening I would assume that the earlier you are there in the day the more shells are in the tanks to choose from.  A secret to picking for some is to actually choose the ugliest, strangest oyster you can find.  Those are suppose to have the best pearls located inside them.
Following choosing her pearl, the worker from Japan goes through a special ceremony.  I want to stop and talk about the Cast Members that work here.  Enthusiastic doesn't even start to describe the ladies that work in this area.  We watched a lot of different people from kids to adults from men to women participate in this activity and these ladies made every single one special with their positive attitude, excitement and overall joy.  They truly help make this experience a wonderful and joy filled one.
Once you pick your oyster, it is placed in a wooden tray and then you bow to one another.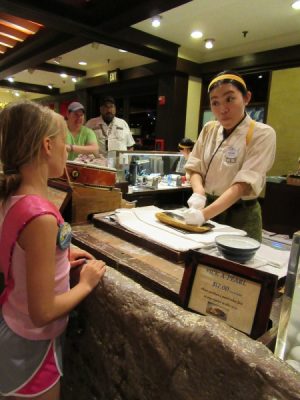 This is where the Cast Members really get into their "role" as they countdown 3-2-1, in Japanese.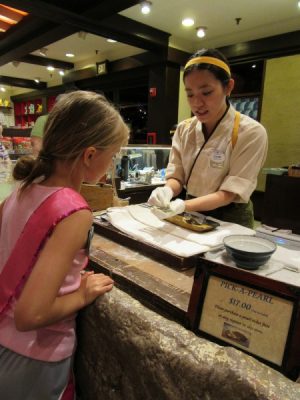 Then the pearl is shown for the first time.
The pearl is then measured and cleaned while the information in written on a plastic bag for you to take with you.  After the pearl is shiny and clean, the drumming ceremony begins and you and others in the store are encouraged to clap along and join in making it a fun and exciting experience.  Once this ceremony is finished, the pearl is placed in the plastic bag for you to take with you.
The next step is to choose what you want to do with the pearl itself.  There are numerous jewelry options at the Japanese store itself that you are able to have your pearl set in.  As we were there late, our daughter had more limited choices as they could only do pieces that were the clamp ones making it quicker to put together.  There are numerous settings that range in price range drastically.  This can take your somewhat inexpensive souvenir and make it extremely expensive if you so choose..  I have also seen many people buy these pieces prior to going to Disney as they are cheaper online.  Our daughter (with some restriction from mom) picked a beautiful dolphin necklace that holds the pearl.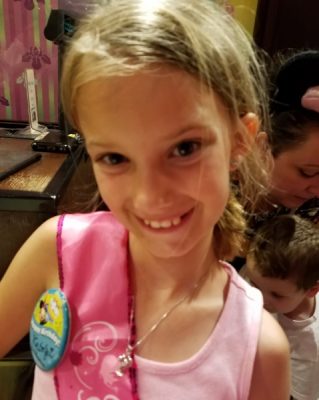 Excited about her pearl
Our daughter loved this pick-a-pearl experience not only because she got a special gift, but because she enjoyed learning a little about Japan.  I loved this special mother-daughter time we had together and was impressed with the organization of the process itself.  Again if I were to do it again, I would go earlier and make sure I ask about the wait prior to buying anything.
If you are looking for a budget friendly souvenir for yourself or someone else that is different than your typical keychain, glass, t-shirt, head to Disney's Epcot World Showcase and stop at Japan's Mitsukoshi and pick a pearl.  This is a great memory making experience that we enjoyed during our trip.
Have you done the Pick-a-Pearl experience at the Japan Pavilion? Share your experience in the comments.
Incoming search terms:
https://www themouseforless com/blog_world/pick-a-pearl-an-entertaining-experience/