This post may contains affiliate links for your convenience. If you make a purchase after clicking a link we may earn a small commission but it won't cost you a penny more! Read our full disclosure policy here.
By Debbie Boehm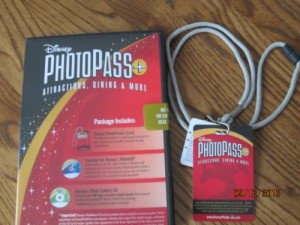 We've all seen the PhotoPass photographers at Walt Disney World.   There are at least six of them between the Emporium and Cinderella Castle on Main Street every day.  They'll even use your camera or cell phone to capture that special moment for you.  It's one of the things that I've always thought was a great idea.  Before the advent of PhotoPass, invariably one of the parents was always behind the camera unless you were lucky enough to find a kind stranger who would snap a picture for you.
Disney has used the term "plussing" for a long time.  It's that little extra that makes something really special.  One of the best illustrations of "plussing" is the little touches of gold on the Walt Disney Classics Collection pieces.  Now they have used the "+" for the PhotoPass.  So, I had to see if it was truly "plussed."
For years we've enjoyed the PhotoPass pictures and the ability to have a professional capture of our family vacation memories.  However, this past July we were traveling as a group of 18 ranging in age from 2 to 60.  Was it worth the money to pre-purchase the PhotoPass+ before our vacation had even begun?  After all, this was an investment before the fact – before we'd get to see even one picture from our trip.
Our group consisted of five siblings with most of our children.  If we used PhotoPass, we figured we would order two photos each and have it cost nearly the same, so why not go for it?  I called my travel agent and asked them to add PhotoPass+ to our trip and off we went.  If you order the PhotoPass+ in enough time you will receive everything you need in the mail. We made our decision too late, so we had to take the voucher included in our package at check in to the PhotoPass+ location found in one of the theme parks.  For us this was Town Hall at the Magic Kingdom and couldn't have been easier.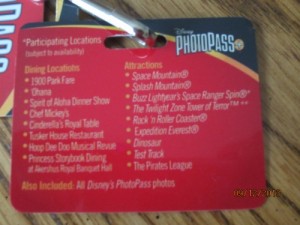 The PhotoPass+ card is on a lanyard with a list of all of the ride and dining photos that could be included, found on the back.  The only hitch is that the card must be scanned at the ride to have photos added.  So, in our case, when our group split up and went to two different parks on the same day, one of us had to get to the other park in order to have those pictures added to the PhotoPass+.  This is honestly the only thing that really concerned me.  But my daughter and various nephews took care of that running.
Since we were told that we could add PhotoPass cards to our account after we were home we made sure that each group had a card with them throughout the trip.  When we did get home from our week of fun I collected everyone's cards (seven in total) and added them to the PhotoPass+ card online.  We started out with 125 pictures but, with editing and changes to borders, we ended up with 455 pictures.
Here's my confession – I could never understand how it was possible to even begin with 125 photos from a week at Walt Disney World let alone edit them to 455.  I would crop and add borders and order two pictures to add to our growing wall of photos from our family trips.  I am a convert!  Although it took me the entire 30 days before our photos expired to edit them perfectly. I now get it!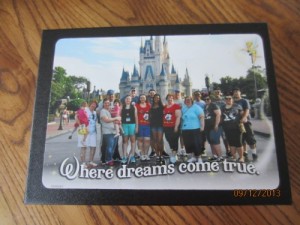 The first picture of all 18 of us in front of Cinderella Castle has been changed to include eight different borders and cropped into separate group shots as well.  Since you never get that perfect shot with everyone smiling and looking at the photographer at the same time it's helpful that each photographer will take multiple pictures.  We had so many pictures where the two year old niece is smiling but the three year old isn't even facing the camera.  That was where the editing and cropping was put to the test.  I was able to get individual pictures for each of the girls with the characters for their autograph books with some clever cropping.  Adding the borders is so easy too.  Just scroll through, make a choice and then "Save".  If you don't like the chosen border just "Remove" and start over.
As I write this article, we've received a puzzle of our first group photo and are expecting the CDs any day.  We've made sure we have the photo paper and the ink for our printer and we're looking forward to adding these pictures to our collection.
If you don't have a photo printer you can just take your CD to any of the numerous businesses that will print photos.  You will have the release for photos right on the CD so there are no worries about copyright infringement.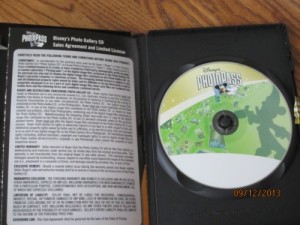 As a bonus there is a CD included with the PhotoPass+ Archive Disc which includes stock photos of attractions and parks including some beautiful holiday pictures.  The release is included in the case and is also right on the CD so you can even print some for your own use.
Was it worth the $160.00 we paid for the PhotoPass+?  A resounding YES!  Having a professional photographer capture those special moments was priceless.  As we're enjoying the moment with a character the photographer is continuously shooting pictures.  If we had been taking the pictures we would have missed our two year old niece kneeling next to Cinderella with her hands in her lap crossed in the same way that Cinderella crosses hers.  We wouldn't have the look of wonder on both of the little one's faces when they walked into the room to see "Punzoo" (Rapunzel to everyone else).
Our new frame, given to us by our son and his girlfriend, is on the mantle waiting to show a memory of our family trip. They "plussed" the frame by having it engraved with "Walt Disney World 2013" across the top and "Thanks for the Magical Memories" on the bottom.  I have already picked out the special 8 x 10 photograph for that frame!