This post may contains affiliate links for your convenience. If you make a purchase after clicking a link we may earn a small commission but it won't cost you a penny more! Read our full disclosure policy here.
Our first day at Epcot, we were thrilled to see CM's standing at the new Phineas & Ferb kiosks (formerly Kim Possible), but were quickly disappointed to learn they wouldn't be opening until the end of the month.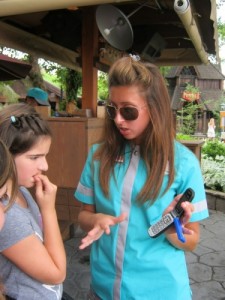 Four days later, we decided to get a few hours in at Epcot before our flight out that evening.   We did a couple of rides in World Showcase then noticed that the kiosk by Norway now had the covers off and had a few people milling around.
When I asked if they were open, the CM informed us that they were doing some testing of the new game and would love for us to help them out!  Our 10 year old daughter was excited to be among the first to try it out.
The CM took one of our tickets and got us a F.O.N.E. (Field Operative Notification Equipment) to begin our mission to foil the plots of the evil Dr. Doofenshmirtz.  Perry the Platypus of course had run into trouble and needed our help.
Our first and only mission took place in Mexico.  We made our way there and began the mission.  Several other families were now doing the same mission which made it a little chaotic, but still exciting to have the opportunity to try it out.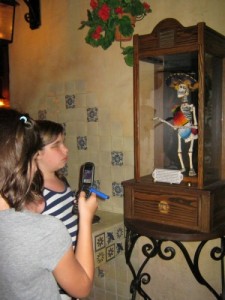 The game itself was pretty similar to the former Kim Possible version.  You receive a mission, you follow clues to help uncover Dr. Doofenshmirtz's plans and then complete the mission by foiling his evil plot.
For the most part, many of the interactive Kim Possible clues are still intact.  I did see a few different clues that I didn't recognize.  It could be that these were part of additional missions that we never received, or they could actually be new.
Still, they did a good job of integrating them into the new theme of Phineas and Ferb.  Since we have done the Mexico mission several times when it was Kim Possible, my guess is they added some new interactive clues.
The mission time and difficulty seemed about the same.  I have to say, the one thing I didn't miss was the constant Kim Possible tone going off for each message.  I honestly don't remember if there was a new tone to replace it, but my daughter said that it actually had  different tones depending on what you were doing with the F.O.N.E.
With the popularity of the Phineas and Ferb show on TV and the demise of the Kim Possible show, I do think the change was needed.  Even if there is little difference between the old version and the new version, I do think this game is going to remain highly popular with younger children up through tween ages.
The new F.O.N.E. device looks the same as I remember the Kimmunicator  being…but they look new and shiny.  I don't think they have changed anything about them other than maybe updating the hardware.
We did have one glitch during our mission where a clue didn't work.  A CM from Mexico came over and tried to help us but determined it wasn't working properly so we went back to the Phineas and Ferb kiosk and received a different F.O.N.E. which also gave us a slightly different version of the mission.
From that point forward, we had no further problems. I did notice others having trouble with the same clue that we got stuck on, so I'm guessing it was the clue and not the F.O.N.E.  that was causing the problem.
In the end, we did our job of uncovering the evil plot and foiling it, all while avoiding detection from the tattle tale efforts of Phineas and Ferb's bratty sister.  Just like in the Kim Possible version, the volcano erupted and Doofenshmirtz was shot out of the top of it.  We followed the final clues to the F.O.N.E. drop off point which also remained the same.  In this case, we were not given the option to do additional missions.  Since we were there for such a short time, we didn't get a chance to see if other kiosks were operating.
If you liked the Kim Possible version of this game, I think you will like the updates.  I didn't see a lot of drastic changes, at least in the Mexico mission.  If you didn't like the original version, your opinion is probably not going to change.  We enjoyed the opportunity to test out the new version of an attraction that we liked so much.