This post may contains affiliate links for your convenience. If you make a purchase after clicking a link we may earn a small commission but it won't cost you a penny more! Read our full disclosure policy here.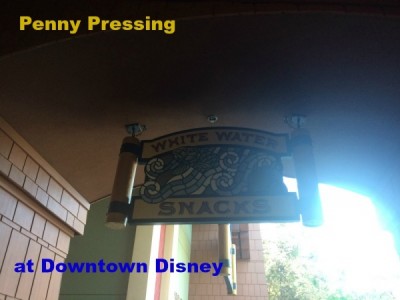 White Water Snacks, the location of our first penny press of the day
As we all know, a trip to any Disney destination can be expensive. Transportation, lodging, theme park tickets, meals and those all important souvenirs – it can really add up! That's why I get so excited when I find an inexpensive souvenir that is actually fun to get.
My ten year old daughter and I recently spent a hot summer afternoon at Downtown Disney at the Disneyland Resort. Our goal was to have the most fun possible while not spending a lot of money.
While we explored Downtown Disneyland and the three official Disneyland hotels (all of which are accessible without buying a park ticket or going through the security checkpoint) we noticed a few penny press machines. We decided to give a couple of them a try.
The first one we came across was at Whitewater Snacks, the quick service location at the Grand Californian. We've stayed at the Grand twice and yet never ate here! The menu looks good, however, so we'll have to give it a try on an upcoming visit.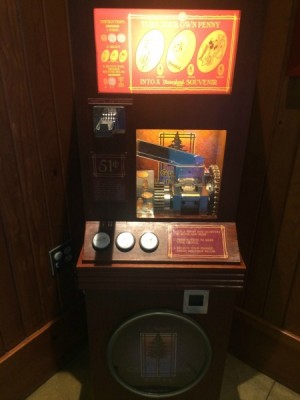 Behold the penny press machine!
This penny press machine is one of the more modern ones. You insert your penny, plus fifty cents. Then you push a button to pick your design. We chose Goofy fishing. We watched through the transparent case as our penny dropped into the machine, and then popped out a change slot for us to collect.
I was surprised that the penny was cool to the touch. I had assumed that the pressing mechanism would make it hot! We took it outside into the natural light to examine our design. On one side, we saw Goofy fishing, as we chose.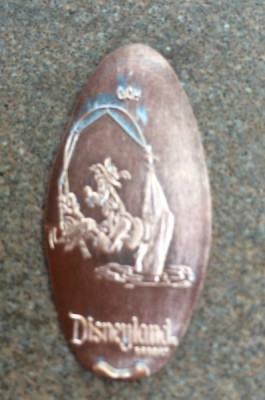 Looks like Goofy caught something!
On the flip side, it was emblazoned with the Grand Californian logo.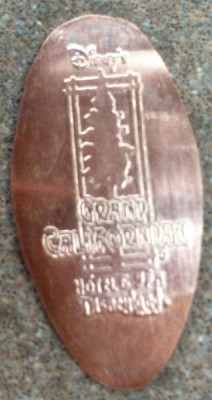 Catch you on the flip side!
On our way to lunch, we passed another penny press machine, this one right next to the Pin Trading kiosk. This was an older machine, and we didn't read the instructions before inserting our coins. What you're supposed to do is first turn the crank to chose your design.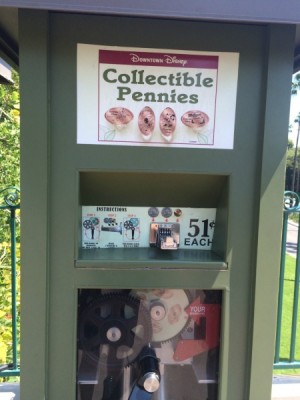 Downtown Disney penny press
Then you insert your penny along with fifty cents. Since we already inserted our coins, we were stuck with whatever design had been pre-selected. We were happy with what we got, though, which was Pirate Mickey. There was no design on the flip side.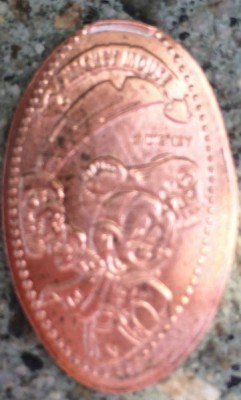 Argh!  Be it a penny or a doubloon?
When we got home, I looked at Disneyland's official website and discovered a color pdf guide to all the coin press machines on property. However, the second one we used, the one next to the Pin Trading kiosk, was not on the list. The next time we're at Disneyland, we will bring this guide with us, and collect all our loose change. It's rare that you can find a Disney souvenir that is inexpensive AND interactive!
Which is your favorite pressed penny machine? Share in the comments.