This post may contains affiliate links for your convenience. If you make a purchase after clicking a link we may earn a small commission but it won't cost you a penny more! Read our full disclosure policy here.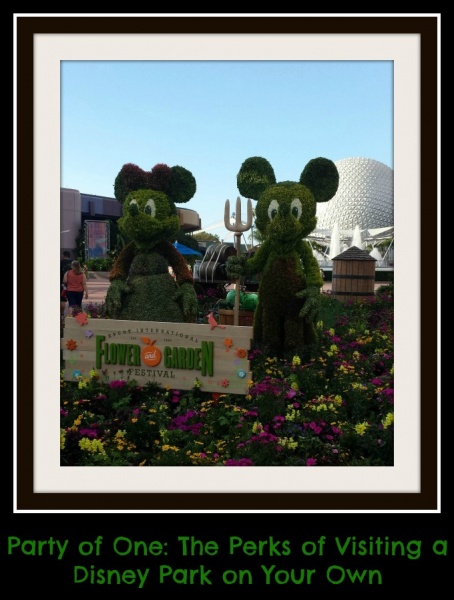 For me, traveling to the Disney Parks is something I have always done with a group.  Family, friends, or most often friends who are like family, are my travel companions.  A few weeks ago, however, when work travels took me across I-4 right past the Disney exits on the first day of the Flower and Garden Festival at Epcot, I couldn't resist the urge to drop in for a few hours. There were a few perks I discovered on my solo visit and I am happy to share them with you!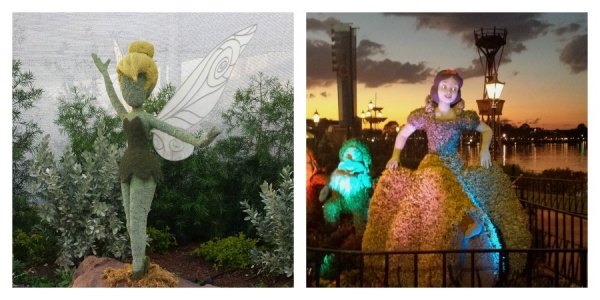 #1 Shopping, shopping, shopping!
The shopping options at Epcot are fantastic to begin with and since the festival was going on, I had even more choices.  I visited several of the specialty booths and really enjoyed taking my time looking at everything.  Without impatient family members waiting on me or dining reservations to rush off to, I could spend as much time in each shop as I liked.  It was very relaxing.  I knew that I wanted to check out the Dooney and Bourke bags and I had all the time in the world to chose the one that suited me best.  As I shopped, I also has plenty of time to look at all of the beautiful topiaries, something I have missed in the past when I was trying to keep up with a large group. It was great!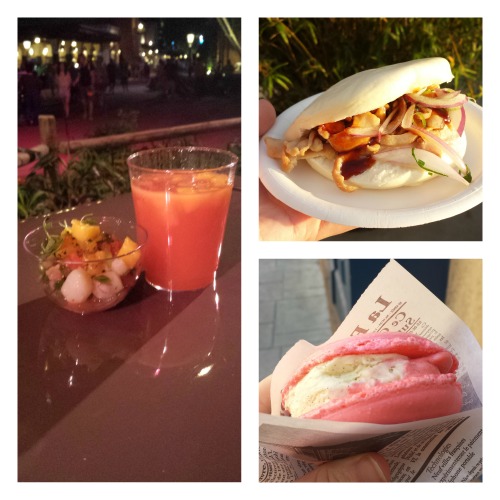 #2 Food!
I arrived in late afternoon with the intention of eating an early dinner at the park.  This was perfect because the Flower and Garden Festival offers so many food choices.  I quickly stopped at a gift shop and purchased one of the small gift cards that can be worn on the wrist, added some money to it to make food purchases a breeze, and I was off!  I walked around the World Showcase at a leisurely pace, (stopping occasionally to shop of course) and checked out all of the food offerings.  If a booth had something I wanted to try, I stopped.  If not, I walked right on by and on to the next one.  No need to worry about what anyone else was interested in trying, I got to pick and choose what I felt like having.  I even ate dessert first!  No judgment when you are alone. I found lots of tasty treats along the way and although I never actually sat down for a meal, I was stuffed by the time I made it around the lagoon.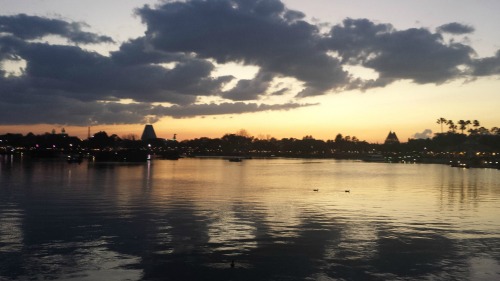 #3 Flying Solo!
Since this was my first time visiting a Disney park completely alone, I wanted to make sure I had the full experience and that included riding something.  I used the My Disney Experience app ahead of time and set a FastPass for my favorite ride at Epcot, Soarin'.  When my FastPass time came up, I scanned my magic band and followed the queue toward the ride.  As I reached the point where everyone was stopped and waiting for their turn, a cast member came by and asked guests how many they had in their party.  I held up a single index finger to indicate my part of one.  I received a much more enthusiastic response to my party size than I ever expected!  The cast member exclaimed, "One?  Woo hoo!  Follow me all the way to Concourse C!" I was then escorted directly to the loading area and immediately headed to my seat. I buckled my seat belt and I was ready for take off! I am sure that this will not happen every time if I visit on my own again, but as a party of one, you can easily take advantage of single rider lines on attractions like Test Track or Expedition Everest.  Who knows, you may get lucky like I did and find yourself boarding the ride faster than expected.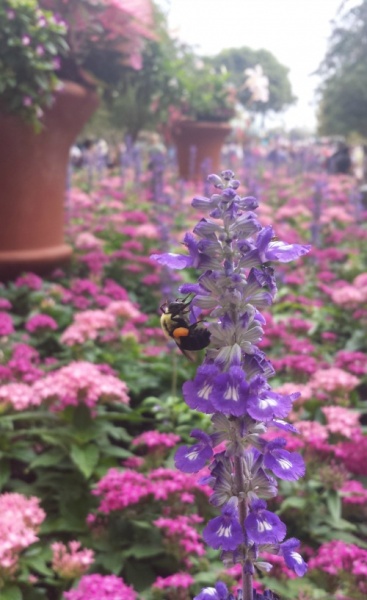 I truly enjoyed my visit to Epcot as a party of one.  I still think that a visit to Walt Disney World is more exciting when you have loved ones there to share your experience, but would I visit again on my own if the opportunity presented itself? Absolutely!
Have you ever visited a Disney park on your own?  Share your experiences in the comment section!