This post may contains affiliate links for your convenience. If you make a purchase after clicking a link we may earn a small commission but it won't cost you a penny more! Read our full disclosure policy here.
This is part two of a two part series.  If you haven't read part one, you can read it here.
Saturday we started with an early morning cheer practice and then spent the day lounging by the pool.  The weather was perfect and the girls spent time perfecting their stunt formations in the water.  At the main pool they hosted lots of fun activities for the kids including trivia and scavenger hunts.  It was a great day to unwind before the chaos of the competition on Sunday.
Sunday morning we headed out early in the morning to ESPN's Wide World of Sports.  UCA had shuttle services set up to transport people from both All Star Sports and Caribbean Beach.  The shuttles ran non-stop and there didn't seem to be any trouble in geting to the competition.  I had never been over to the Wide World of Sports and I was so impressed with the facility.  I remember walking up the palm tree lined walkway to the entrance and thinking how fortunate we were to be a part of this.  The venue at the Wide World of Sports was amazing.  Getting in was a little confusing for us.  We were unsure if we had to use our regular park hopper ticket.  We did not have time to go to the parks on the day of competition, so I did not want to use a park hopper for entrance to the Wide World of Sports.  Luckily, there was a separate component added to our ticket called a sports pack.  That included entrance to the competition venue without using up a park hopper.  When we got in there was so much to see and there were all kinds of different events going on.  We happened to catch a glimpse of Mickey in his track suit but he was there for the field hockey championship that was going on at the say time.  We tried to butter up the staff to get a picture of him, but there was no way they were letting us through.  I guess that just leaves us something to chase in the future!
My girls were super excited and we spent the whole day there practicing, perfecting hair and make-up and watching squads from all over the world compete.  My girls were in the youngest division of this category and they were a little overwhelmed when they saw the big stage.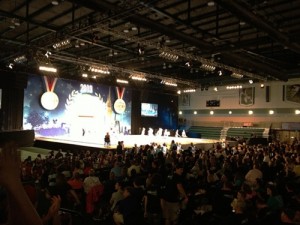 When their time to perform came, they went out on that big stage and cheered their little hearts out.  I was beaming with pride and couldn't hide my tears of joys.  I just kept thinking what an amazing experience it was for them at such a young age.  They ended up placing 4th in their division which was an amazing accomplishment.  We are from the Northeast and I must say we can't quite compete with the level of skill from the teams from the South.  There was so big talent there!
We left the competition around 8pm and it had been quite a long day.  The package we purchased included passes to a celebration party at Hollywood Studios.  When we initially got our itinerary we were definitely planning to go.  We thought we would just head back to our hotel to grab a quick bit and then hit the Studios!  On our way back we learned that only the big rides were open at Hollywood Studios.  The open rides included Tower of Terror, Rockin' Roller Coaster, Star Tours and Toy Story.  My girls are too little for Rockin Roller Coaster and we had heard from friends at the park that the lines were insanely long.  Our kids were pretty worn out so we just headed back and had a relaxing late night swim!
It was truly a fabulous trip and an opportunity they may only get once.  I am so glad that we made the sacrifices necessary to be able to go!  My girls went home with a team trophy and memories that will last a lifetime!