This post may contains affiliate links for your convenience. If you make a purchase after clicking a link we may earn a small commission but it won't cost you a penny more! Read our full disclosure policy here.
Some of you are professionals. You have a big bag of equipment, a "shot list," and confidence that you'll return from a Disney parks trip with a memory card full of great photos from unique angles. But many Disney fans are amateur photographers — we just hope we'll come home with something usable. This trip, resolve to get more out of your theme park photography by being prepared!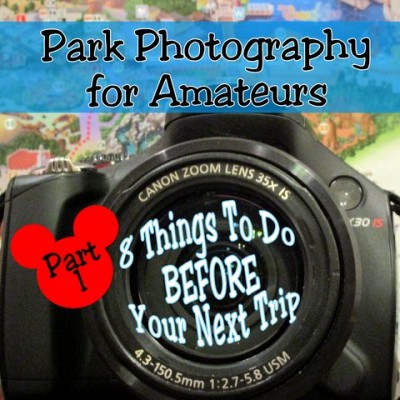 1. What are your goals? This is the element that will influence everything else on this list. Do you want that "Christmas card" shot? — think hard about packing coordinating clothes. Do you have a prop or Flat Stanley to tote? Want a picture of your family in front of every park icon? Or with all the princesses? Do you like taking pictures of all of your food? If there's a photo you want to re-create, better bring a copy.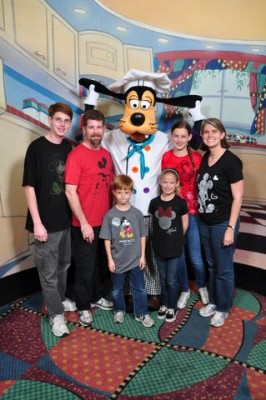 This shot is 50 percent better simply because we match!
2. Decide what equipment to take. Based on your thought-out answers to Item #1, you'll have a idea of how much gear is worth hauling. Perhaps the big SLR camera with multiple lenses is worth the luggage and backpack space. For other trips, maybe your smartphone and PhotoPass are enough.
3. Explore your camera's settings. If you haven't shot night photos with your camera, or have a new phone, take some time to test what your capabilities are. There's nothing more frustrating than fumbling in darkness, unable to find your camera's low-light setting. Don't ask me how I know.
4. Purchase Memory Maker. If you are going to Walt Disney World, buy your Memory Maker package in advance. You'll save $20 off the usual $169. You can link your Memory Maker to your My Disney Experience account through your MagicBand or Photopass card. Photos are my favorite souvenirs! Disneyland does not currently a PhotoPass package.
5. Take charge of accessories. Camera batteries, chargers, memory cards, oh my! Consider toting an external charger if you don't think your cell phone's battery will last through a whole day.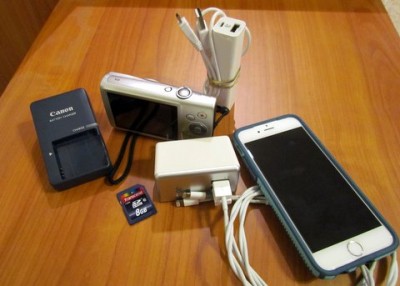 Gadgets and gizmos a-plenty
6. Improve your memory. Remove as many pictures as possible off of your phone and camera. It will free up space on your device, and keep previous photos safe in case your camera gets lost or a memory card corrupted. If you're really concerned about storage, consider bringing a laptop to download pictures to, or upload them to a cloud-based account.
7. Label yourself. Putting your name and phone number on your camera will help Cast Members or honest guests track you down when you leave your camera in a restaurant. (Again, don't ask me how I know.) And be sure the "In Case of Emergency" and contact information are up to date on your phone.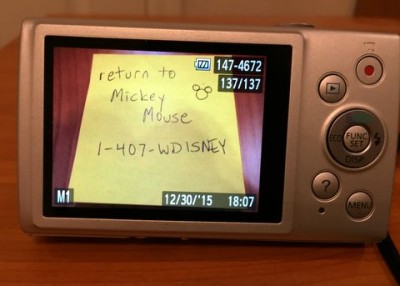 This should be the first photo on every camera Mickey owns
8. Take some pre-trip photos. Document your preparations for the trip — the moment you told your children, your countdown calendar, the suitcases packed and ready.
Now that you've prepared, you'll be ready for our next article on taking some prime photos in the parks.
What are your best photography tips for things to do before your next trip? Leave your comment!