This post may contains affiliate links for your convenience. If you make a purchase after clicking a link we may earn a small commission but it won't cost you a penny more! Read our full disclosure policy here.
By Ann Dunnington
Back in early 2011, my husband and I were watching one of the Walt Disney World travel shows that Netflix offers called "Undiscovered Disney Parks".  It showed different experiences outside the parks that guests could enjoy- the Richard Petty Driving Experience, Disney Quest, Surfing at Typhoon Lagoon, etc.  But one experience that really caught my husband's eye was the opportunity to go Parasailing over Bay Lake at Disney's Contemporary Resort.
Let's be clear.  I am not a daredevil.  It took me years to get up the courage to even ride the Tower of Terror!  That being said, since my husband really wanted to go parasailing, I decided to give it a try.   ….and this is what happened.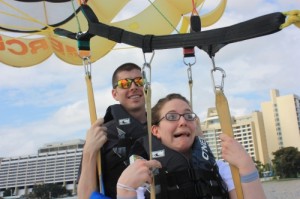 Let's backtrack a bit.
Sammy Duvall's is located at Disney's Contemporary Resort, back by the Bay Lake dock.  Simply walk through the check-in lobby of the Contemporary and head back toward the pool area- you can't miss it!  Sammy Duvall's allows you to participate in a number of experiences, from renting personal watercrafts, to going water skiing, wake boarding, tubing, or parasailing.
Upon deciding that we wanted to parasail, I went online before our trip to make the reservation (more on how to do that later).  They offered the ability to fly solo or fly tandem, as long as your total weight was between 130-330 lbs. in the chute.  My husband and I weighed-in at under 330 pounds, and me being the chicken that I am, I was THRILLED that we could ride together.  We decided to go for the Deluxe Flight, which was 10-12 minutes in the air at 600' of line.  You can also choose to do 8-10 minutes in the air at 450' of line if you'd prefer.
At the check-in desk, we soon realized how personable and professional the staff was, and they eagerly answered any question that I had (and walked us through exactly what's going to happen to help calm my nerves).  In fact, since it was our anniversary, the nice young man at the desk threw in the photo package for us for free!  THAT, was amazing- true Disney-style service for a non-Disney-owned company!  I'm so glad that we have the photos that we do (even though in most of the pictures I look terrified and goofy).
After we were all checked in, we walked down the dock to the awaiting boat.  We boarded, took off our shoes, and put on our life vests.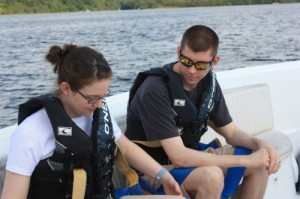 Once we were all secured in the vests, my husband and I were instructed to sit toward the stern of the boat, and they hooked us into the chute.  They also told us that if at any time we wanted to be reeled back in, we were to scissor-kick our legs, and they would bring us back down immediately.  Once the chute opened, the boat picked up a little bit of speed, and they reeled us out.   Here we goooooo (a-la-Peter Pan).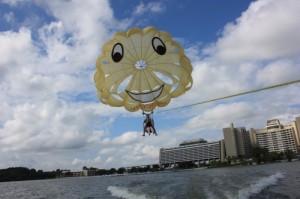 The reeling part was pretty smooth, but it was a fairly windy day, so we were actually swaying a bit more than I expected.  It was at this point that my husband and I realized that maybe heights wasn't our (my) strong suit.  Nevertheless, the view was spectacular.  Being close to 600' up in the air, you could see for miles.  It was so quiet, except for my nervous squealing any time the boat turned or the wind picked up.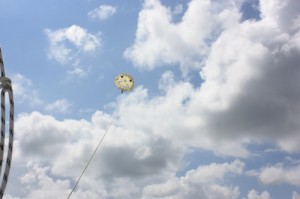 I couldn't believe how long 10 minutes actually felt.  Toward the end of the flight time the boat slowed down, which caused the cute to bring us down close to the water so the staff could take our picture.  We never actually touched the water, though- dry the entire time!  After the 3rd time of bringing us down close to the water, we realized that we were starting to be reeled in.  One of the staff told us to just walk forward when we hit the boat, and that was that!
Was it worth the money?  Absolutely.  Would I do it again?  …. one time was enough for these height-fearing nerves.  I do have to say, though, Soarin' was a piece of cake later that afternoon!
If you're interested in seeing a video from my point of view from the chute, click here.
Visit the Sammy Duvall's website at www.sammyduvall.com for more information on experiences and pricing, or to make your reservation.  Go for it- you'll make some great memories that you can't find anywhere else!