This post may contains affiliate links for your convenience. If you make a purchase after clicking a link we may earn a small commission but it won't cost you a penny more! Read our full disclosure policy here.
Have you ever wanted to try parasailing? How about parasailing on your favorite island in the Bahamas, Castaway Cay? I parasailed on my cruise onboard the Disney Fantasy. It was a Disney Port Excursion for our Castaway Cay port, and it was truly the experience of a lifetime.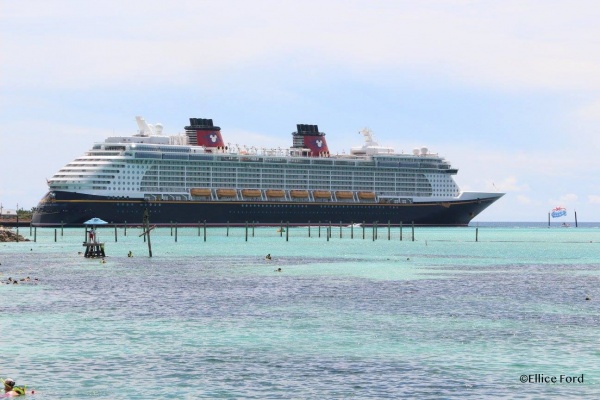 I traveled with my family & was the only one who wanted to do this excursion, so I did it solo! When we arrived in port, I had to be to the excursion location by 10:00 a.m., so I had a quick breakfast before heading out. My family slept in a bit & stayed on the ship to also get some shots of me in the air.
Our group met with the locals who took us on our excursion. They took about 8-10 of us out in the boat, where we all got a quick lesson on how to stand during takeoff and landing. We rode out to a safe area of the ocean and each couple took their turn. I was the only one in my group who was brave enough to do it solo! Most people in my group were couples or friends, all adults. Disney Cruise Line official age is 10 years & up.
When it came time for my turn, I gave my camera to my neighbor who kindly took some photos & videos for me. The employees strapped me in the harness & set sail on my adventure. Admittedly, I was a bit nervous doing this completely by myself. I was mainly worried about how the takeoff would be. I pictured it being a quick jolt to the air & I was pleasantly surprised when that wasn't at all how it was! The takeoff was simply a slow lift to the air while the parachute filled.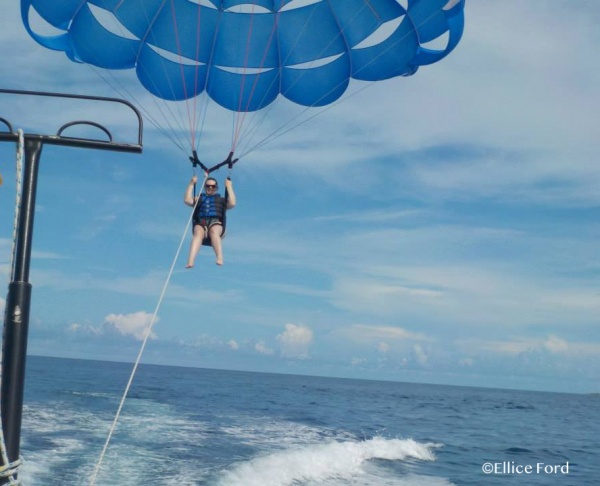 The parachute lifted up until I was about 1,000 feet in the air, even flying high above the Disney Fantasy ship! I cannot even put into words how it felt being up there. Peaceful, therapeutic, relaxing, incredible, are just some words that come to mind. I was up there with a birds eye view of the ship & the island, surrounded by nothing but sky & a rare bird that flew by. It was completely quiet, which was kind of cool to experience, looking at the busy island & ship beneath me. It was honestly the most relaxing and peaceful thing I have experienced in my life.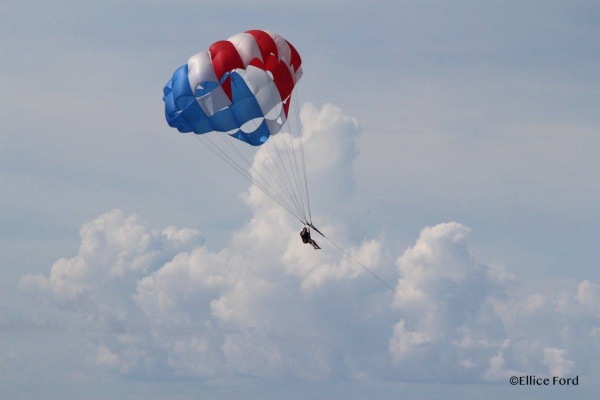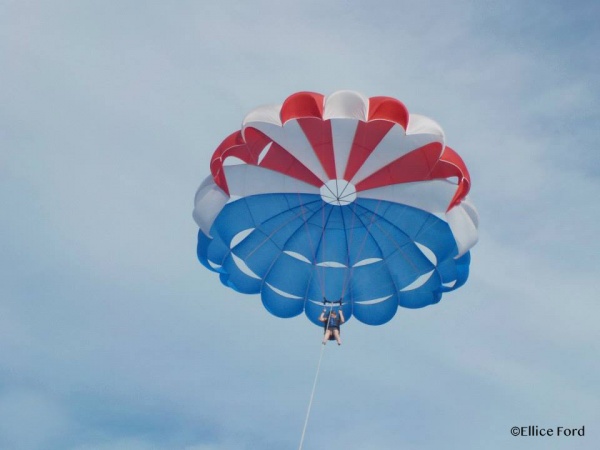 I floated along for about 10 minutes, until I was reeled back in. I could have stayed up there forever! My landing was a little rough. I was supposed to brace myself & completely fell. The workers had to catch me! I was a little embarrassed but everyone laughed it off. That didn't matter to me because I just had such a fantastic experience.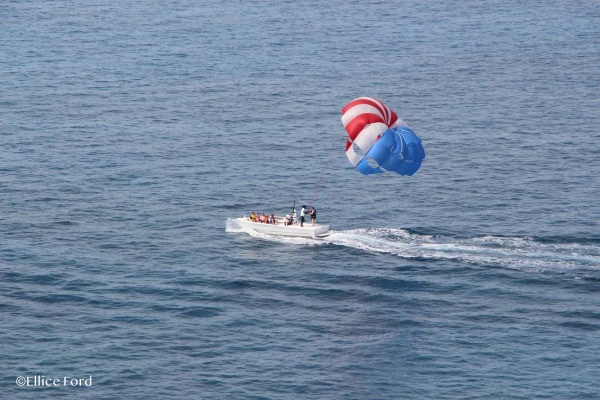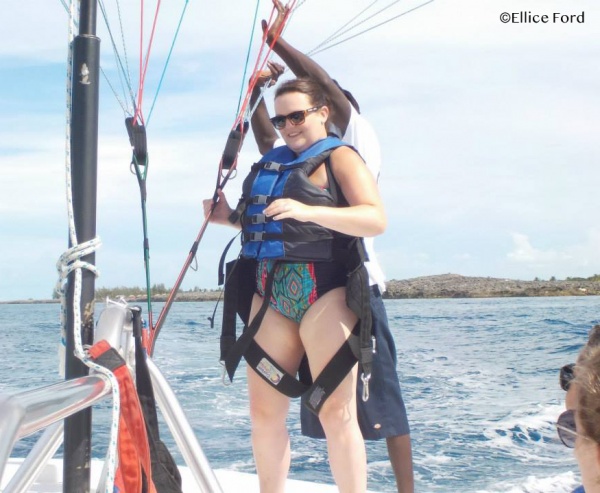 All in all-hands down the best excursion I experienced on the entire trip, and absolutely the experience of a lifetime. It isn't for those afraid of heights, of course, but could absolutely be worth the time for those who aren't I recommend it to anyone & would definitely do it again on my next Disney cruise! I loved parasailing on Castaway Cay!
Have you parasailed on Castaway Cay before? What was your experience like? Let us know in the comments below or on Facebook or Twitter!
Did you like this article? Make sure to share it with your friends! Check below for easy ways to share!
Want to sail on Disney Cruise Line? Contact The Magic for Less Travel for more information and a free, no-obligation quote.

Incoming search terms:
https://www themouseforless com/blog_world/parasailing-castaway-cay/
https://www themouseforless com/blog_world/parasailing-castaway-cay/#:~:text=Disney Cruise Line official age is 10 years & up
https://www themouseforless com/blog_world/parasailing-castaway-cay/#:~:text=It isnt for those loved parasailing on Castaway Cay!
parasailing castaway cay
parasailing on castaway cay