This post may contains affiliate links for your convenience. If you make a purchase after clicking a link we may earn a small commission but it won't cost you a penny more! Read our full disclosure policy here.
By Binnie Betten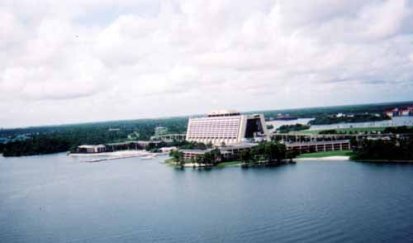 There are very few resorts, restaurants, tours or adventures at Walt Disney World that I have not experienced. Of those that remain untested or untried, there's probably a pretty good reason for it–be it costs, physical demands, specific requirements that I don't currently meet or just overcoming a life-long fear. So, I'm down to the tough ones now. I'm completely determined to do them all. During my July trip, I crossed parasailing at the Contemporary Resort off my list.
When I informed friends and family members of my plans to parasail during my Walt Disney World vacation, most thought I had "gone completely off my rocker."
"You're fifty-five," one concerned co-worker reminded me. "Aren't you worried you might break something?"
I'm more concerned about drowning, I thought.
Then there was my husband, Joe, who suddenly remembered the news story about someone at an unrecalled vacation destination who "slammed into the side of a hotel while parasailing." He was "pretty sure they didn't farewell."
I doubled checked to be sure I had packed the insurance card.
Of course, when I mentioned to my best friend, Johnny, that I would be approximately 400 to 600 feet up because I was going to go as high as the boat crew would let me, he informed me that I could "freak out up there and be helplessly stuck."
I reminded him of the TV commercial in which the woman parasailing in the Caribbean was told that she simply had to "kick her legs like a duck" to come down.
Only my girlfriend, Gail, had a completely reasonable fear. She wondered if I "wouldn't have to put on a bathing suit to parasail."
Now that was a good question! I called to check.
"No need for a bathing suit," I was informed by the helpful young man from Sammy Duvall's Watersports. "You will take off from the platform on the back of the boat and land in the same spot.
"Great!" I replied. "Then there's no need to cancel this whole thing."
We arrived at the outdoor kiosk to the rear of the Contemporary Resort about fifteen minutes prior to our departure time to sign our waiver forms and pay in advance. It was a good thing too, as we found out later in the week when one of our party signed up to wakeboard; the boats are usually booked to capacity. If you're late, you most likely will lose the minutes from your allotted time with no reduction in the price.
Intentional or not, Sammy Duvall's has good-looking, tan, personable young men and women in their employment, and I must say all members of our party, whether parasailing or not, enjoyed the view. The boat can hold up to six people in addition to the two-person crew. If only a few members of your party would like to try this, take the whole family along if there's space, and enjoy zipping around Bay Lake.
I parasailed in tandem with my thirteen-year-old granddaughter, Alisha. We asked my seven-year-old grandson if he would like to try, but he declined. Had he wanted to go, however, our crewmember, Kim, was more than willing to ride in tandem with him so that he would not be alone. Also, while there is no age restriction, there is a minimum requirement of 110 pounds with no more than 350 pounds total weight in the parachute. We also had a hearing impaired young man in our group, and Kim was wonderful at communicating with him, as was our driver when Sean tried wakeboarding the following Saturday.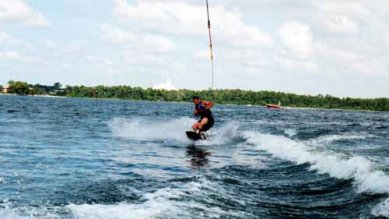 While our parasailing driver, Tim, steered the boat around the Bay Lake, Kim was a real joy, explaining everything we needed to know, answering our questions and even telling a few jokes. My favorite was the one about how she and her businessman husband both wore suits to work —Kim's of course being a bathing "suit."
When Alisha and my turn came to parasail, Kim fitted us both with life vests and explained how we would step into the harness by placing our feet through the two loops that fit around our thighs and then sitting on the swing-like strap behind us. The parachute clipped to the lifejacket as well as to the harness as an extra precaution.
I, of course, began asking a thousand questions, starting with, "Have you ever had the ropes break?"
Kim explained, "Unlike other parasailing company's, Sammy Duvall's Watersports change chute ropes every 3 months as opposed to once per year."
"Well, just say the rope would break," I continued, "what would happen then?"
"You would gently float down into the lake where we would pick you up," Kim reassured.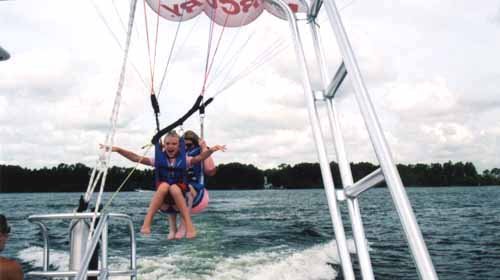 I had my doubts about the "gently drifting" part, but was not about to change my mind now. Alisha and I stepped onto the stern of the boat after the chute was inflated, me standing directly behind Alisha. After Kim secured us to the chute, she told us to get in a sitting position. Initially, the seat strap was positioned a little low on my hips for comfort, but I was easily able to wiggle it into a better position. The lift-off was so gentle that I barely remember it. In no time at all, we were high above the Contemporary Resort with a view that, at times, extended all of the way to downtown Orlando.
Since altitude is controlled by the boat speed, we experienced a few sudden upward drafts when the boat speeded up giving us our best view of the surrounding area. For the most part, though, we peacefully drifted for almost ten minutes. Both Alisha and I felt comfortable enough to periodically let go of our grips on the harness straps and extend our hands straight out as if we were flying.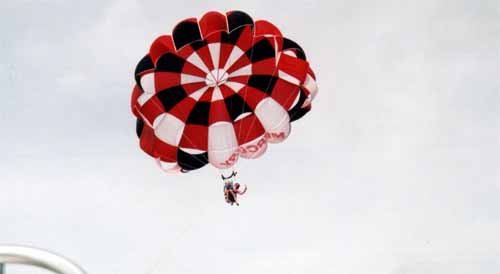 At times, when the boat slowed down, we began to gently drift downward toward the lake and I could see that Kim was absolutely right–a broken rope probably would not be the catastrophe I had imagined.
Another thing that struck me, as I was 400 feet Over Bay Lake, is that height and the fear it evokes is very much attenuated when one is over water. Kim told me that would be so, and it was.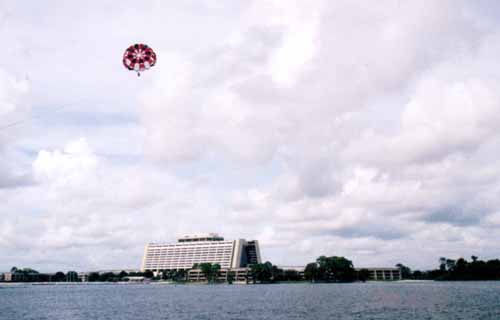 The time went by far too quickly, and soon we were being reeled back onto the boat. Our driver, Tim, engaged the hydraulic winch and synchronized the line speed with the boat speed so perfectly that alighting on the flight deck in a standing position took almost no effort at all.
Almost euphoric after my first parasailing experience, I realized that I would do this again in a heartbeat. It's not scary; it's serene, breathtaking and fun. Grandparents: your grandkids will think you're the coolest; go for it.
With parasailing crossed off my "To Do" list, I'm busy planning my next Walt Disney World adventure–scuba diving with Mickey Mouse in the Living Seas at Epcot. I'll need to get scuba certified to do it, but I found out that our local community college offers certification at a very reasonable price. I'll be signing up in the spring.
I've shared my plans for enjoying the best that Walt Disney World offers in the future. What's next on your WDW "To Do" list?
If You're Going Parasailing or Wakeboarding:
Reservations: Highly suggested, although walkups are taken if free time is available; For more information or reservations call (407) WDW-PLAY (939-7529)
Experience: No experience needed to do parasailing or wakeboarding
Bathing Suits: Required for wakeboarding only
Chickening Out: The best signal to come down from parasailing early is to scissor-kick your legs until the crew signals back.
Age Requirements: There are no age restrictions, however, weight restricts do apply.
Weight Requirements: 110 pounds or more to go alone; no more than 350 combined pounds per tandem flight.
Peak Season Hours (Memorial Day thru Labor Day): 7 days a week weather permitting – 8 am to 5 pm
Off-Season Hours: 7 days a week weather permitting – 10 am to 5 pm
Single Flight Parasailing Prices*:
Regular – $90 per flight (8-10 minutes at 400 feet)
Premium – $112.50 per flight (10-12 minutes at 600 ft)
Tandem Flight Parasailing Prices:
Regular – $140 per flight (8-10 minutes at 450 feet)
Premium – $162.50 per flight (10-12 minutes at 600 ft)
Water-ski/Wakeboard/ Tubing Prices* (Prices are per boat for up to 5 guests)
1/2 Hour $80.00 – Walkups only
Hourly $140.00/ up to 5 guests
Premium $165/ minimum of 2 hours, includes pick-up from a Magic Kingdom Resort
*WDW prices and hours of operation are subject to change
*Annual Pass discounts of 10% available
Magically Speaking Featured Article
Library of Congress ISSN:1556-3863