This post may contains affiliate links for your convenience. If you make a purchase after clicking a link we may earn a small commission but it won't cost you a penny more! Read our full disclosure policy here.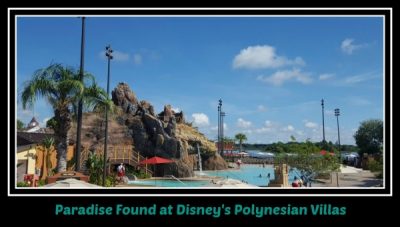 A few weeks ago, one of my best friends invited me along on a Disney trip to celebrate her son's birthday. I would have said yes no matter what, but I was especially excited when I found out that they planned to stay in one of Disney's Polynesian Villas.
The last (and only) time I stayed at the Polynesian, it was to celebrate my 13th birthday. That was…well, let's just say it was a while ago! Needless to say, I was thrilled to have the opportunity to visit again.
From the moment we checked in, it felt like we had traveled across the world and landed in a tropical paradise. Every bit of the theming and decor adds to the immersive experience.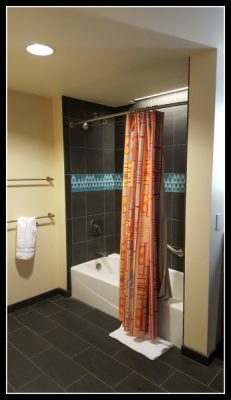 Shower in full bath
After check-in, we quickly dropped off our bags and checked out our room. The room had a queen bed, a pull out couch, and a pull down bed under the TV. We also had a full bath and an additional bath with a sink and a "rain" shower. This turned out to be one of the nicest features of the room in my opinion. It was a lot easier for everyone to get ready in the mornings with 2 showers and sinks. There was a refrigerator and microwave as well.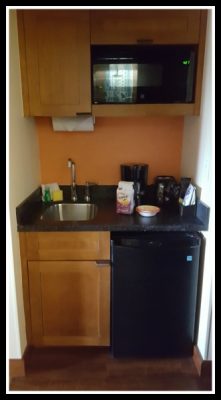 Refrigerator and microwave
The resort also features several restaurants, Trader Sam's Grog Grotto, an amazing pool with a water slide, gift shops, and entertainment. You could spend all of your time at the hotel and find plenty to do, but chances are, you plan on visiting the parks like we did.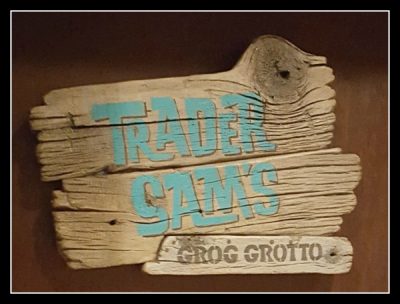 The Magic Kingdom was open late that night and we were ready to hit the park right away. We only made one quick pit stop to pick up a Dole whip. Yes, the Polynesian sells Dole whip right there at the hotel AND I was able to get my favorite, pineapple and vanilla swirl. This was really a treat for me. Since Aloha Isle at the Magic Kingdom changed locations, the pineapple/vanilla swirl is no longer available. I was thrilled to find it here. I really can't think of anything better than on-site Dole whip!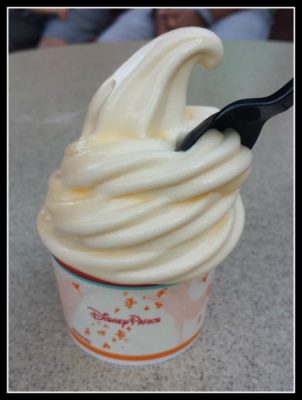 On-site Dole whip? Yes, please!
One of the other features of the hotel is that it is on the monorail line. This makes it really easy to travel from the resort to the parks. The monorail stops at the Grand Floridian, Contemporary, and the Transportation and Ticket Center. The Transportation and Ticket Center is just a short walk from the Polynesian parking lot, so if you want to shorten your travel time to the Magic Kingdom, you can walk over and hop on the monorail there to go directly to the Magic Kingdom.
We took full advantage of the evening Magic Kingdom hours and stayed until the park closed. We were very thankful for the short monorail ride back to the hotel since we were worn out.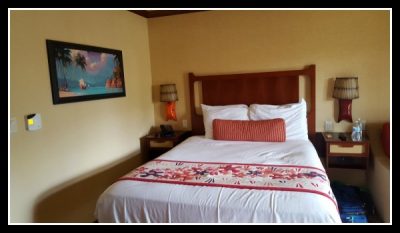 Queen bed
The room was perfect for our 4 guests and I think we would have been comfortable even if there had been an additional person in our party. The pull down bed was a bit on the small side, but one of the kids slept there and it was a perfect fit for him. When all of the beds were open there wasn't a lot of space to walk around, but we didn't mind. We came back to the room exhausted and went right to sleep.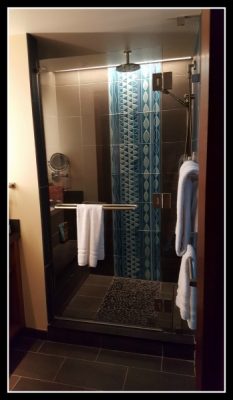 Rain shower in half bath
Breakfast at the hotel is also very convenient since there are so many options. I'll admit that I was tempted to grab another Dole whip for breakfast, but since that had been my dinner the night before, I figured I should go for something more substantial. We decided to pick up a quick breakfast at Captain Cook's. Some of the Polynesian's most talked about breakfast items, like the Tonga Toast and Mickey waffles, are even served here.
We spent our morning at Epcot where we got to experience the new version of Soarin'. If you haven't had the chance to ride yet, I won't spoil it for you. It is amazing!
By one o'clock or so, it was getting hot and we were in need of a break. We decided to go back to the Polynesian for a swim. I absolutely loved this pool! The water was cool and refreshing, exactly what we needed.
Of course, I had to try out the water slide. It was so much fun! I also checked out the hot tub even though it was 90 degrees outside, but I didn't stay in there very long. We ordered some drinks and enjoyed them poolside. Such a nice way to break up the day.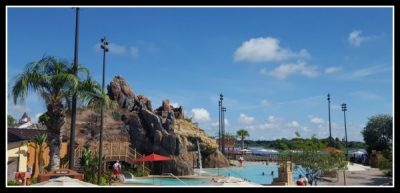 Polynesian Pool
Our swim break renewed our energy and we took the monorail back to the Magic Kingdom. We stayed until the park closed and once again collapsed into bed, exhausted. The next morning, I was truly sad to leave our tropical vacation, but this was only a quick weekend getaway. On my next trip, I would like to stay longer…and maybe never even leave the hotel!
A stay at the Polynesian can be a bit on the pricey side, but I can completely understand why families enjoy this hotel so much. The experience was amazing from beginning to end. I would stay again in a heartbeat!
Have you spent the night in a Polynesian Villa?  Let us know about your stay in the comments.