This post may contains affiliate links for your convenience. If you make a purchase after clicking a link we may earn a small commission but it won't cost you a penny more! Read our full disclosure policy here.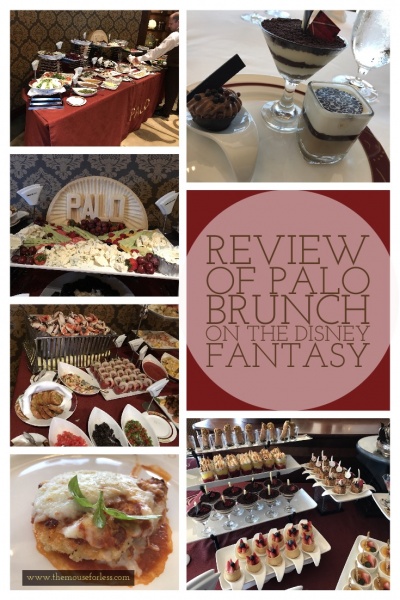 Recently, I discussed my date night with my husband at Palo onboard the Disney Fantasy, but did you know that on at sea days (and only on at sea days) Palo offers up a special brunch option? This is an extremely popular dining experience, so I strongly suggest making reservations for it as soon as you possibly can. (And if you can't make your reservation prior to getting onboard the ship, make sure you check to see if there are reservations available once onboard….they often have space available at that time for Guests.) It is truly a can't miss experience and half the time, I can't decide which option I like better, brunch or dinner!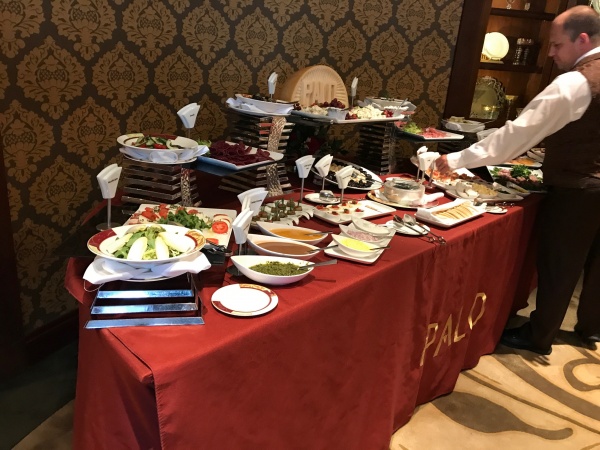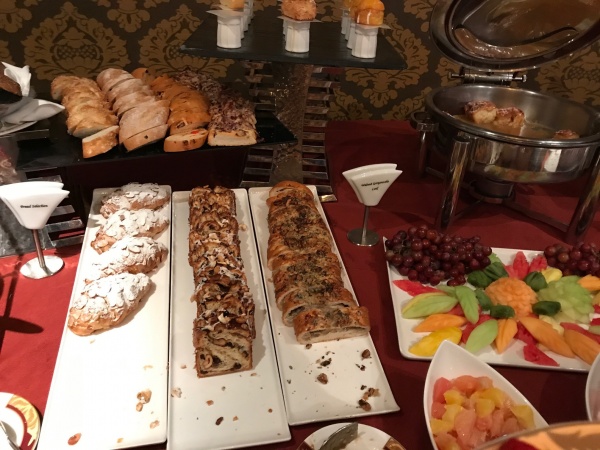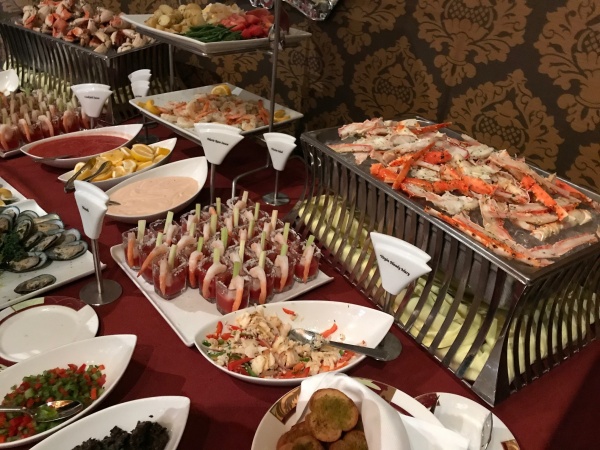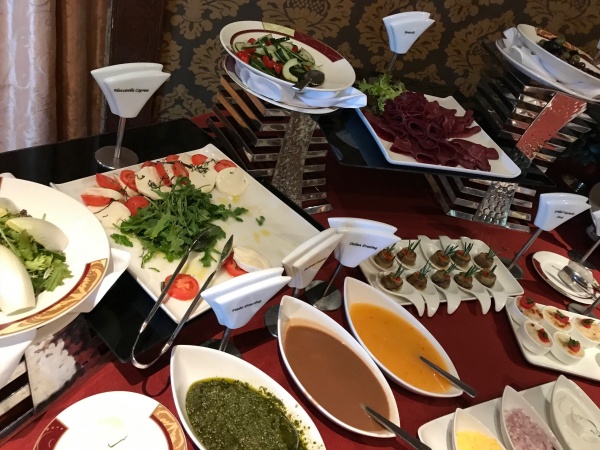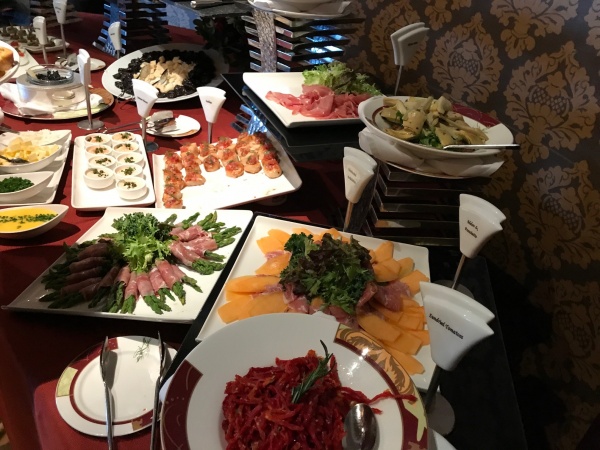 Once you are seated at your table at Palo, your waiter will then direct you to the brunch buffet options. Here, there are tons of choices that range from pastries to seafood to salads. Options include fruit, breads, virgin bloody mary, crab legs, oysters, tuna, smoked salmon, melon and prosciutto, sundried tomatoes, scallops, olives, cheeses, mozzarella caprese, and more.
Now, here's one thing that is a change over the past. There are Cast Members at the buffet who are there to help you fill your plate. While I appreciate the "high class" option, I prefer to fill my own plate, so I kind of side stepped the Cast Member and just started doing it myself. Now, I was with a large group at the time, so it was easier to side step. Not sure if they will let you do that, if you're coming up as a table of two.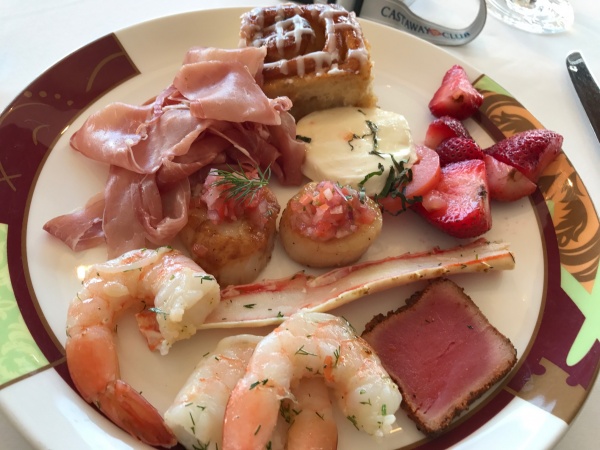 Once you've filled up your plate with deliciousness, you think that's it, right? Haha! You couldn't be more wrong. You are then given a menu, where you can choose to order a main entree! One of the most popular things to do is order a pizza for the table to split. There are various options, but the goat cheese and sundried tomato tends to be one of the more popular ones.
Up to $1,000 Onboard Credit
Deal
Receive up to 5% of your cruise price in shipboard credit exclusively from The Magic for Less Travel when you book any new Disney Cruise Line Sailing. This is not a rebate or check you will receive after you cruise; this is a shipboard credit you can use on your cruise! Use your credits for shopping, shore excursions, spa treatments and more. Restrictions apply. Request a no-obligation quote today! Read More
More
Less
Now, moving on the the main entree options, it's often SO hard to choose. That's because everything looks so yummy! Options range from omelets, waffles, frittatas, pancakes, ravioli, pasta, snapper, and more. But the best dish is the paramesean-crusted chicken breast. This is a fan favorite, for sure. It's topped with a tomato basil sauce, mozzarella cheese, and served on top of a risotto.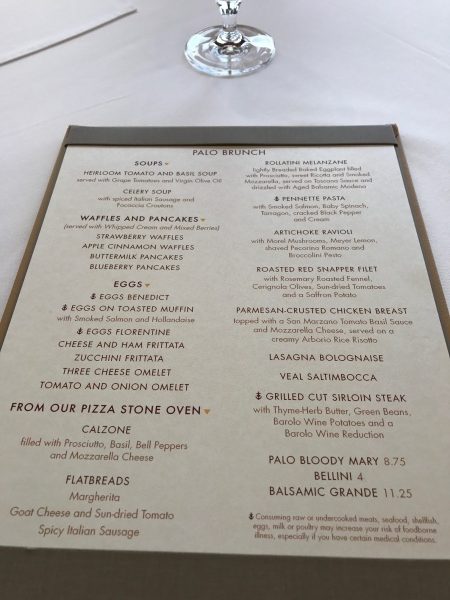 Now, when I was served the dish, I was a bit disappointed. This was my go to option for Palo brunch and it was a lot smaller than it had been in the past. However, once I remembered that I never ate the whole thing anyway, I felt better about the fact. Plus, I could always go back up to the buffet, or order another entree, if I was still craving more food.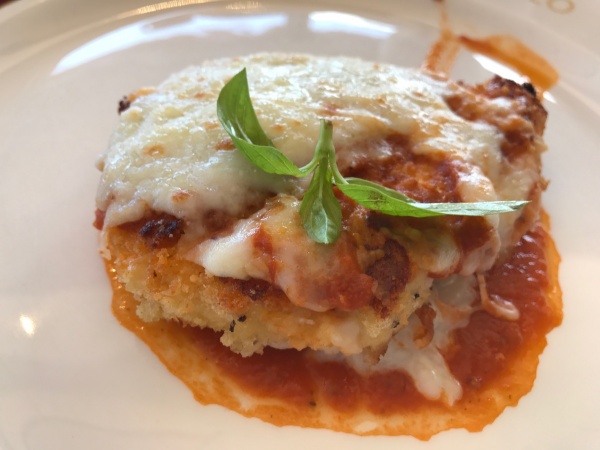 The chicken was, as always, delicious. It was cheesy, the sauce was light, and the risotto pairs perfectly.
Now, it's time for dessert. You are taken up to the bountiful dessert table. The choices abound, with chocolate covered strawberries, tiramisu, cannolis, fruit, and more.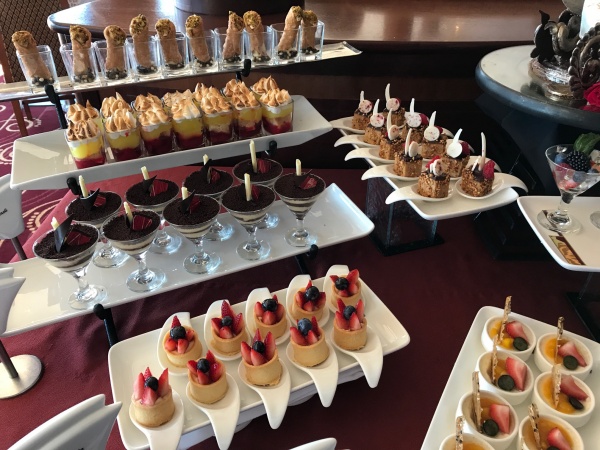 I was so full at this point, but knew I wanted to enjoy a few options. All were good.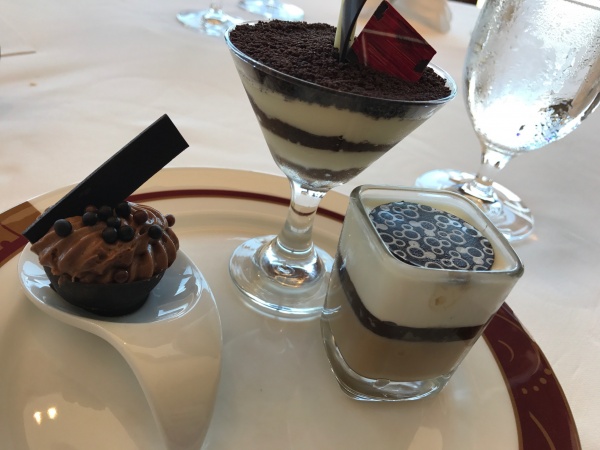 One of my pet peeves is when a restaurant doesn't clearly tell you what options are. I feel like they do better with brunch options with this, but still found some items where I questioned what they were, but I found this to be a bigger problem with dessert. There were a few things labeled, but there were often more questions of what things were or things were mislabeled.
Nevertheless, it doesn't detract from how yummy the brunch is overall.
Palo Brunch does have an additional feel of $30 per person, but I find it to be absolutely worth it. In addition, there is a dress code that must be adhered to. It is recommend that Guests wear dress pants or slacks and a collared shirt for men, and a dress, skirt or pants and a blouse for women. Jeans may also be worn if in good condition with no holes. However Guests may not wear tank tops, swimsuits, swimsuit cover-ups, shorts, hats, cut-offs, torn clothing, offensive t-shirts, flip-flops or tennis shoes.
Have you dined at Palo Brunch? What were your thoughts? Share in the comments, or on Facebook or Twitter.
Did you like this article? Make sure to share it with your friends! Check below for easy ways to share!