This post may contains affiliate links for your convenience. If you make a purchase after clicking a link we may earn a small commission but it won't cost you a penny more! Read our full disclosure policy here.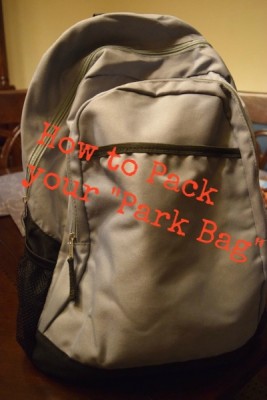 Recently, both Emma and Lisa shared ideas for what to pack for your trip to Walt Disney World, but once you are there, what should you bring into the park?
First, a caveat: the recommendations here are meant to be generally applicable to as many people as possible. Each individual and family is different so while I hope the suggestions here are useful, don't forget your diapers, medicine, EpiPen, or other necessities specific to your situation. Beyond that, here are some ideas for what to bring in your "park bag."
Which brings me to the first suggestion – get a park bag! Having a small bag can be really helpful for keeping items together, and you don't necessarily want or need your nice big backpack when exploring the parks. However, you also don't want a bag that is so lightweight that it won't last the length of a trip. What my wife and I did before our last trip was scope out the leftovers from back to school sales and got a decent neutral backpack once they were highly clearanced (for those so inclined, they also still had plenty of backpacks featuring numerous Disney characters). If you are able to plan for it, this is a great time to pick one up.
Once you have your bag, there are a few things that everyone should have. Chief among those are ponchos. No matter which time of year you visit Orlando, there is always a chance for a sudden onset thunderstorm. When that moment happens, you will probably be happier if you can pull out a poncho that you already have rather than run into a gift shop to buy a thin sheet of plastic. The advantage to doing this ahead of time is that for around the same price or even less than the ones you can get in the parks, you will have a much nicer reusable poncho that you can bring back for your next trip!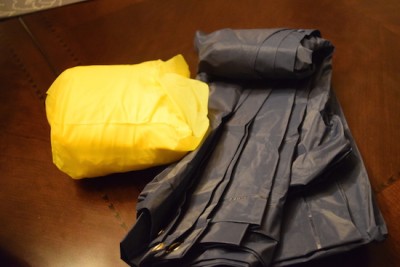 Because of that same rain, of just if you plan on riding Splash Mountain or Kali River Rapids, or just might walk too close to the camel, I would recommend bringing a selection of different sized zipper top bags. I use these to protect small electronics (like cell phones), my wallet, important pieces of paper (like your Tables in Wonderland or Sorcerers of the Magic Kingdom cards), or anything else you don't want to get soaked. I have even brought medium sized plastic shopping bags to protect the backpack as a whole. Another good reason to have different sizes of these is after an afternoon thunderstorm, you can put your poncho in one to keep it from getting the other items in your bag wet.
In case you do get wet, you can bring a few other items in preparation. First, I highly recommend an extra pair of socks. As I discussed recently, you do a lot of walking at Walt Disney World and doing that in soggy socks can be at best annoying, and at worst painful. Similarly, it can be helpful to have a small first aid kit so you have a few band aids for minor cuts and blisters. Some other ideas in terms of keeping you safe and healthy include bringing hand sanitizer, bug repellent and sunscreen.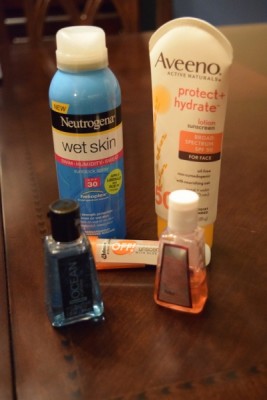 A money-saving tip that not everyone knows, is that you can bring your own food and many drinks into the parks with you. While it can be a great savings to pack at least one of your meals, for the purpose of this article I would primarily suggest bringing some snacks with you, especially small high-energy snacks like granola bars or nuts.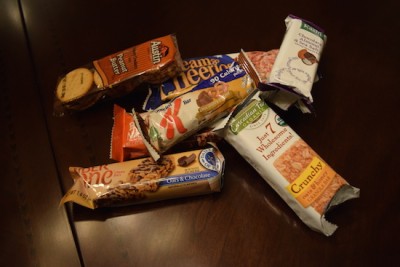 The last thing I would recommend you definitely bring to the park is a phone charger. With FastPass+ and other uses of the My Disney Experience app, you will likely need to use your phone throughout the day. That isn't even including all of the amazing moments and adorable selfies you will be sharing on Facebook. That usage plus the network strain of all of the people around you will cause your battery to drain faster than it normally might, and having your own charger can be a great benefit. It also gives you excuse to find a quiet corner with an outlet to recharge in more ways than one. (Editor's Note: You may also want to consider purchasing a portable external battery charger. That way if you want, you can still be on the go, while charging your devices all at the same time!)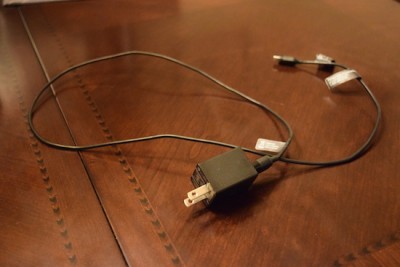 As I said in the beginning, every individual and family will have different needs. However, planning ahead and bringing some of these items with you can hopefully help anyone have a smoother and more enjoyable Disney vacation.
What items are your "must have" in the parks? Share in the comments!