This post may contains affiliate links for your convenience. If you make a purchase after clicking a link we may earn a small commission but it won't cost you a penny more! Read our full disclosure policy here.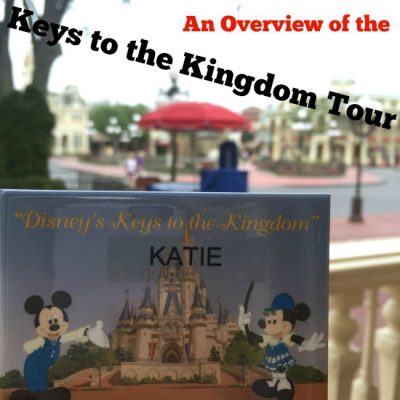 If you're a veteran Walt Disney World visitor, or just someone who is interested in learning the secrets behind the magic, you've probably considered booking one of the many tours offered at the parks.  There are several different options for tours – they range in price and time commitment  – from the Behind the Seeds Tour at Epcot (a 1-hour, $20 tour offered of the greenhouses and labs at the Land pavilion) all the way up to the Backstage Magic tour (a 7-hour, $249 tour of all four parks)!  But one of the most popular, and my favorite so far, is the Keys to the Kingdom tour offered at the Magic Kingdom.  If you've ever considered a tour, use this overview of the Keys to the Kingdom tour to help you decide if this is the right choice for you!  And if you don't want to read an entire review, you can scroll down to read my overall tips!
My husband and I visited Walt Disney World for the Star Wars Dark Side Half Marathon weekend in 2015 (April 15 – 17, 2016).  It was our first trip in a while without our son, who stayed home with the grandparents, so we decided that this was a good opportunity to do one of the tours on our to-do list (some tours at Walt Disney World are suitable for children, but participants on this tour must be at least 16 years old).  The Keys to the Kingdom tour is a very popular tour, but we were able to book it only a couple of months out and we were still able to choose from time slots on the day of our choice.  However, we booked the tour on a Friday so if you're visiting on a weekend or at a busy time of year, I would definitely try to call as soon as possible!
At the moment, the tour costs $79 (does not include park admission), but discounts are available for Disney Vacation Club Members and Disney Visa Holders – the tour is 4.5-5 hours and includes lunch at Columbia Harbour House.  It is offered daily at 8:30 a.m., 9:00 a.m. and 9:30 a.m.
We booked the 8:30 a.m. tour and were instructed that we needed to check in at the Town Square Theater at least 15 minutes before our tour began.  We were able to use normal Disney bus transportation from Art of Animation and we arrived at the Magic Kingdom around 7:30 a.m.  When we got through the turnstiles, we were directed over to the far left entrance and a Cast Member was there with a clipboard that had the names of everyone who had pre-park opening reservations at restaurants or tour reservations.  We gave the Cast Member our names and were told to wait near the left entrance and we would be admitted with everyone else who had pre-park reservations around 7:45 a.m.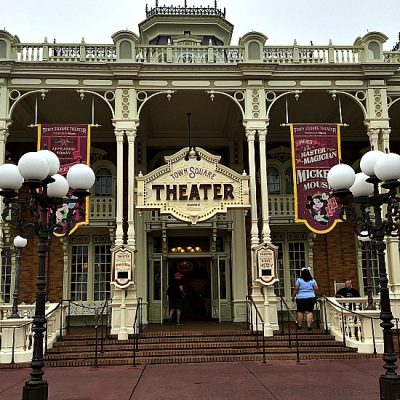 Promptly at 7:45 a.m., we were let through the gates to an EMPTY Magic Kingdom – this is exactly why we wanted the earliest tour available!  We didn't have to check in for another 30 minutes, so we took our time and took some pictures on a (mostly) empty Main Street and with the statues outside the Town Square Theater before heading inside to check in.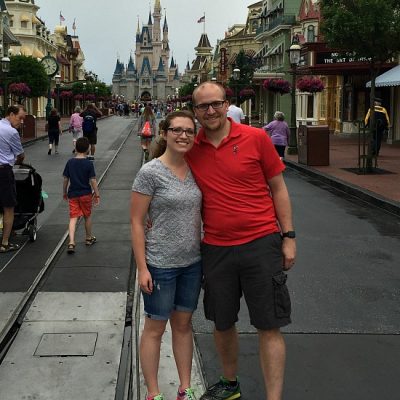 Everyone behind us was headed to their breakfast reservations
Once we finally headed over to the Town Square Theater, we were welcomed by the tour Cast Members and given a Columbia Harbour House menu so that we could make our lunch orders.  We were also given a black "pack" to wear around our necks that had a card in it indicating what tour we were on and, inside, there was an ear piece that we would wear while on the tour so we could hear the tour guide – they intentionally do not speak very loudly on the tours because the people on the tour have paid for the information, but everyone walking by has not, but your ear piece has a volume control that you can change at any time.  We were also given cute little souvenir name tags – and we were informed that photos were NOT allowed on the tour and that all cameras and phones needed to be stowed throughout the tour (except at lunch).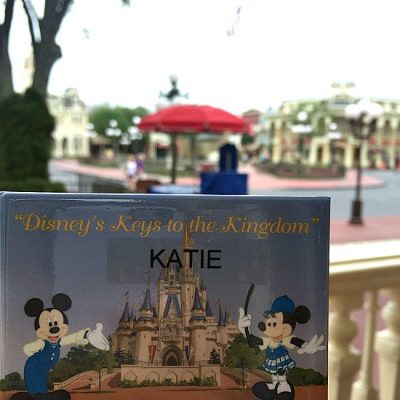 I don't want to ruin the tour for you – so from here on out will be a brief overview of what we discussed throughout the tour!
We started on Main Street and the Cast Member started by talking about the welcome show and the windows along Main Street.  After finishing Main Street, we headed over through Adventureland and the Cast Member discussed interesting facts along the way and we took a special ride on the Jungle Cruise – no line and the tour cast member discussed the secrets behind the ride, rather than giving us the normal spiel.  We headed back out through Adventureland and Frontierland and headed out the back of the park to see some of the backstage areas on that side of the park.  This backstage area was the first place we got to ask questions – the Cast Member guide told us that he would answer any questions we had, but he would NOT answer backstage questions while we were "on stage" – he would either ignore them or answer them with an "on stage" answer.
We spent a pretty good amount of time in this backstage area, then headed back out toward Liberty Square, where we stopped for lunch at Columbia Harbour House – one of my favorite quick service restaurants in the Magic Kingdom!  We had plenty of time for a relaxing lunch (this tour is heavy on walking – so be ready for that!) in an upstairs part of the restaurant that was roped off just for us.  When we arrived, our food was already waiting for us on our tables with our names next to our plates and a special souvenir gift for each of us!
After lunch we headed back out into Liberty Square and headed into the Haunted Mansion through a back corridor for a quick ride.  After that ride, the rest of the tour was mostly backstage including the utilidors, the area behind the restrooms and baby care station near the Crystal Palace and backstage on the Tomorrowland side of Main Street.  Your tour information will depend on what questions your group has or what your particular guide finds the most interesting, but you will learn a LOT either way!
Overall Tips
Book the tour as soon as you know you want to take it (up to 180 days in advance) – that way you get the best choices of times for the day of your choice.  Your travel agent can book this tour for you, or you can call (407) WDW-TOUR
Know that you will have to pay for the tour in full at the time of booking – remember to mention if you're a DVC member or Disney Visa Card holder for a discount!
I recommend taking the earliest tour available – this gives you the most time in the park before it opens and it gives you more time after the tour is over to tour the park
Your tour fee does NOT include park admission – you will have to purchase that separately
Wear comfortable shoes – your guide will stop for bathroom and "sitting" breaks occasionally, but there is a LOT of walking during the tour
Wear weather appropriate clothing and bring an umbrella if you think you might need it – the majority of the tour is outdoors and they don't cancel or modify tours for weather unless there's an extreme circumstance
Come ready with questions!  I hadn't really prepared prior to the tour so I didn't have many questions to ask, but it was clear that some of our tour-mates had really thought about theirs!
Have you ever taken the Keys to the Magic Kingdom tour? What were your thoughts?
Incoming search terms:
keys to the crystal palace hybrid house wife