This post may contains affiliate links for your convenience. If you make a purchase after clicking a link we may earn a small commission but it won't cost you a penny more! Read our full disclosure policy here.
Disney's Caribbean Beach Resort is spread out over 200 acres surrounding Barefoot Bay Lake. This mid-priced resort is modeled after resorts in the Caribbean –Trinidad North, Trinidad South, Martinique, Barbados, Aruba and Jamaica.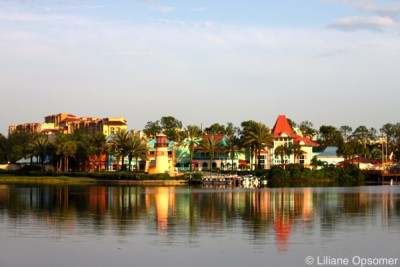 Each village has its own quiet pool and buildings are painted blue, lime green, and sherbet orange.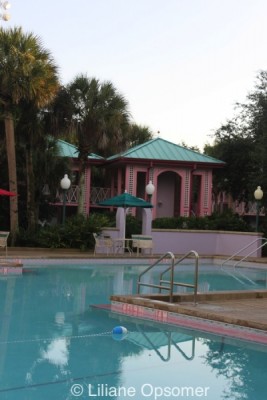 Check-in is at Custom House near Barbados. In addition, you'll also find Old Port Royale which is where you'll be able to experience Shutters –a sit down restaurant; a quick service restaurant; and the resort store. There is also, of course, the obligatory game arcade.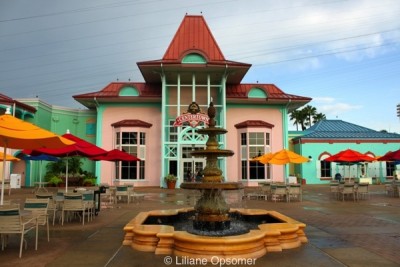 Right outside of Old Port Royale is the main pool themed after the Fuentes del Morro Fort, a famous Spanish citadel with a zero-entry pool, 2 slides, and water cannons. I love this pool and remember my son spending hours there while I watched him happily from the pool bar sipping a margarita.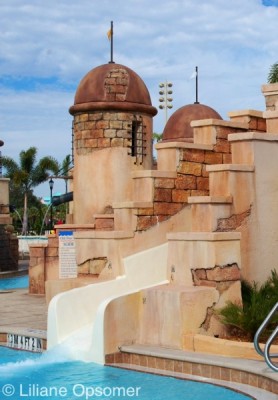 Small children will not want to go to the parks once they discovered the fort and the kiddie pool area featuring three small slides connected to what looks like a shipwreck. The mast has a large bucket that regularly dumps huge amounts of water on anyone approaching the area. Be forewarned, if you need to retrieve a reluctant toddler you better do so in a swimming suit.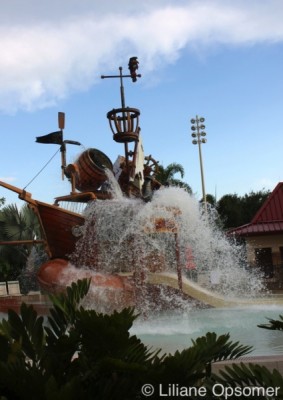 If you want to be near Old Port Royale and the main pool your best best is to book premium rooms in building 26 in Martinique, or in building 31 in Trinidad North. Be specific when booking and reiterate upon arrival that you want to be as close as possible to Old Port Royale.
Rooms at Caribbean Beach Resort are fit for a pirate
Kids, especially boys, will love the pirate rooms in Trinidad South. On the curtain between the bathroom area and the bedroom is the image of a pirate skull and the bathroom features a shower curtain with sailing ships, while the tiles of the shower showcase the Flying Dutchman. The best part, however are the beds with bed frames resembling pirate ships, complete with a wall mounted mast and sail. A gold doubloon bedspread, a refrigerator inside a wooden barrel, and wood plank patterned carpet round out the look and feel of the rooms.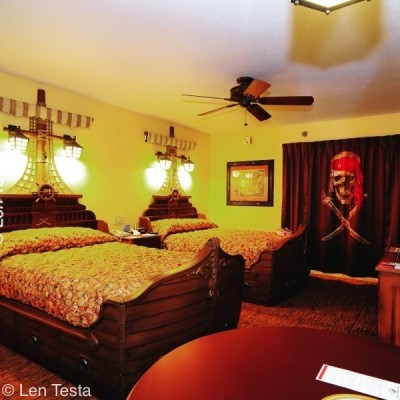 And things are about to get even better. Disney just announced that the Pirate Rooms are being re-imagined. The rooms will now include details collected from Captains Jack Sparrow's adventures including Aztec coins, sword handles, a Jolly Roger, custom lanterns, pirate map-themed carpets and the vanity that is themed to look like a captain's desk.
However, one thing to keep in mind is that if you decide to have a swashbuckling adventure in Trinidad South remember that you will be staying in the most remote of all six villages.
Transportation from Disney's Caribbean Beach Resort
Transportation to all Disney World destinations is by bus. And even thought there is a bus stop in each village and at Old Port Royale, walking time to the bus stops from the most remote rooms can be up to 10 minutes. Once at the bus stop you still will have quite a ride around the resort depending in which village you boarded, before you are off to the parks. If swift transportation is important to you, consider renting a car.
The resort's grounds are immaculate and vegetation is abundant. The lush landscaping is particularly striking around the lake, where hammocks, and sandy beaches with lounge chairs welcome guests to relax and refuel after a long day in the parks. Do keep in mind that swimming is not allowed in the lake. Last but not least the promenade around Barefoot Bay is a perfect 1.4-mile jogging route.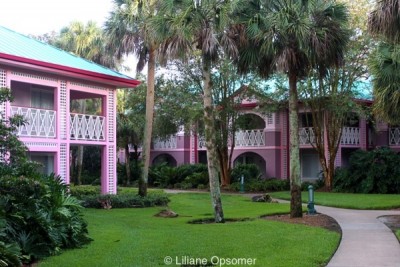 The Caribbean Beach Resort is perfect for adults and families with kids of all ages. Small playgrounds are located on the village beaches of Barbados, Jamaica and Trinidad South.
If you are traveling with kids consider sending your younglings on the Pirate Adventure Cruises for little Buccaneers ages 4–12. Kids sail the Ports of the Caribbean waters, as they hear the story of Old Port Royale, and it's pirate-laden past, while you can relax at the quiet pool. Departures are from Barefoot Bay Bike Works. The tours are offered daily from 9:30 a.m. till 11:30 a.m. and cost $37 plus tax.
Disney's Caribbean Beach Resort has that great island feel, all while still visiting Walt Disney World. It is a wonderful destination for both kids and adults.
Have you stayed at Disney's Caribbean Beach Resort? What is your favorite part of the hotel?
Incoming search terms:
caribbean beach promenade disney