This post may contains affiliate links for your convenience. If you make a purchase after clicking a link we may earn a small commission but it won't cost you a penny more! Read our full disclosure policy here.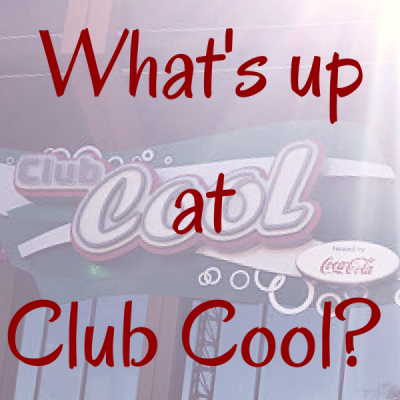 As you stroll through Epcot on your way from Future World to the World Showcase, it can be easy to catch yourself missing Club Cool.  Next time you're checking out the Fountain of Nations take a minute to stop in to check it out!
So what is Club Cool?
Club Cool is a combination of a shop and a soda bar.  It feels a lot like a Coca-Cola store when you first enter, with relatively modern decor and a selection of branded items.  It's spacious, easy to browse, and can offer a nice break from the Florida weather.  If you have a Coke loving person in your life, it's also a fun spot to peruse for a perfect gift.  However, it is beyond the merchandise though that the real fun of Club Cool begins…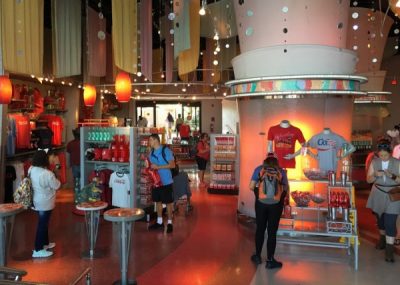 A first look at Club Cool as you enter from Future World.
What are we having?
One of the biggest draws of Club Cool is it's soda bars.  They offer a number of selections at their soda fountains, labeled "Flavors Around the World."  They have tasting cups available and guests are welcome to try as many samples as they wish.  And the best part?  It's all free!
My favorite feature at the soda fountain is that there is a description for each offering.  The labels share the country where the flavors originate and an overview of what to expect.  My husband and I enjoyed reading each of the descriptions before sharing a "cheers" and tasting each of the flavors.  (Just like wine tasting, it can be fascinating to see how you experience the flavor compared to your expectations.)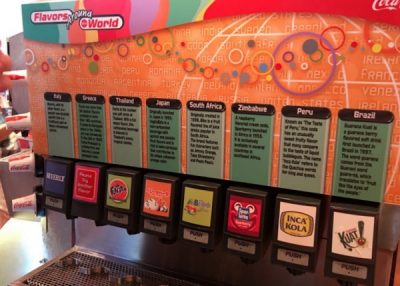 A few of the samples offered at Club Cool's "Flavors Around the World" soda fountain.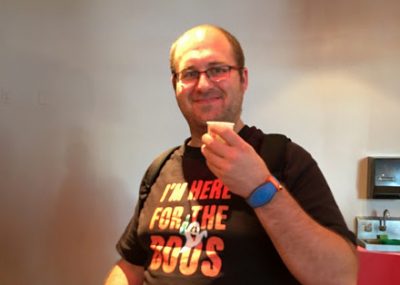 The Beverly from Italy has certainly gained a reputation.  Though my husband argues that "it's better on the second try."  I'm not convinced.
After you've had your fill of samples from around the world (and it may come faster than you think – it's a lot of carbonation) you can also get a drink to go if you want to take the experience on the road.  It was a warm day when we visited, and we were glad to leave with a frozen lemonade!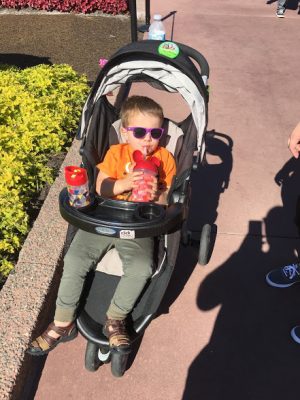 Cooling off with a frozen lemonade in a Mickey souvenir cup.
Be sure to check out Club Cool the next time you're looking for something new at Epcot.
Tell us about your favorite flavor from around the world in the comments!
Did you like this article? Make sure to share it with your friends! Check below for easy ways to share!