This post may contains affiliate links for your convenience. If you make a purchase after clicking a link we may earn a small commission but it won't cost you a penny more! Read our full disclosure policy here.
By Erica Colmenares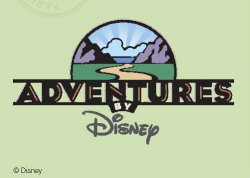 I believe that in all fairness this article must be prefaced by a warning. As in: Warning, you are going to be very sad unless you have enough money in your savings account to book an Adventure by Disney after you read this article. I don't think it's just me. Adventures by Disney looks good on paper, sounds good from trip reports, and figures as a new line-item in the Colmenares family savings budget.
Adventures by Disney was launched in 2005 with two itineraries, and has been growing ever since. What is this Adventure you speak of, you ask? Well, it's like a group travel tour, but not. You know how you can't compare Disney World to, say, Six Flags? Well, this is like a tour group, but Disney-fied. Seamless service, amazing personnel, quality accommodations, delicious meals and magical experiences. The Grand Floridian of Tour Groups.
Let's get specific. Take the Path of Pura Vida itinerary (I know I want to!). This Costa Rican vacation has you taking a zip-line tour of the jungle canopy, rafting down a river through the rainforest, and sleeping at a lodge with a view of one of the world's most active volcanoes. The Emerald Isle itinerary through Ireland includes a medieval feast, a Viking experience, a horse-drawn carriage ride and a two-night stay in a real castle. That's just the tip of the iceberg of two of the 12 itineraries offered in 2007.
Adventures by Disney has developed eight brand spankin' new tour itineraries in 2007. Fresh to the line up are:
Fiesta España (Madrid, Granada, Seville)
Sol de España (Barcelona, Madrid)
Taste of Tuscany (Rome, Tuscany)
Roma and La Costa Bella (Rome and the Amalfi Coast)
The Emerald Isle (Dublin, Killarney, Shannon)
Imperial Cities (Vienna, Salzburg, Prague)
Spirit of America (Philadelphia, Washington D.C., Williamsburg)
Southwest Splendor (Sedona, Grand Canyon, Moab, Arches)
They are also offering four itineraries that were available in 2006. Tried and true tours for 2007 are:
Cities of Knights and Lights (London, Paris)
Path to Pura Vida (Costa Rica)
Viva Italia (Rome, Tuscany, Venice)
Quest for the West (Jackson Hole, Yellowstone, Grand Tetons)
These 'adventures' carry a fairly hefty price tag, ranking among the more expensive Disney vacations. Prices for a family of four (two adults, two children) range from $6,900 to $12,300 (I did warn you). Included in that total are luxury accommodations, almost all meals, transportation within the tour, services of two full-time Disney-trained Adventure guides, periodic expertise of local guides, tips and taxes.
What's not included? The biggest ticket item is airfare between your home airport and your vacation destination. There are a few meals during the tours that aren't included. Neither are customs and immigration fees, passport and visa fees, travel protection insurance, laundry, telephone and alcohol. Or tips for your Adventure Guides (at your discretion).
So, you've checked your pocketbook (and under your mattress and sofa cushions) and you can afford to book the Adventures by Disney tour of your choice. But what else should you consider before deciding this is the best vacation for you?
To participate, your children must be at least age 4. Adventures by Disney recommends that children ages 6 and up will benefit more from the activities and opportunities of their tours. Since some tours include activities with height and/or weight requirements, it's best to consult your travel agent or an Adventures by Disney agent on which Adventure best suits your family.
If you need special assistance while you are traveling, you should also consult your travel agent or Adventures by Disney before choosing a specific itinerary. Here's the Disney Fine Print:
Many adventures involve considerable walking, and depending on the destination, may include walking on uneven sidewalks and streets, narrow passages, and steep stairs and inclines. Adventures by Disney strongly recommends that Guests requiring assistance be accompanied by a companion who is capable of, and totally responsible for, providing assistance.
Finally, consider what kind of vacation you prefer. Most of the activities, meals and experiences during these trips are with your whole group (up to 40 people). If you prefer to have mostly one-on-one time with your spouse, this might not be the right fit for you. While Adventures by Disney guests report, almost universally, that their groups were great fun and they made life-long friends, be sure to consider this aspect of the package before booking.
TheMouseforLess group member Kathy Greenwell has been fortunate enough to participate in three Adventures by Disney. I know, I know, we all need to try very hard not to envy her. Too much. Heck, at least she's willing to share her expertise. Thanks, Kathy!
My basic recommendation: These trips are for families that want everything planned. There is some free time, but basically all of the tours/excursions are planned for you. And you don't have to have a family to go. We [members of our touring group] are all still in touch with each other, and every one of the families on our trip has booked another Adventure this year.
Don't expect a 'theme park' experience. This is a way to see other parts of the country/world with impeccable Disney handling and of course, some Disney surprises thrown in; but it is a different vacation from a visit to Walt Disney World or Disneyland. Our Paris trip doesn't even include a visit to Disneyland Paris, but that's okay. We want to see all of the other sites that Paris has to offer. I feel safe traveling with Disney abroad – not something I would necessarily undertake by myself at this time.
Expect it to seem a bit pricey. For a family with kids, it can seem quite extravagant. If you are accustomed to looking at other tours, such as Tauck, Trafalgar, or Perillo, then you won't be shocked. An all-inclusive tour can seem outlandish to those of us used to booking the "Mouse for less." Plus, the tour price doesn't include the travel to get to the city where your tour starts, or travel home from where the tour ends (which is quite likely different from where it started.) So it is not an inexpensive proposition. It is, however, a different way of traveling – and I think once you try it, you'll be sold! It is completely stress-free! Quality, professionalism, and a touch of Disney magic – what more could you want?!?!
As an inaugural alumni, as well as repeat traveler, Adventures by Disney has our full support – and we've put our checkbook where our mouth is!
Here are details Kathy shared of her Viva Italia tour, in Rome, Tuscany and Venice: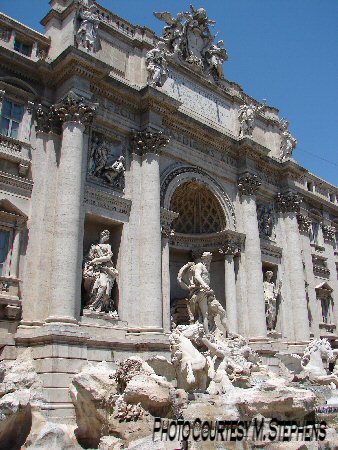 Trevi Fountain in Italy
Well, we're back from 2.5 weeks with Adventures by Disney. It was so great!  We had a wonderful time.  The weather was fabulous and the Italian people were very friendly.  Our guides were super and the itinerary was excellent!  I think the only problem would be choosing between the three different Italy itineraries! They will be offering the one we took; then they offer one with just Rome and Tuscany; then the southern Italy with Rome and Sorrento/Capri.  Gosh, if I had to choose again, I don't know which one I would pick!  I can only tell you that our trip gave us a very good look at three completely different locales in Italy with provided totally different experiences.
Click here for more details of Kathy's Vivia Italia tour, as well as recollections from her London/Paris and Hawaiian Adventures (Hawaii itinerary not offered in 2007).
Ric Flack, one of the Magic for Less travel agents, shared his Adventures by Disney experience with us: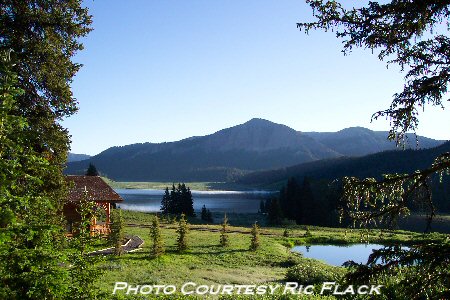 Brooks Lake Lodge
This past summer we had the opportunity to go on one of the new trips offered by Disney called "Adventures by Disney".  We chose the Wyoming Adventure since we could drive there and save a little bit of money doing so. We didn't exactly know what to expect out of the trip since we had never been on an all inclusive vacation before.  All I can say is WOW!  Disney planned for everything. During our week in Jackson, Wyoming; Yellowstone Park; and at Brooks Lake Lodge in Wyoming we had the opportunity to bike, hike, river run, ride in boats, ride in a motor coach, canoe, horseback ride and make amazing friends. We stayed in a four star hotel in Jackson.  The Snow Lodge at Old Faithful and a beautiful lodge at Brooks Lake Lodge.  The accommodations were top notch. All our meals were included.  We had private dining experiences in Jackson at Jedediah's restaurant and at a Family Saloon.  Also, we enjoyed meals at the hotel restaurant.  We had a picnic in the Tetons, meals at the Old Faithful Lodge and at Lake Lodge in Yellowstone and great food at Brooks Lake Lodge.
In true Disney style, no detail was left out.  We had local experts that provided us details that we wouldn't have been able to experience without these guides.  We also had two Disney Adventure Guides that spent the entire week with us. These guides met us at the airport (where we parked our car) and were the first ones up every day and the last ones to bed so that they could make sure everyone's needs were met.
Since these trips are limited to 40 people, we developed strong friendships with our fellow Adventurers and our guides.  If you get the chance to do one of these trips, don't pass it up.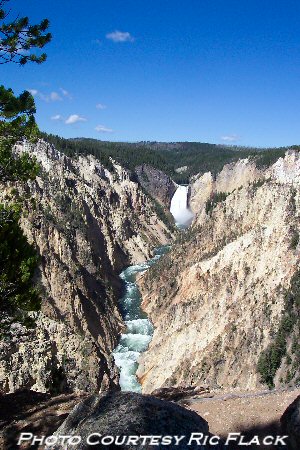 Grand Canyon
For a full account of Ric's Adventure, visit his blog: http://www.questforthewest.blogspot.com/. To see more of Ric's stunning photos, visit the following snapfish album (you will need a free Snapfish account for viewing):
http://www1.snapfish.com/thumbnailshare/AlbumID=47237097/a=3819953_1259537/t_=3819953
Now, if you are like me, you're wanting to book one of these wonderful vacations right now. You can make all your arrangements through an Adventures by Disney concierge agent (877-728-7282) or through your Magic for Less travel agent http://www.themagicforless.com/. You'll need to pay a deposit of $300 per person in your party, with the remainder of your payment due 90 days prior to your departure date. Your deposit is fully refundable for 10 days only. After that, if you change plans, you do not get any of your deposit back. So be sure your plans are firmly set before plunking down your hard-earned cash.
If you think you might be interested in a 2007 Adventure by Disney vacation, consider booking before December 2, 2006. Disney is currently offering an early booking discount of up to $900 per vacation. Guests booking through the Magic for Less will also receive a free Magic Adventure pack.
Magically Speaking Featured Article
Library of Congress ISSN:1556-3863