This post may contains affiliate links for your convenience. If you make a purchase after clicking a link we may earn a small commission but it won't cost you a penny more! Read our full disclosure policy here.
Back in December, my daughters competed with our  town cheering squad at a local competition.  They did really well and they won second place in their division.  Imagine our joy when we realized that in addition to our trophy we also won a bid to the National competition in Disney World!!  We are already Disney fanatics, so there was no way we were going to miss this opportunity.  What we didn't realize was that it was a long road to get to Disney and we needed to do lots and lots of fundraising!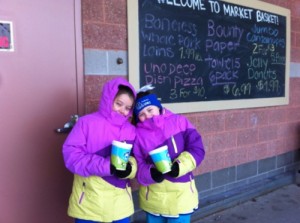 This was the first time our local squad had every won an invitation like this.  Though we had been to Disney World many times as a family, this cheering trip was a whole new experience and we learned a lot.  The first thing we learned is the competition package you purchase is not a Disney package but rather part of a group rate through Universal Cheer Association.  They gave us the option to purchase a 3 to 5 day package which included our hotel stay and park tickets.  We chose to purchase the 5 day package and upgrade to the park hopper tickets.  As part of our package, we each got 4 meal vouchers for quick service meals.  The vouchers could be used at many places, but not all quick serve locations.  If we were to do a cheering trip in the future, we decided it would be better for us to book our trip through Disney as we normally would and then just purchase the admission to the competition events a la carte.  The tickets we got through the competition were group discounted tickets and my husband was bummed that we had to use the paper tickets instead of having the key to the world cards.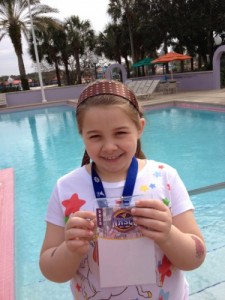 We had the choice to stay at either All Star Sports or Caribbean Beach Resort.  I was really excited that our group chose Caribbean Beach.  I just love the vibe of this resort.  We were all grouped together in the Aruba area.  I thought this area was a pretty good location because we had our own small pool right there and we were not too far off from the main pool.  We arrived a couple days before the competition so we would have some extra park time.  By the day before the competition, Caribbean Beach Resort was a sea of cheerleaders.
We had several special event tickets that were included as part of our package.  The first event was held on the Friday night before the competition.  We had a celebration party at Magic Kingdom and the park was open exclusively to cheerleaders from 8pm – Midnight.  We planned to have dinner at Be Our Guest and then stay in the park for the party.  I can't say enough about Be Our Guest in the Beast's Castle.  The atmosphere was amazing and we did try the Gray Stuff! After dinner we stayed in the park for the party.  The crowds were minimal.  Partly because it was a special event and partly because the temperatures were abnormally low.  We didn't have access to all the rides because only Fantasyland and Tomorrow Land were left open.  But we were able to enjoy enjoy many rides and the excitement for the competition was building.
Stayed tuned for a second post about competition day and more!!