This post may contains affiliate links for your convenience. If you make a purchase after clicking a link we may earn a small commission but it won't cost you a penny more! Read our full disclosure policy here.
I recently wrote a post revealing some of our secrets to making magical moments at Disney World.  Our biggest secret actually came about quite unintentionally.  What is that secret?  Hidden Mickey haircuts!  No, not in my hair!  Not even in my husband's.  But our three sons now get these unique haircuts before every Disney trip. 
The tradition began about five years ago when I suggested to my husband that while buzz cutting the boys' hair for our upcoming trip, he leave Mickey Mouse ears on the sides of their heads. Everyone in our family was excited about this idea. My husband printed out a template of the appropriate size ears on card stock and used it to shave around.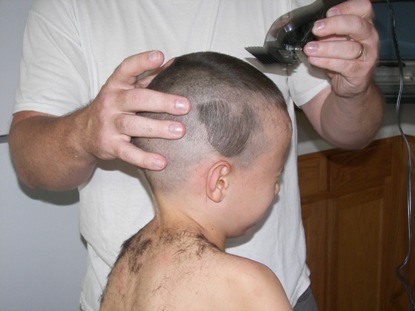 The result? Hidden Mickey haircuts!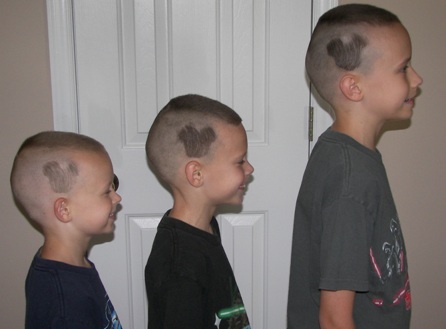 Little did we know how much attention this would draw by both cast members and guests alike! We quickly found out. Everyone asked where they received this unique cut, assuming it was from the barber shop at Magic Kingdom. With pride, the boys revealed that their own father cut their hair.
During our several trips to the World, quite a few guests have stopped and asked us if they could take a picture of the boys' heads. We have seen others "sneaking" pictures with cell phones and small cameras. It is amusing to us, and the boys love this extra attention.
The haircuts have also earned us many perks. We first noticed when a cast member at Animal Kingdom asked to see their cuts, and rewarded our creativity with fast passes. That was only the first of many fast passes given to our family just because their "ears" were noticed and liked.
Other rewards have been earned by this unique style. At All Star Movies resort, a security guard observed their hair and offered Officer Mickey stickers. The American Idol team at Hollywood Studios sought them out for an interview.
While waiting in line for the Pocahontas show at Animal Kingdom, a cast member asked the boys about their haircuts. Admiring their "ears", she presented our family with VIP passes to the next Festival of the Lion King Show. These VIP passes gave us early admission and front row seats, which drew the attention of the actors during the show who, in turn, asked the boys to join them in the performance.
Another day, while exiting Thunder Mountain at Magic Kingdom, a couple of cast members noticed the cuts and called our boys over to "pan for gold". This activity consisted of scooping up gold confetti, which they were allowed to take with them in a felt pouch, but warned to keep well hidden from Jack Sparrow.
The funniest story for our family related to their haircuts is the time our youngest son insisted that he would be chosen as the volunteer child to drive the car in the Lights, Motor, Action Stunt show at Hollywood Studios. My six year-old was adamant that he would be chosen because of his Mickey ears. I explained repeatedly that the bleachers were packed and a Disney haircut, even combined with carefully selected seats, was no guarantee that he would be chosen. Yet he was unyielding. When the host asked for a volunteer, he rose from his seat, waved his arms, and shouted. Not only was he immediately chosen, but the cast member actually said to the crowd, "How could I not choose this little boy with Mickey Mouse ears shaved into his hair?"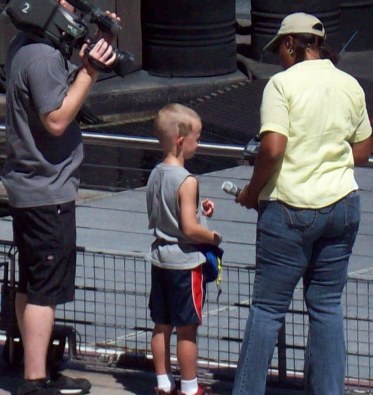 What started as an amusing expression of our love for Disney has turned into quite the attention-grabber. Our family has benefited with a variety of magical moments on our vacations. I wonder as the boys get older if they will continue to want these "Hidden Mickeys" shaved into their hair. Considering all the perks, I suspect they will!
Incoming search terms:
https://www themouseforless com/blog_world/our-magical-moments-biggest-secret-hidden-mickey-haircuts/
hair cut drawn micky mouse