This post may contains affiliate links for your convenience. If you make a purchase after clicking a link we may earn a small commission but it won't cost you a penny more! Read our full disclosure policy here.
From Our Magically Speaking Newsletter Archive – subscribe today!
By Roye Ann Morris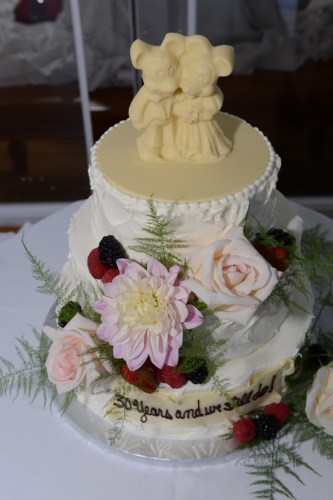 On September 21, 2015, my husband and I had been married 30 years. We wanted a family celebration in honor of this occasion, and chose our favorite family place, Disney World, as the location for the party. On October 9, after several months of planning, coordinating schedules, and a long drive to Orlando, it was finally time for our 30th anniversary celebration at Disney World! To say that I was excited would be a huge understatement. But let me back up to the day before….
My husband and I and our youngest son arrived at The Dolphin for check-in before the rest of our crew. Even though we arrived in the early afternoon, our rooms were ready and waiting! We had connecting rooms on the 12th floor, overlooking the walkway to The Swan and the Friendship Boats dock. It was a beautiful view; watching the boats come and go, seeing the huge fountains each morning and the palm trees lit up every night! We could not have asked for a better location. We were just a few steps from the elevator, but I never heard any noise from them or other guests, and it was wonderful each time we came back to have only a short walk to our rooms.
The Dolphin provided a rollaway bed for us, as we had five in our room, and a full-sized crib for our granddaughter. Although I had read that some people missed the Disney atmosphere in The Dolphin, every employee we met had a smile and a can-do attitude, which helped make our trip even more special from the minute we arrived.
After a great dinner at Picabu, one of the restaurants in the hotel, and collecting the rest of the family from the airport, we tried to get a few hours of sleep before the big day.
The alarm went off bright and early to get us up and going. We were meeting the photographer at the Boardwalk at 9:30 for pictures before the brunch started. I was a little worried about getting everyone – 10 of us! – ready in time, but with two bathrooms and two separate vanity areas, we had no problem at all! Because of the construction going on around the hotel, we used valet parking, something we rarely do. It was really a treat to stand inside the hotel and have our cars delivered to us! Off to the Boardwalk!
At the BoardWalk entrance, we told the attendant that we were there for the Morris Brunch, and he directed us where to park. We were supposed to meet our Disney event planner and our photographer in the BoardWalk lobby, and here we ran into the first, and really the only major problem we encountered. No one was there to meet us, and we spent almost half an hour waiting and wondering what was going on. We weren't really sure how to get to The Attic, where our brunch was to take place, and weren't sure who to ask! My husband asked for help at the Concierge Desk, and they were able to direct us to the right place. The photographer was waiting for us in The Attic, instead of the lobby, because somewhere along the way, our request for family portraits to be taken around the Boardwalk had gotten lost. He was very apologetic about the mix-up, and brought all his equipment to the lobby to start taking pictures. And it's quite a hike between The Attic and the lobby, so that was no small task!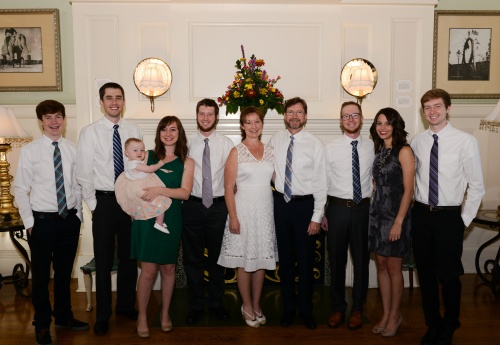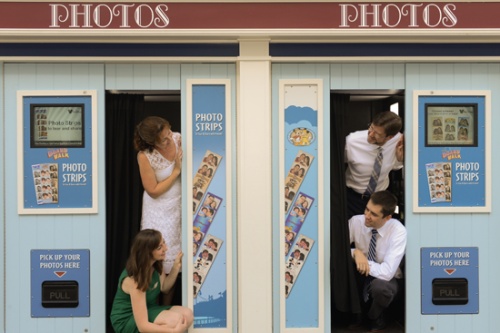 It was a beautiful day, so after taking some pictures around the beautiful fireplace and on the porch of the hotel, the photographer took us outside and got some great shots around the lake and some really cute ones around the photo booths on the Boardwalk. He was wonderful to work with, and very patient with all our requests. We have some wonderful pictures to remember the day by!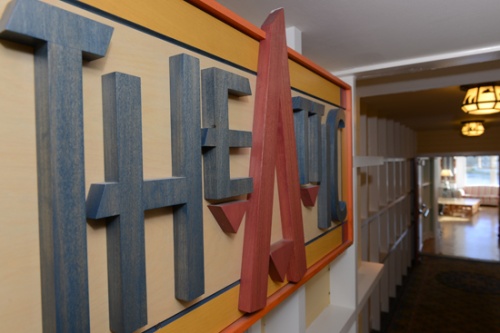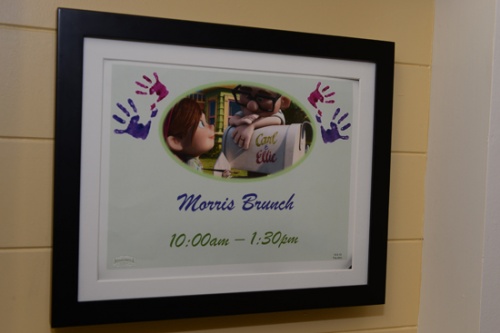 After all that walking, we were all ready for brunch. We felt very special when we saw the sign outside The Attic announcing our event! It is a cozy, very cute space, with old-fashioned toys, pictures, and other things you would find in your grandmother's attic decorating the room. I wanted to take pictures of everything, and found out when we looked at the Disney photographer's pictures later that he had done exactly that! After another family picture on the porch overlooking the Boardwalk and the lake, we were served with mimosas and juice, then we helped ourselves to the buffet. My favorite part of the buffet table (other than the Tonga Toast!) was the Mickey and Minnie figures, holding little miniature ticket books from the first days of Disney World! And the food was amazing; everything we had asked for and more than we could begin to eat! We started some old family movies that my husband had converted to DVD, and ate and enjoyed ourselves for the rest of the morning. My husband and I even cut our cake and fed bites to each other just like on our wedding day!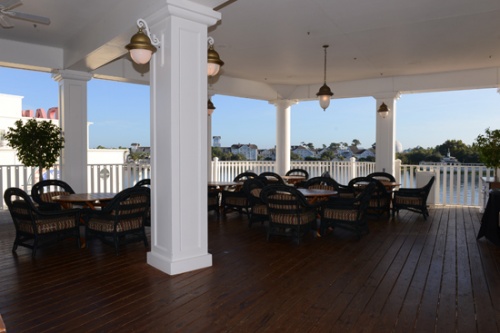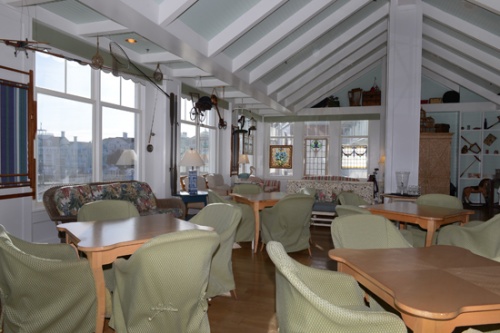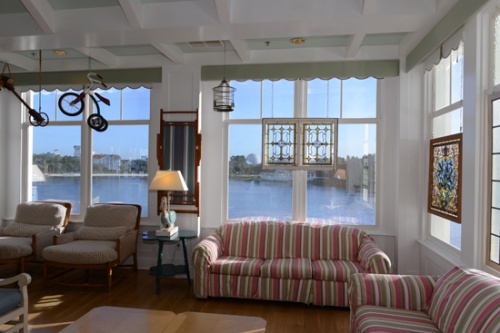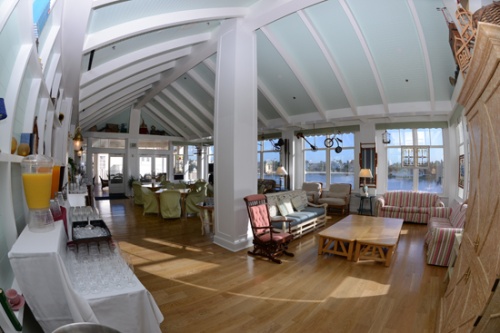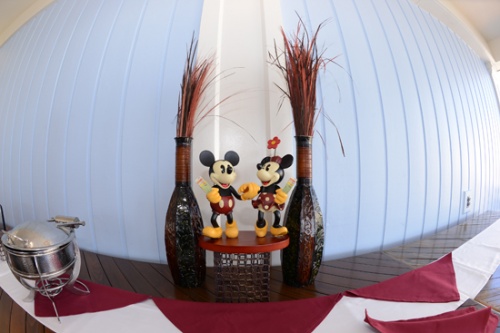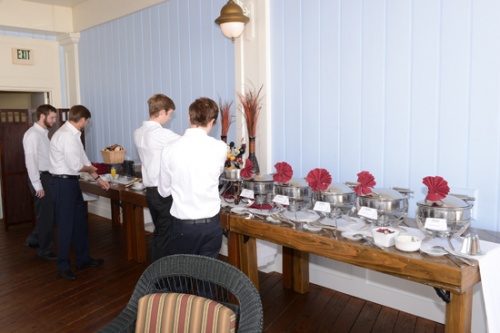 Our granddaughter had turned one year old the day before, and the cast member in charge of the catering provided a tablecloth to put her and her birthday cake on so that she could dig in without making a mess. Well, it was a little bit of a mess, but at least it was easy to clean up!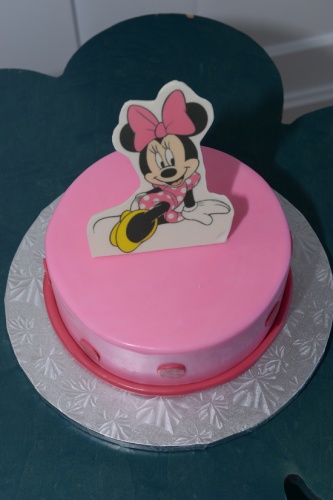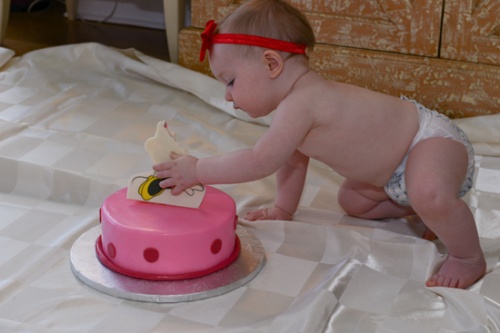 There was very little that wasn't wonderful about our brunch, but here are just a few things to remember if you plan an event with Disney. If you do schedule a Disney photographer, make it clear that you want family portraits if you plan to have group pictures made. Our photographer was scheduled as an 'event photographer', which meant that he did not have the extra lights and screens with him to make portraits. He was absolutely wonderful and did a great job, but you can definitely tell that the group shots were not well-lit. Talk extensively with your event planner to make sure that all your requests are understood and written on your agreement.
And you can't take it with you! The only food that you are allowed to box up and take is any specialty cake you may order from the Disney bakeries. The cast members provided several boxes for our cakes and we had them for dessert the rest of the week! If you have any alcoholic beverages provided, make sure every member of your group has a valid ID with them; Disney makes it clear that they will check!
From beginning to end, our celebration was everything we had dreamed of as we were planning it. The cast members were all lovely, and The Attic was the perfect size and place for our group. We never felt rushed, and there was plenty of space to spread out and for the baby to crawl around. There was even an over-stuffed couch where I'm pretty sure one of the boys took a cat-nap! The view from the porch of The Attic was really magical for us, because it looked out over all the places where we had spent so much time both as a couple and as a family. It was hard to have it end, but we have some great memories and more than a few great pictures of our amazing day. And who knows; maybe we'll do it all again when we celebrate 40 years!
Magically Speaking Featured Article
Library of Congress ISSN:1556-3863