This post may contains affiliate links for your convenience. If you make a purchase after clicking a link we may earn a small commission but it won't cost you a penny more! Read our full disclosure policy here.
From Our Magically Speaking Newsletter Archive – subscribe today!
By Roye Ann Morris
When my husband and I first started talking about the fact that 2015 marked our thirtieth year of marriage, our daughter immediately suggested a celebration. As we began to talk about when and where that might take place, it seemed that at least the where part was obvious: Walt Disney World! It has been a part of our lives before and after we married, as well as a big part of our children's growing up years. So, having decided the where, we jumped into planning the rest of the party!
Our first thought was that we would like to renew our vows. We knew there were so many beautiful places at the parks and the resorts that would be perfect for that kind of ceremony. As I started researching the venues available and the pricing, several factors seemed to stand in the way. First, we knew we wanted to include all our children and our grandchild; after all, our kids had been part of this journey! The ten of us were the right size party for Disney's smallest wedding package, called the Memories Collection. The cost for this collection begins at $5000. We also knew that, being from out of state, someone we had never met would be doing the ceremony, and that our children would be more spectators than participators. We decided to take a different direction with our celebration.
I started looking at the different venues available for private groups both in the parks and at the resorts. Not really knowing where to begin, I called Disney Dining Reservations, and the cast member gave me the phone numbers to get my questions answered. Everyone I talked to was amazing; even if they couldn't help me, they could point me in the direction of someone who could!
The very first step was to have a reservation at a Disney resort – you must have a valid confirmation number for your room reservation before you can reserve any space at Disney World. We decided on the Dolphin for several reasons. Its rooms are fairly large, with separate vanity areas outside the bathrooms, a refrigerator and a coffee maker. Since we would be sharing rooms with the kids, those things were important. And we knew we would be there during the Epcot Food and Wine Festival!
After securing a reservation at the Dolphin, I was able to get specifics on prices and details about the venues. There are spaces available in every park and most resorts, depending on your party size and your budget. I was surprised to find that some of the venues were very affordable for a group of our size. After much discussion, we settled on The Attic, a small cozy space located above Jellyrolls at the end of the Boardwalk, overlooking Crescent Lake. The Attic is available for parties of up to 34 people, and has a $1000 minimum for food and drinks, which allowed room in our budget for spending more days together at the parks!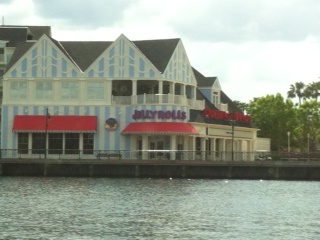 Caitlin, the event coordinator assigned to our party, helped me plan a menu for brunch, along with the chefs at the Boardwalk Inn. We knew we wanted some special items, like the Tonga Toast from Kona and Jungle Juice from Tusker House. Caitlin said that because the exact recipes were proprietary, the chefs at the Boardwalk would make something as close as possible to the originals. My husband also has a dairy allergy, and they were more than happy to accommodate that. The brunch was scheduled from 10AM to 2PM. We were also able to order two separate cakes for our brunch; a wedding cake to celebrate our anniversary, and a birthday cake for our granddaughter, who will be turning one during our stay! I emailed pictures of the cakes to Caitlin and she sent them on to the bakery. It seemed that for everything I asked, the answer was "Yes!" Caitlin also scheduled a Disney photographer for some family pictures around the Boardwalk area before the brunch.
All of our children have made room in their schedules to be with us for this celebration, and to stay a few extra days so we can visit the parks together. For the first time in all these years, I've ordered matching shirts, and they have graciously agreed to wear them to the parks! To say that we are excited and happy about this particular anniversary would be a huge understatement! The date is coming up quickly and final planning is underway to get us all there. I can't wait to see how it all turns out!
Magically Speaking Featured Article
Library of Congress ISSN:1556-3863