This post may contains affiliate links for your convenience. If you make a purchase after clicking a link we may earn a small commission but it won't cost you a penny more! Read our full disclosure policy here.
Up until a few months ago I lived in South Florida about three hours away from Disney World. I'd visit as often as I could, but with every trip I'd have to contend with a six hour round trip drive which probably put the brakes on more than a few weekend getaways. But recently I moved to Orlando, right next door to the mouse himself. With that I've noticed a few differences between being a local and a vacationer.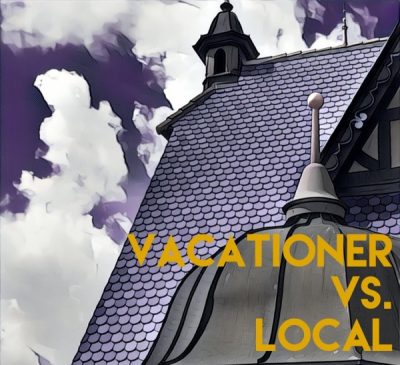 It's no longer a vacation destination
I can now go to Walt Disney World whenever I want. If I feel like having lunch at Epcot, it's just a short car ride away. Dinner at Ohana? As long as there's an open seat I'm there. Last minute Fast Passes to Soarin? This is great "problem" to have, however my trips have lost that magic that comes with extended planning. With a vacation there's an excitement that builds as your trip gets closer. The wait begins agonizingly slow, but eventually the switch is flipped and it becomes worth it.
As a local, the planning and subsequent build up that used to occur is no more, but in its place is the ability to visit Disney World on a whim. It's also nice not having to worry about some of the menial aspects of packing for a trip like remembering to bring a toothbrush or making sure you've got a phone charger. That small stuff that can have an impact on a trip isn't an issue when you know you'll be home at the end of the day.
My trips to Disney World are also shorter. Instead of spending all day at the parks to make a six hour commute worth it, I can go for a few hours and feel like I've gotten my times worth. I do miss being at the parks from open to close, but it is nice when you don't feel obligated to stay when it gets a little too hot or it starts raining cats and dogs.
It becomes a place to hang out
One of the great things about being a local is that Disney World becomes a place to hang out. Instead of going to the movies, a restaurant, or hanging out at home, Disney World becomes the hub where you can do all that and more. The manicured environment, the spotless restaurants, and atmosphere of wonderment make Disney World a perfect place to spend your down time. Just like New Yorkers have Central Park to escape to, Orlandeans have Disney World.
However, on the flip side every time I visit Disney World a little bit of me fears I'll eventually burn out on the experience. Just like eating the same food every day for a month lessens ones appreciation or enjoyment of that food, every time you visit Walt Disney World the experience becomes a little less magical. Each successive trip you get just a tiny bit less of that original endorphin rush. You don't get tired of going, but being there all the time might make you under-appreciate your surroundings. I haven't experienced this yet, but as Disney becomes a regular hang out a part of me fears I might fall into this rut.
Your home is your friends and families vacation destination
Orlando is a huge vacation hub serving millions of people per year and with the plethora of activities available who can blame them? Of those millions of people a few are going to be friends and family. This could be good news or bad news. Being the local the role of tour guide falls on you. If you enjoy the vacation aspects of Orlando you'll be right at home, but others might not be so willing. Also, one thing to keep in mind is that while your family and friends are on vacation you're not. You might have to work and deal with the day to day minutia of non-vacation life.
On the plus side, you don't have to travel far to be in the middle of one of the biggest vacation spots in the world. No three hour plane flights, no need to rent a car or find a hotel room. You'll also find that there's always someone you know coming in from out of town. For me personally this has allowed me to be more social than ever before.
Almost everyone is a Disney fan
Everyone knows someone who works for Disney. Whether a friend, a family member, or a co-workers spouse, you're never more than two steps removed from someone with ties to Disney. Because of this there's an intimate knowledge of Walt Disney World that can rival any top tier Disney blog and it's incredibly easy to get into a conversation about anything Disney related. It's great that so many people are in tune with the subject matter, but it means I'm no longer the go-to guy for everyone's Disney questions which was the case when I wasn't living in Orlando.
Disney Blues no more
You know that bummed out feeling you get after visiting Disney World? I've heard it called the Disney Blues or a Disney Hangover and I used to get it every single time I'd leave the kingdom. But now that I'm a local that feeling is almost non-existent and only lasts minutes instead of days.
This just scratches the surface on the subject matter, but they're the standouts so far. Now if you'll excuse me I've got a reservation at Tiffins to tend to.
If you had the opportunity to move and become a local, would you worry about it becoming old? Share your thoughts in the comments.