This post may contains affiliate links for your convenience. If you make a purchase after clicking a link we may earn a small commission but it won't cost you a penny more! Read our full disclosure policy here.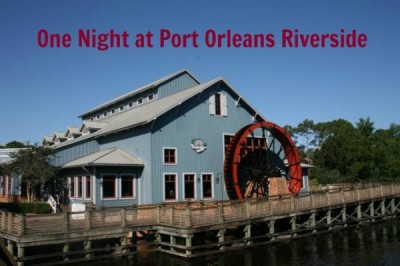 A couple of weeks ago, my mom and I traveled to Walt Disney World to meet up with my sister and her fiance for a Disney wedding planning weekend. Since mom and I arrived one day prior to the rest of the group, we had an opportunity to spend one night on our own, which I booked at Port Orleans Riverside. Little did I know that this one evening would make me fall in love with the resort!
Port Orleans Riverside is one of Walt Disney World's moderate resorts. It is connected to Port Orleans French Quarter, with which it shares buses to the theme parks, water parks, and Downtown Disney. It has two distinct districts within the resort- Alligator Bayou and The Mansions. I had previously stayed in the Alligator Bayou section of the resort, which features more rustic decorations within its rooms, but on this stay, I requested (and was given) a room in the Mansions section.
Within the Mansions, there are regular rooms and princess themed rooms (for an upcharge). Since our flight was delayed, I actually received a text message with our room number while we were still at the airport. This meant we could bypass check-in at the lobby and proceed directly to our room, which was a nice treat after a long day of travel.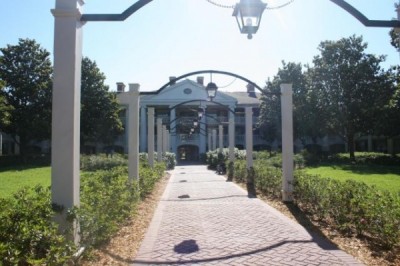 Magnolia Bend
Our room was located in Magnolia Bend, just a short walk from the lobby/food court and near the themed pool area. We were glad to drop our bags before heading out to explore the resort and have some dinner. Although Port Orleans Riverside does have a full service restaurant (Boatright's Dining Hall), we opted to eat at the Riverside Mill food court.
The food court had an excellent selection from burgers/sandwiches to salads/wraps, to pizza/pasta, to a carving station. Mom and I both chose to make our own pasta, which was delicious and a large portion. I couldn't even finish mine, so we took it back to the room and I used it for another meal later in our stay. The drink station has the new Rapid Refill system, and even our paper cups had RFID chips in them. With 4 refills available, we had more than enough to drink, and wound up having one drink with our meal and taking a refill with us for the road.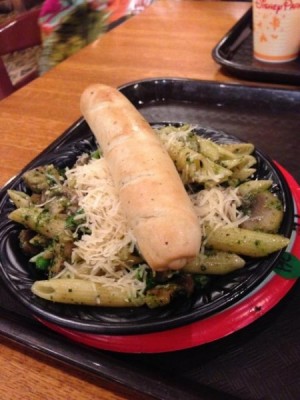 My giant make-your-own pasta
After dinner, we stopped to watch Yehaa Bob for the rest of the evening, and had a wonderful time singing along and laughing to the show. There were plenty of people walking around the resort at night, carriage rides taking place, movies being shown on the lawn, and people in the pool area. Port Orleans is still hopping at night if you are looking for things to do.
We retired to our room, where our luggage had been delivered by Magical Express. Our room was beautiful and well appointed. The set-up was like other moderate resort rooms with two queen-sized beds, a curtain to close off the sink/restroom area, a mini fridge and table/chairs. There were plenty of outlets for all of our devices, and more than enough space for just the two of us.
What we found most impressive though was the décor, which was beautiful and seemed authentic to the theme of the resort. The headboards had beautiful painted scenes and the chairs were sturdy and comfortable. It seemed like the perfect room for a girls' trip, but would also be a good option for families.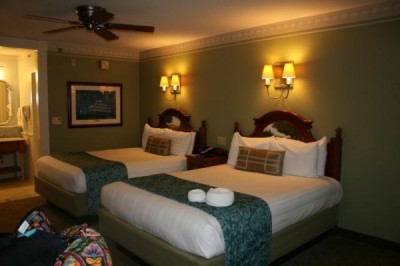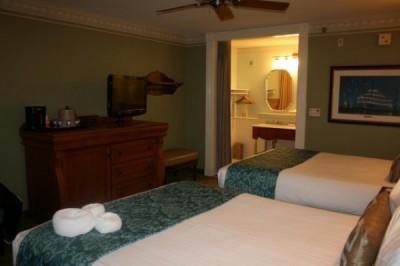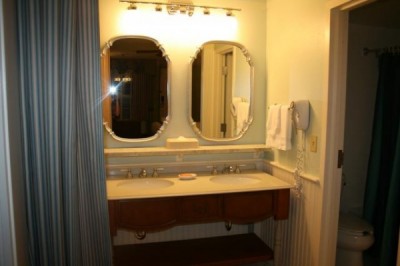 Our Mansion Room
The next morning, I was able to explore the resort even more. This is a wonderful resort for walking around, because it is beautiful from any angle. I watched the ferry pull in from the Sassagoula River (this takes you to Downtown Disney) and got a better look at the pool area. I regret running out of time to actually get into the pool, which was large, well themed, and had waterfalls and a water slide. The pool area also features a poolside bar, jacuzzi, kids' pool, and a nearby playground.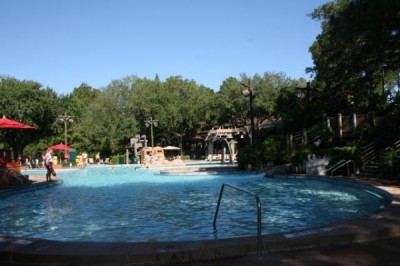 I also visited the lobby area, which was bright, beautiful and comfortable, and the gift shop. The gift shop is nicely sized and had a good selection of merchandise, including some resort specific items. I loved that all of the buildings around the lobby had views of the river, and that within the resort, I felt like there was a real working mill. I was actually sad to be leaving Port Orleans Riverside as quickly as we did, and am now hoping we will get another chance to stay there in the future.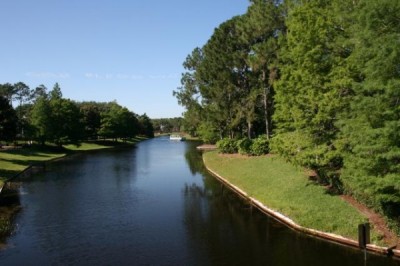 Have you ever stayed at Port Orleans Riverside? What is your favorite part about the resort?