This post may contains affiliate links for your convenience. If you make a purchase after clicking a link we may earn a small commission but it won't cost you a penny more! Read our full disclosure policy here.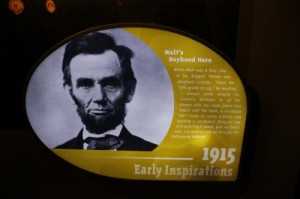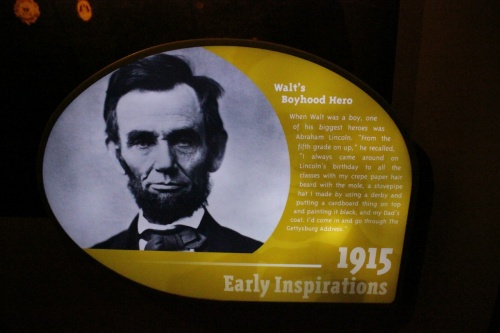 While we were in Disney's Hollywood Studios, our family stopped by Walt Disney: One Man's Dream.  It wasn't really a planned stop, at least not at the time.  We were heading for Toy Story Mania.  When we found out that it was down, we decided to spend our time in Walt Disney: One Man's Dream while we waited for our dining time at the Sci Fi Dine In Theater Restaurant.
We hadn't had the opportunity to go through Walt Disney: One Man's Dream before, so it was an all new experience.  Personally, our family really likes learning about Walt Disney, so we lost track of time while roaming around, looking at the artifacts and signs.  All the signs!  I couldn't read them all while keeping up with the kids, so I snapped pictures of many of them to read later.
Something that really stood out to me was Abraham Lincoln.  Abraham Lincoln was Walt Disney's boyhood hero.  Mr. Disney even went so far as to make a stove pipe hat to wear and dress up in his father's coat.  He would then go to school and recite the Gettysburg Address to his classmates.  That's impressive!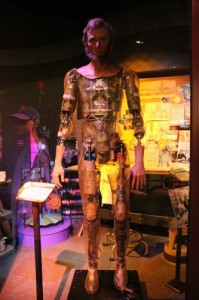 As we all know, Walt Disney got his workers together to make the Abraham Lincoln Audio Animatronic for the New York's World's Fair 1964-1965.
Here's where I'm going to show my "geeky side".  I LOVED seeing the Mr. Lincoln Audio Animatronic!  My kids are science nuts, and we watch the shows that tell and show how the animatronics work.  They really liked seeing this, too!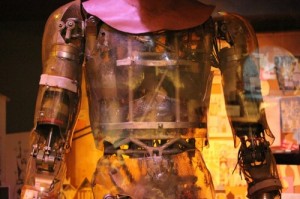 Yes, I had to take a close-up of as much of the internal parts as I could see.  It is just amazing to me that this was even possible back then!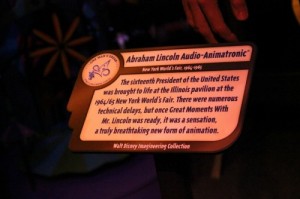 Even though there were technical delays at the World's Fair, Great Moments with Mr. Lincoln went on to be a success!
I enjoy the times that I have seen Great Moments with Mr. Lincoln at Disneyland.  I remember my father taking me to see it after high school, and I loved sharing it with my children, both of whom are big Abraham Lincoln fans.
There is a Disney Parks Blog post that shows videos of the updated President Lincoln at Disneyland.  I'm sharing this because it is just amazing to see how it works up close.  The first video shows a close-up of President Lincoln's mouth moving.