This post may contains affiliate links for your convenience. If you make a purchase after clicking a link we may earn a small commission but it won't cost you a penny more! Read our full disclosure policy here.
From Our Magically Speaking Newsletter Archive – subscribe today!
By Roye Ann Morris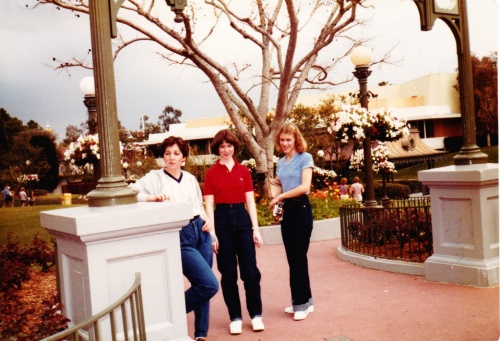 It was 1983. My college roommate, who had also been my best friend since first grade, and I were both Disney fans, and a trip there for spring break seemed like a grand idea. Somehow we convinced our moms that we could handle the trip alone. In the days before cell phones, GPS, and Google maps, a 13 hour car trip was a pretty big undertaking! We recruited my younger sister to go along, and set out for Florida, so giddy we could barely stop giggling for the whole trip.
We had road maps and hand-written directions for driving around the larger cities like Birmingham and Atlanta. I kept the map my mom drew for Birmingham; she drew the cloverleaf around the city and wrote "No!" beside the exits we were not supposed to take. Our first stop was Macon, Georgia, to spend the night with friends. The next morning we drove on to Orlando, where we checked into the Holiday Inn, Maingate East. I still have the hotel bill; the rooms were $81 a night! My friend and I could hardly wait to get to the parks, but my sister opted to stay at the hotel pool and get some sun. So we loaded back into the car without her, and off we went!
Epcot and the World Showcase had made their debut by this trip, but we opted to start at the Magic Kingdom. We bought a 4-day ticket right outside the park; it was so much easier to have the one paper ticket that covered everything instead of the ticket books! According to the copy of the Walt Disney World News which I found in my scrapbook, the cost was $45! Our goal was to ride everything we could, then meet my sister later. She was more excited at that point to be sitting by the pool than to be at the parks, so she said she would ride whatever we had not had time for after she got to the park. I still remember meeting her at the front gate and watching the magic of Disney surround her. Standing in front of Cinderella's castle, she took a deep breath and said, "You'll have to start over; I need to ride them all!" So that's what we did!
The next morning we headed for Epcot Center, as it was called on the park information. We weren't really sure about what to expect; we had a vague idea of what the park was supposed to be like from reading about it, but were excited to see it in person. Our first stop was Earth Station, located under Spaceship Earth, where you could book dinner reservations at the World Showcase restaurants. The Walt Disney World News advised that you should make your reservations before 10AM, as most restaurants would be booked after that time. We talked to a live cast member on what looked like a TV screen; who knew that was even possible! It all seemed very much like the future, and we were so impressed and a little nervous. Not being very adventurous eaters at the time, we chose San Angel Inn for dinner and walked out laughing about how we must have looked so silly to the Cast Member since we had no idea what we were doing!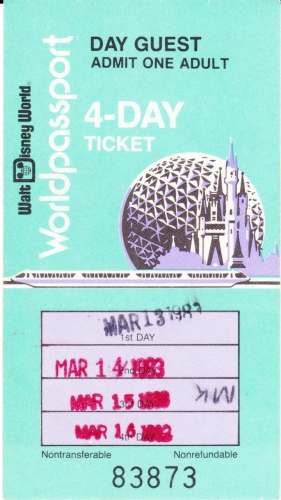 My favorite memory of that day was Journey into Imagination with Dreamfinder and Figment. I'm sure we went through every attraction, but this one has stayed with me even today. Figment remains one of my favorite Disney characters, and I must say I miss the original ride with Dreamfinder and Image Works to play in after the ride. We were singing the song for the rest of the day. We spent time in Communicore East and West, and enjoyed a ride through the World of Motion. Horizons was still being built.
We headed to World Showcase in time for our dinner reservation, walking slowly through all the countries, admiring all the details of each one. Norway and Morocco were not part of the showcase yet. Our dinner at San Angel Inn was amazing; we were waited on by attentive (and attractive!) Cast Members and served wonderful food. Being small-town girls, we had never eaten at a restaurant where refills on your drinks were free. We had ordered iced tea, and weren't drinking it so we could save it to go with our meal. Our server walked over to ask if anything was wrong with our tea, and we were so embarrassed when he had to explain to us that we could have as many refills as we wanted! Again, very small-town girls!
We spent two days in each of the parks, and every minute was like being in a dream; on our own, no parents, doing what we wanted when we wanted to, and feeling safe and taken care of the whole time. I'm sure there were moments on that trip that weren't perfect, but I don't remember them at all. Wouldn't it be magical to go back to that time of relative innocence, feeling safe, and having few worries? Although that's how I feel each time I visit Disney, bringing back the $45 tickets would be magical, too!
Magically Speaking Featured Article
Library of Congress ISSN:1556-3863