This post may contains affiliate links for your convenience. If you make a purchase after clicking a link we may earn a small commission but it won't cost you a penny more! Read our full disclosure policy here.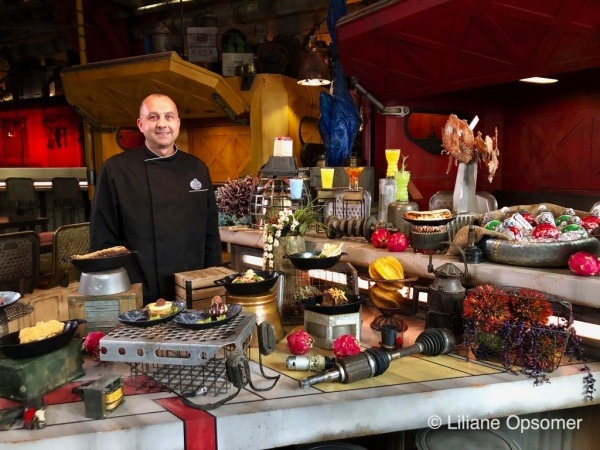 Liliane Opsomer, coauthor of The Unofficial Guide to Walt Disney World with Kids, recently talked with James Kleinschmidt, Chef de Cuisine, Concept Development Team, about the food offerings at the brand-new land at Disney's Hollywood Studios. Here is her report.
About Chef Kleinschmidt
A graduate of the Baltimore International Culinary College, Chef James Kleinschmidt started his career with Disney 22 years ago, when in 2007 he joined as a Sous Chef at Disney's Contemporary Resort. Two years later he became Chef at Epcot's Land Pavilion, and after three years as Chef at Disney Springs, he was named Chef de Cuisine, Concept Development Team. It is in this capacity that James Kleinschmidt got involved three and a half years ago in creating the food guests can now enjoy at Star Wars: Galaxy's Edge.
The Importance of Food that Tells a Story
Star Wars aficionados have a very precise idea and huge expectations when it comes to how the new land should look and feel, but, until now, they did not have an opportunity to know how food in a galaxy far, far away should taste. Here is where Chef Kleinschmidt and his team come in.
It was very important to tie the Star Wars canon to the food served on Batuu. Chef Kleinschmidt and his team worked closely with LucasFilm and Disney Imagineers to do just that. The backstory of Docking Bay 7 Food and Cargo and its Chef Strono "Cookie" Tuggs did lend itself perfectly to creating an entire galactic menu.
As a reminder: Docking Bay 7 Food and Cargo is a huge hangar that Chef Strono has turned into a kitchen and restaurant serving travelers to Batuu, and his multipurpose modified Sienar-Chall Utilipede transport shuttle is docked on top of the hangar. Chef Strono's travels across the galaxy allow him to have a pantry filled with exotic ingredients, and his claim to culinary fame comes from his years—centuries, to be precise—as a head chef at Maz's Castle on the planet of Takodana.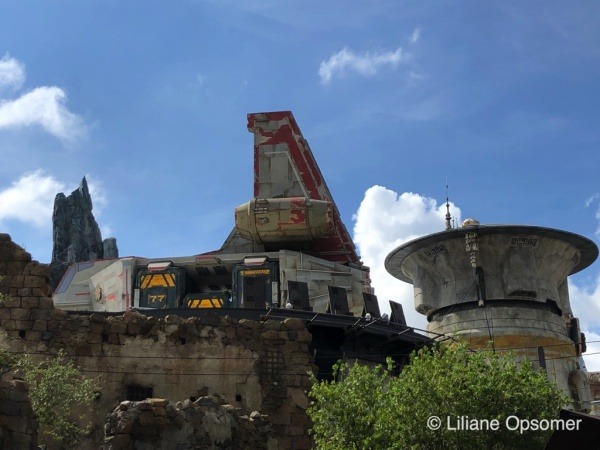 With travelers visiting from all over the galaxy, it was important to have food specialties inspired by planets such as Endor, Tatooine, and Naboo to name a few. So, taking into account the planets, animals, and plants mentioned in theStar Wars movies and books, Chef Kleinschmidt and his team went to work. The results are tasty and the stories a treat for all Star Wars fans.
The Stories Behind the Dishes Served on Batuu
The Fried Endorian Tip-Yip is inspired by the Endorian chicken from the moon planet Endor, the home of the Ewoks. It is served with a roasted vegetable potato mash topped with an herb gravy.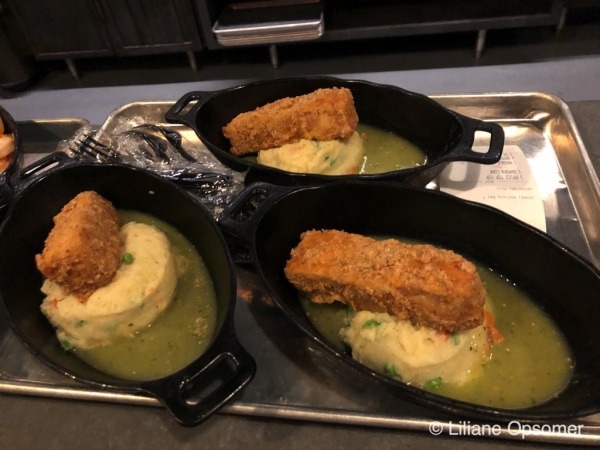 Remember Jar Jar Binks riding a Kaduu on Tatooine inStar Wars Episode I: The Phantom Menace? Who can ever forget that scene? Well, now you can eat Smoked Kaadu Ribs served with a blueberry corn muffin and cabbage slaw.
From the planet of Naboo, home of Padmé Amidala, wife of Anakin Skywalker, comes the Yobshrimp Noodle Salad and the hearty Braised Shaak Roast. The Yobshrimps are one of seven species of scalefish found on Naboo, and they are served accompanied by marinated noodles and vegetables. The Shaaks are non-sentient herbivores who grazed on the grasslands of Naboo. The pot roast-like dish is served with cavatelli pasta, wilted kale, and mushrooms.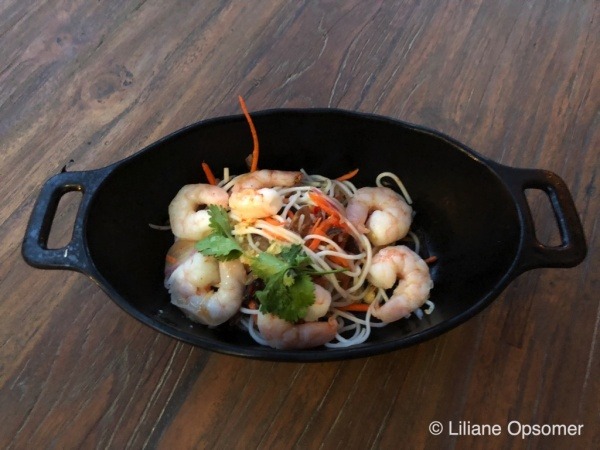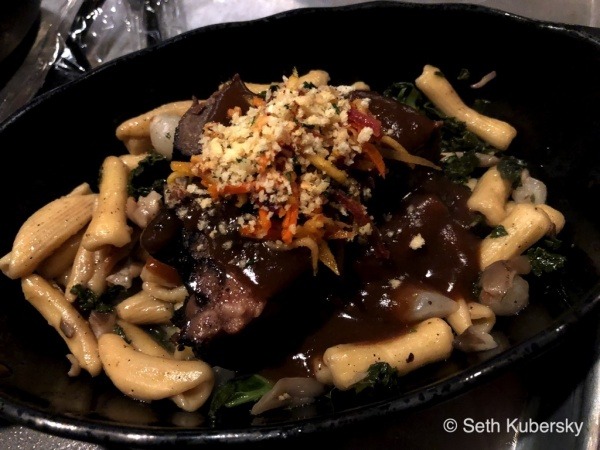 At breakfast, Docking Bay 7 serves several dishes, but it is the Mustafarian Lava Roll that comes with a story. Mustafarians were an insectoid species living in underground caves created by lava fleas on the planet of Mustafar. While Darth Vader's home planet is Tatooine, it is on Mustafar that he built his castle, using the lava of the planet for energy.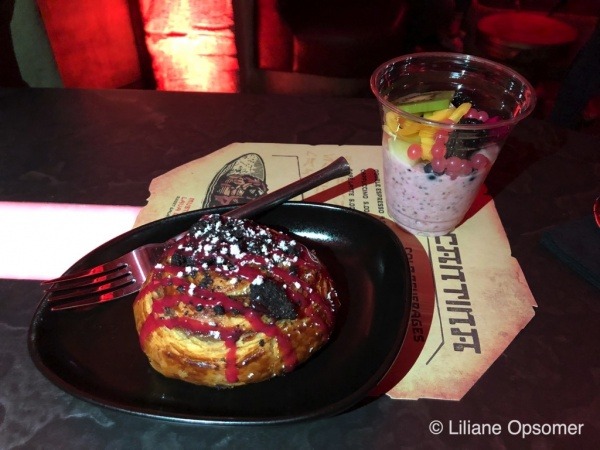 For dessert, guests have a choice of Batuu-bon, a chocolate cake with white chocolate mousse and coffee custard or an Oi-Oi Puff, a raspberry cream puff accompanied by a passion fruit mousse. Both are delicious, and, yes, on Batuu there were small red berries called Oi-Oi.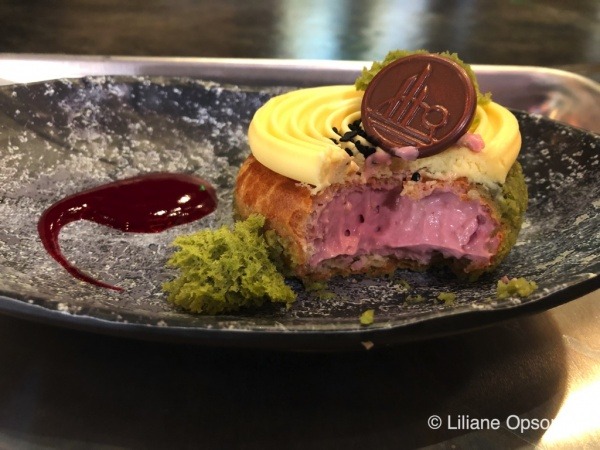 And if you think that Ronto Roasters just has sausages and jerky, you are mistaken. Rontos were huge saurian herbivores living on Tatooine, hence the Ronto Wrap, which, by the way, is my favorite dish on Batuu. The grilled sausage comes with a peppercorn sauce and a tangy slaw wrapped in pita bread. Yum! The Nuna Turkey Jerky got its name from, you guessed it, a Nuna, an omnivore living in the swamps of Tatooine.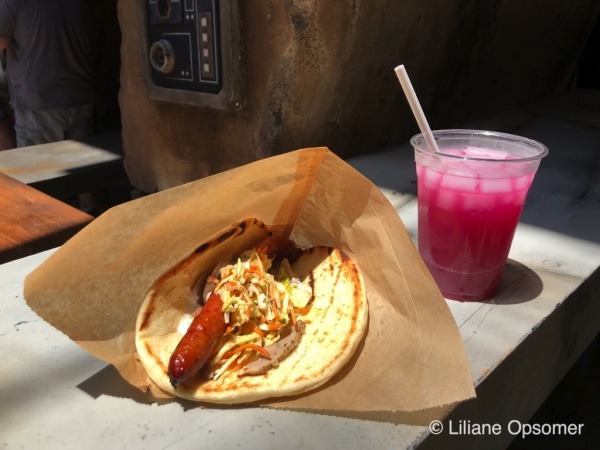 Last, but certainly not least, there is the colorful mix of sweet-and-spicy popcorn sold at Kat Saka's Kettle, a small shop in the merchant row. There had been no mention of Kat Saka in the Star Wars canon until last month, when the book Galaxy's Edge: Black Spire by Delilah S. Dawson was published. While there is still no word about popcorn in the book, the author does mention Kat Saka's Kettle, and its owner Kat who was a farmer on Batuu, known for collecting spices throughout the galaxy.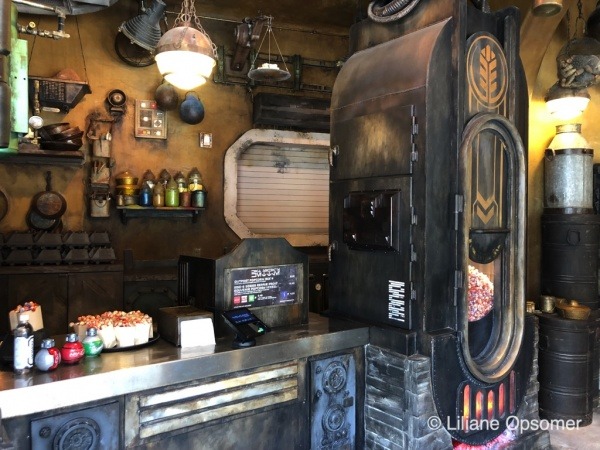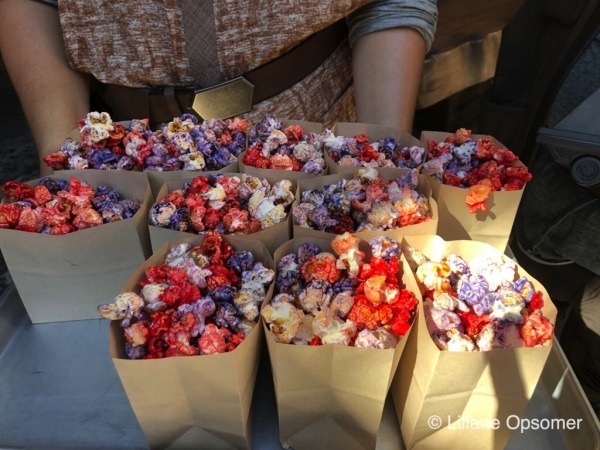 There is one more story, and it is about finding the right spices. "At one point, we mixed so many spices in the test kitchen that the entire place became filled with spice dust—so much that we had to step out, let the dust settle, and proceed with a major cleaning," Chef James Kleinschmidt told me, still chuckling at the thought of it.
We did not have time to go through all the drinks available on Batuu, but we all know that Blue Milk is produced by female banthas, right?
Have you tried the food of Star Wars: Galaxy's Edge? What's your favorite dish? Share your thoughts with us in the comments or on Facebook or Twitter!
Did you like this article? Make sure to share it with your friends! Check below for easy ways to share!
Want to visit Star Wars: Galaxy's Edge? Contact The Magic for Less Travel for more information and a free, no-obligation quote.

Incoming search terms:
https://www themouseforless com/blog_world/on-batuu-chef-james-kleinschmidt-serves-food-with-a-story/